Main content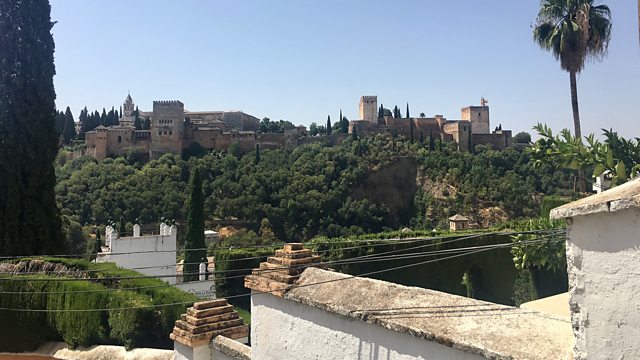 Nights in the Gardens of Spain
Actors Candela Gomez and Khalid Abdalla with readings from Abd Allah ibn al-Simak and Lorca to Sameer Rahim and Victoria Hislop, plus music from Manuel da Falla and Souad Massi.
The Alhambra Palace in Granada is our focus today. The city was home to one of Spain's greatest poets, Federico Garcia Lorca, from the age of 11 through to his 20s. Field recordings made in Granada combine with music and readings connected to this captivating city, from the epigraphic poems that are written into the very walls of the Alhambra, to the medieval verse of Abd Allah ibn al-Simak, through to the verse and letters of Lorca. Actors Candela Gomez and Khalid Abdalla also read contemporary takes on Granada's Flamenco bars by Victoria Hislop, and a melancholy modern-day visit to the Alhambra from Sameer Rahim's latest novel which considers its imprint of Islamic rule.
The Spanish soundtrack includes Flamenco specially recorded in one of Granada's historic guitar workshops by singer Juan Panilla and guitarist Francisco Manuel Diaz, pieces by that great Andalusian Manuel Da Falla as well as fellow Spaniards Albeniz and Granados, and a song from the Algerian singer Souad Massi who wrote a whole album inspired by the Arab-Andalusian poets. The music melds with the sounds of Granada's fountains, cicadas and birdsong for this special edition of the programme as we transport you to Al-Andalus.
Producer: Georgia Mann. Recordings in Granada made by Robert Winter.
READINGS:
Epigraphic poem on the Basin of the Lions at the Alhambra
Epigraphic poem from the Hall of the Two Sisters at the Alhambra
Extract from a letter by Federico Garcia Lorca to Melchor Fernandez Almagro
Garcia Lorca -La Guitarra
Washington Irving - Tales of the Alhambra
Sameer Rahim - Asghar and Zahra
Garcia Lorca - Baladilla de los tres ríos
Ibn Sa'id al-Maghribi -The Battle
Victoria Hislop - The Return
Gerald Brenan - South of Granada
Abu J'far, Ahmad ibn Sa'id - The Procuress
Abd Allah ibn al-Simak - The Garden
Extract from a letter by Federico Garcia Lorca to Benjamin Palencia
Garcia Lorca - Arbolé, Arbolé
Théophile Gautier - The Last Sigh of the Moor
Garcia Lorca - Little Tales of the Wind
Epigraphic poem Comares' Gate at the Alhambra
Garcia Lorca - Holy Week in Granada
Last on
Music Played
Timings (where shown) are from the start of the programme in hours and minutes
00:01

Lior Elmaleh

Invocacion Qamti be-Ishon-Layla (Canta de los Cantares. Inspirado en Cantar 3, 1 -4)

Anon

Epigraphic poem from The Alhambra, Poem on the basin of the Lions read by Khalid Abdallah

00:04

Manuel de Falla

Extract from Nights in the Gardens of Spain (i. En el Generalife)

Performer: Steven Osborne. Orchestra: BBC Scottish Symphony Orchestra. Conductor: Ludovic Morlot.

Anon

Epigraphic poem from The Alhambra, Poem in the Hall of the Two Sisters read by Candela Gomez

Federico García Lorca

Extract from a letter to Melchor Fernandez Almagro, read by Candela Gomez

00:08

Francisco Tárrega

Recuerdos de la Alhambra for guitar

Performer: Andres Segovia (guitar).

Federico García Lorca

La Guitarra, read by Candela Gomez and Khalid Abdallah

00:13

Juan Panilla (voice), Francisco Manuel Diaz (guitar)

La Guitarra

BBC Recording made in Granada.

Washington Irving

Extract from Tales of the Alhambra, read by Candela Gomez

00:17

Isaac Albéniz

Suite espanola, Op. 47: Granada

Performer: Alicia de Larrocha.

Sameer Rahim

Extract from Asghar and Zahra, read by Khalid Abdallah

00:23

Inçiraf Dil

Li Ayyi Sabab

Performer: Amina Alaoui (vocalist), Ahmed Piro Et Son Orchestre.

00:26

Isaac Albéniz

Iberia - book 3 for piano, no.1; El Albaicin

Performer: Alicia de Larrocha.

Federico Garcia Lorca

Baladilla de los tres ríos, read by Candela Gomez

00:30

Anon

Extract from Taqsim instrumental & Danza morisca

Performer: Moslem Rahal (ney), Waed Bouhassoun (oud), Driss El Maloumi (oud), Hakan Gungor (kanun), Yurdal Tokcan (oud), Haig Sarikouyoumdjian (duduk), Erez Shmuel Mounk (percussion), Jordi Savall (Director).

Ibn Sa:id al-Maghribi

The Battle, read by Khalid Abdallah

Victoria Hislop

Extract from The Return, read by Candela Gomez

00:33

Juan Panilla (voice), Francisco Manuel Diaz (guitar)

Unknown

BBC Recording made in Granada.

00:35

Manuel de Falla

El Sombrero de tres picos - suite no. 2, Dance of the miller (Farruca)

Orchestra: Los Angeles Philharmonic. Conductor: Jesús López Cobos.

Gerald Brenan

Extract from South of Granada, read by Khalid Abdallah

00:39

Manuel de Falla

Extract from Seven Popular Spanish Songs

Singer: Victoria de los Ángeles. Performer: Gonzalo Soriano.

Abu J'far, Ahmad ibn Sa'id

The Procuress, read by Candela Gomez

00:43

Souad Massi

Saaiche

Performer: Souad Massi (voice).

From El-mutakallimun (Masters of the Word), Wrasse.
10.

Abd Allah ibn al-Simak

The Garden, read by Candela Gomez

00:47

Enrique Granados

Andaluza - Spanish Dance no.5

Performer: Judith Hall. Performer: Tim Walker.

Federico Garcia Lorca

Extract from a letter to Benjamin Palencia, read by Khalid Abdallah

00:52

Pablo de Sarasate

Playera (Spanish Dance, Op. 23 No. 1)

Performer: Brodsky Quartet.

Federico Garcia Lorca

Arbolé, Arbolé, read by Candela Gomez

Théophile Gautier

The Last Sigh of the Moor, read by Khalid Abdallah

00:59

Claude Debussy

Extract from Images, L. 118a: II. Iberia - Les parfums de la nuit

Orchestra: Orchestre national de France. Conductor: Emmanuel Krivine.

Federico Garcia Lorca

Extract from Little Tales of the Wind, read by Candela Gomez

Anon

Epigraphic poem from The Alhambra, Poem on Comares: Gate, read by Khalid Abdallah

01:07

Juan García de Zéspedes

Ay que me abraso - guaracha

Ensemble: Hespèrion XXI. Choir: La Capella Reial de Catalunya. Conductor: Jordi Savall.

Federico Garcia Lorca

Extract from Holy Week in Granada, read by Khalid Abdallah

01:11

Tomas Barrera/Rafael Calleja/Victoria de los Angeles

Adios Granada

Performer: Victoria de los Angeles (soprano).

Broadcasts