Main content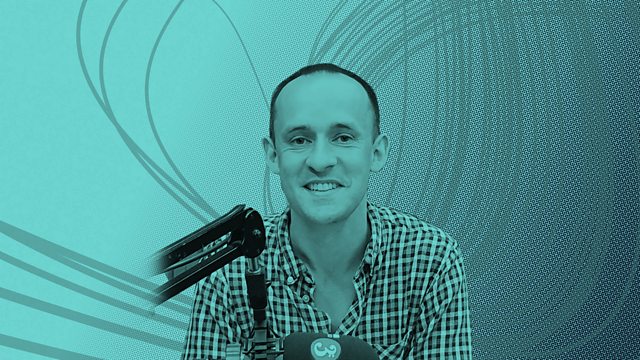 Singing piano lines with composer and conductor Graham Ross
Graham Ross opens up a colourful selection of classical music from a composer and conductor's point of view - revealing familiar and unfamiliar works in a new light.
Composer and conductor Graham Ross takes us on a journey through music. He discovers perfect palindromes, reveals his conducting heroes from Rene Jacobs to Sir Colin Davis, his love for social music making through Debussy's piano duets, and finds harpsichords on the battlefield along the way.
Plus, which "Amen" is the best in the repertoire, and what to do with a spare evening in Australia?
At 2 o'clock Graham's "Must Listen" piece is an exquisitely heartfelt outpouring of grief for Jerusalem.
A series in which each week a musician reveals a selection of music - from the inside.
A Tandem Production for BBC Radio 3.
Last on
Music Played
Leos Janáček

Sinfonietta - movement 1 - Allegro

Orchestra: Vienna Philharmonic. Conductor: Charles Mackerras.

Johannes Brahms

Six Piano Pieces Op.118, No.2 - Intermezzo in A

Performer: Murray Perahia.

William Walton

Henry V: A Shakespeare Scenario VI Agincourt from 'We few, we happy few'

Narrator: Christopher Plummer. Orchestra: Academy of St Martin in the Fields. Conductor: Neville Marriner.

Imogen Holst

Welcome Joy and Welcome Sorrow - V. Lullaby

Performer: Tanya Houghton. Choir: Choir of Clare College, Cambridge. Conductor: Graham Ross.

Edward Elgar

Symphony No.2 in E flat major, Op.63 - movement 4 - Moderato e maestoso

Orchestra: London Symphony Orchestra. Conductor: Colin Davies.

Ludwig van Beethoven

String Quartet No.13 Op.130 - V. Cavatina

Ensemble: Tokyo String Quartet.

William Byrd

Diliges Dominum

Choir: The Sixteen. Conductor: Harry Christophers.

Nico Muhly

Bow thine ear

Composer: William Byrd. Orchestra: Aurora Orchestra. Conductor: Nicholas Collon.

Leonard Bernstein

Symphony No.1 'Jeremiah' - movement 3 - Lamentation

Singer: Marie‐Nicole Lemieux. Orchestra: Orchestra of the Academy of Santa Cecilia, Rome. Conductor: Sir Antonio Pappano.

Sir James MacMillan

Tryst (closing section)

Orchestra: Scottish Chamber Orchestra. Conductor: Joseph Swensen.

Dieterich Buxtehude

Membra Jesu - Cantata - VI. Ad Cor

Choir: Monteverdi Choir. Ensemble: Fretwork. Conductor: Sir John Eliot Gardiner.

Claude Debussy

Ballet from Petite Suite

Orchestra: Orchestre symphonique de Québec. Conductor: Yoav Talmi.

Dmitry Shostakovich

'Symphony for strings' (Quartet No.10) Op.118a - movement 2 - Allegretto furioso

Music Arranger: Rudolf Barshai. Ensemble: Dmitri Ensemble. Conductor: Graham Ross.

Johannes Brahms

Geistliches Lied

Orchestra: Orchestre Révolutionnaire et Romantique. Choir: Monteverdi Choir. Conductor: Sir John Eliot Gardiner.

Joseph Haydn

Horn Concerto No.1 in D major - movement 3 - Allegro

Performer: Alec Frank-Gemmill. Orchestra: Swedish Chamber Orchestra. Conductor: Nicholas McGegan.
Broadcast