Main content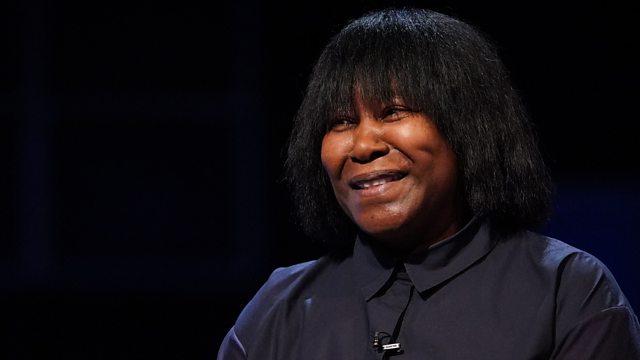 Joan Armatrading: Me Myself I
Granting unprecedented access, Joan Armatrading tells her life story, both as a songwriter and as a performer. Features key performances from Joan and many of the musicians she has influenced.
Joan Armatrading is one the most influential singer-songwriters in Britain. A national icon, she is known for her singular vision, both as a writer and as a performer. She has performed around the world to sell-out stadiums, releasing records and touring almost constantly from the early 70s to the present day.
In this documentary Joan talks about her self-belief and her unique ability to craft songs that have spoken to millions. Known for her reclusiveness, Joan has, for the first time, granted access to her life and music. Joan tells her story from Caribbean émigré to becoming one of the most revered songwriters of our generation.
The film covers Joan's childhood growing up in Birmingham, and how she began writing songs from a young age. Joan met some of the key people in her life when she joined the rock musical Hair in 1968. She left home to go on tour and forged a musical partnership with songwriter Pam Nestor. Their collaboration led to a major record deal and an opportunity to work with Elton John's producer, Gus Dudgeon. Her album, Whatever's for Us, received rave reviews and chimed with the burgeoning songwriting movement on the west coast of America. The album signalled a new energy and freedom taking shape in the 70s in Britain among the black population. Joan was propelled into the musical stratosphere, signing with major American label A&M for over ten years. She created her own genre of songwriting, defying stereotypes and breaking barriers, becoming one of the first black singer-songwriters in Britain.
Joan went on to forge an unbeatable dynamic with rock producer Glyn Johns, who had produced seminal albums with the Rolling Stones, the Eagles and the Who. She created one of the most-loved and iconic songs of the 70s when she wrote Love and Affection in 1976. She was 26 years old. It was a song that took simple emotional fragility and made it somehow both sensuous and raunchy.
Joan made three more hit albums in three years with Glyn and her music would become anthemic to the feminist movement gathering pace since the early 70s. Despite her gold records, international status and touring worldwide, Joan had to overcome misogyny in the music studio and fight racism in the music business.
In 1978, Bob Dylan asked her to play at his festival BlackBushe. Joan, the only woman on the bill, played alongside rock gods such as Eric Clapton. Ask her how she felt, being up there, and you will hear Joan's fearlessness - 'The Rock Gods don't scare me!' - showing the determination and strength that contributed to her success.
By the 80s, Joan refused to be pigeonholed into a 70s guitar sound and she would diversify her style, experimenting with synths and finding a new direction to create music without a producer. Joan was also one of the first black British musicians to appear on MTV, creating innovative music videos and capturing the imagination of younger artists in the States who had never seen a British black woman play and sing like her before.
Joan was nominated for a Grammy three times, one of which was for the song How Cruel, a song that articulated the racism that many black British people encountered in the UK at the time. Notably, it highlighted to African-Americans that the same problems with race were happening on both sides of the Atlantic.
Songs like Me Myself I and Drop the Pilot became overnight hits in the 80s, testimony to Joan's consummate songwriting ability. By the late 80s, Joan was one of the first women to write, arrange and produce all her albums, building a music studio at her home and working with the likes of Elton John, Pino Palladino and Mark Knopfler.
As well as unprecedented access to Joan, watching her play a sold-out tour, the film features exclusive, previously unseen archive and interviews with key collaborators from music producers Glyn Johns and Steve Lillywhite to musician Pino Palladino. The film also features interviews and cover versions of Joan's songs, from Martha Wainwright singing Me Myself I and Meshell Negeocello covering How Cruel to Shingai Shoniwa from the Noisettes performing Love and Affection.
Music Played
Timings (where shown) are from the start of the programme in hours and minutes
00:01

Joan Armatrading

Drop The Pilot

00:07

Andy Williams

Moon River

00:10

The 5Th Dimension, 5Th Dimension

Aquarius

00:20

Joan Armatrading

Dry Land

00:22

Joan Armatrading

Water With the Wine

00:23

Joan Armatrading

Like Fire

00:24

Joan Armatrading

Love And Affection

00:31

Joan Armatrading

Steppin' Out 

00:32

Joan Armatrading

Barefoot and Pregnant

00:38

Joan Armatrading

Cool Blue Stole My Heart

00:44

Joan Armatrading

I'm Lucky

00:46

Joan Armatrading

Me Myself I

00:48

Joan Armatrading

When I Get It Right

00:49

Joan Armatrading

I Love It When You Call Me Names

00:52

Joan Armatrading

Temptation

00:55

Joan Armatrading

Living For You
Credits
| Role | Contributor |
| --- | --- |
| Interviewed Guest | Joan Armatrading |
| Interviewed Guest | Paul Gambaccini |
| Interviewed Guest | Keith Harris |
| Interviewed Guest | Mike Howlett |
| Interviewed Guest | Glyn Johns |
| Interviewed Guest | Steve Lillywhite |
| Interviewed Guest | Pino Palladino |
| Musician | Shingai Shoniwa |
| Musician | Soweto Kinch |
| Musician | Meshell Ndegeocello |
| Musician | Martha Wainwright |
| Director | Poppy Edwards |
| Producer | Poppy Edwards |
Featured in...
A collection of programmes exploring black history and culture.

Celebrating some of the biggest names in music