Main content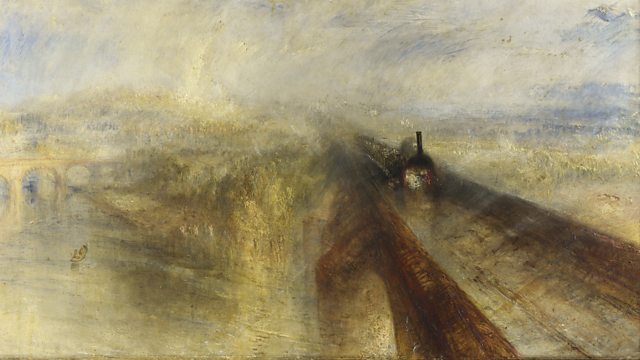 Tracking Progress
Sir Ian Blatchford and Tilly Blyth focus on how arrival of the railways shaped ideas about rapid progress, depicted in JMW Turner's Rain Steam and Speed, and the Firefly locomotive
Sir Ian Blatchford and Dr Tilly Blyth continue their series exploring how art and science have inspired each other, focussing on the novelty and anxiety of rapid technological change at the height of Britain's railway mania in the 1840s.
No image better evokes the transformative influence of the railways than JMW Turner's 1844 painting Rain, Steam and Speed. The painting, which normally resides at London's National Gallery, seems to give pride of place to the new Firefly locomotive and its exhilarating speed. But as the railways shaped ideas about modernity, was this steam powered newcomer seen as an exciting harbinger of change or a grim blight on the world?
The Firefly locomotive depicted in Turner's picture no longer exists, but a 1/8th scale working model designed by engineer Daniel Gooch resides in the Science Museum Group Collection. As Tilly Blyth reveals, the social and physical repercussions of Gooch's exquisitely fashioned engine, as it cut though the landscape, were clearly novel for some artists but confusing for many, who called into question the very nature of Victorian pride in progress.
Whilst it's a conflict that's never resolved, Ian concludes that we keep on returning to contemplate Turner's Rain, Steam and Speed - since rather than being a lament, it celebrates the new, without moral judgement. It's left to us, the viewer to weigh up any dilemmas that modernity and change continue to evoke.
Producer Adrian Washbourne
Produced in partnership with The Science Museum Group
Photograph (C) The National Gallery, London
Last on