Main content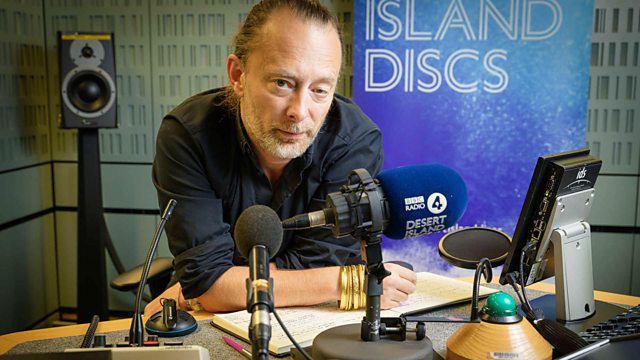 Thom Yorke, musician
Thom Yorke, singer and songwriter with Radiohead, chooses the eight tracks, book and luxury he would want to take to a desert island. With Lauren Laverne
Thom Yorke has been the front man of Radiohead, one of Britain's most successful British bands, for 34 years. They have sold over 30 million albums worldwide, and have won three Grammys and four Ivor Novello awards. Their debut studio album, Pablo Honey, was released in 1993, with their debut single, Creep, becoming a big international success.
Thom decided on his career at the age of seven, when he lay on the floor between large speakers at a friend's house and listened to Queen's Bohemian Rhapsody. He made his own electric guitar when he was 10, and wrote his first song at 11. At his secondary school he joined up with fellow pupils and they formed a band called On a Friday, as that was the only day they were allowed to rehearse. They all went their separate ways as university students, but then signed to Parlophone in 1991 and renamed themselves Radiohead.
Thom has collaborated with artists including PJ Harvey and Björk and has composed for film and theatre. His first feature film soundtrack, Suspiria, was released last year. His first classical piece, Don't Fear the Light, was premiered in Paris this year, and he has also been touring his latest solo album Anima. He is an activist on behalf of human rights, animal rights, environmental and anti-war causes.
DISC ONE: Ravel - Le jardin féerique – the Labèque sisters
DISC TWO: Scott Walker - It's Raining Today
DISC THREE: Talking Heads - Born Under Punches
DISC FOUR: Squarepusher and Aphex Twin - Freeman Hardy & Willis Acid
DISC FIVE: Neil Young - After the Gold Rush
DISC SIX: REM – Talk about the Passion
DISC SEVEN: Sidney Bechet - Blue Horizon
DISC EIGHT: Nina Simone - Lilac Wine
BOOK CHOICE: Zen Mind, Beginner's Mind by Shunryu Suzuki
LUXURY ITEM: A recording studio
CASTAWAY'S FAVOURITE: Born Under Punches (The Heat Goes On) by Talking Heads
Presenter: Lauren Laverne
Producer: Cathy Drysdale
Last on
The Radiohead frontman spoke to Lauren Laverne about his life, and his favourite music.
Music Played
Maurice Ravel

Ma mère l'oye, M.60 - For Piano Duet, M.60 - 5. Le jardin féerique

Performer: Marielle Labèque. Performer: Katia Labèque.

Scott Walker

It's Raining Today

Scott 3.
Philips / Fontana.
1.

Talking Heads

Born Under Punches (The Heat Goes On)

Remain in Light.
Sire Records.
1.

Squarepusher

&

AFX

Freeman Hard And Willis Acid

Warp20 (Chosen).
Warp Records.
12.

Neil Young

After The Gold Rush

After The Gold Rush.
Warner Records.
2.

R.E.M.

Talk About the Passion

Murmur.
I.R.S. Records.
3.

Sidney Bechet and His New Orleans Feetwarmers

Blue Horizon

Larkin's Jazz.
Proper Records.
5.

Nina Simone

Lilac Wine

Wild Is The Wind / High Priestess Of Soul.
Verve / PolyGram.
4.
Broadcasts