Main content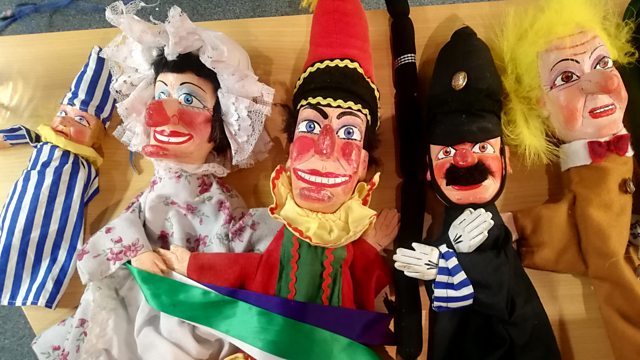 Judy Punches Up
Dr Naomi Paxton plays with the idea that fairground stalwart 'Punch and Judy' played a part in the Edwardian Suffrage Movement, along with an enthusiastic band of male supporters.
The traditional Punch & Judy show is famously violent, hardly feminist... but in this short feature, Dr Naomi Paxton reveals her discovery that the old sea-side show was at the heart of the Suffrage fairs that toured the country during the fight for Votes For Women. She also taps a seam of male support - with a cast of brave, persecuted and passionate supporters of female suffrage, drawn from the MP's, working men, and even men without the vote themselves.
Traditionally, Mr Punch kills the baby whilst looking after it; beats and kills Judy when she gets back and discovers his crime; knocks the head off the policeman who comes to arrest him – and triumphantly gets away with triple murder. He is portrayed as a free spirit, an untamed and maverick trickster who gets out of every situation using violence and his notorious slapstick.
Dr Naomi Paxton has uncovered a lesser known version of Punch and Judy - as supporters of the cause of Women's Suffrage - an exciting example of performative propaganda at fairs and exhibitions promoting the cause of 'Votes For Women'.
Suffrage newspapers tell us that campaigning women wrote these radical puppet shows and male supporters performed them, but no scripts are known to exist in archives.
So what would a suffragette Punch and Judy show be like? Would it simply reverse the roles - give Punch as good as Judy gets? Or would the story be changed entirely?
With the help of Peter Barratt aka Professor Diamond, a Punch and Judy performer and the great-grandson of Leicester suffragette Alice Hawkins, she imagines how the stories of female and male campaigners might been used to playfully subvert the traditional messages of the puppet show.
And with Dr Claire Eustance, of the University of Greenwich, she explores the often overlooked role men played in the suffrage movement - in particular the militant 'Men's Political Union for Women's Suffrage'.
Producer: Sara Jane Hall
Last on
Broadcast

Featured in...
From prison breaks to VR dinosaurs: insights from the AHRC & BBC's scheme for academics.

Creativity, performance, debate