Main content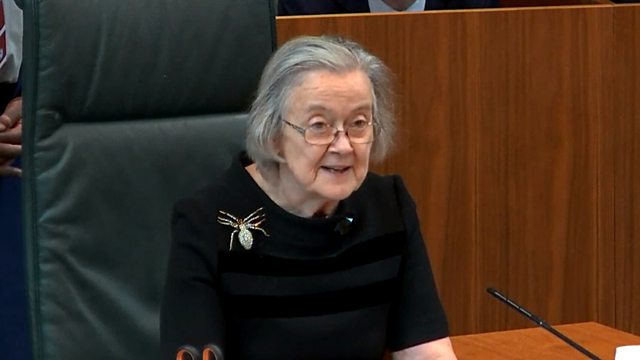 Britain's constitutional dilemma: who now runs the country?
Does Britain's constitution need an overhaul - and is it time to have a written constitution?
The Supreme Court has ruled that Boris Johnson's decision to prorogue Parliament was unlawful, turning a page on the country's constitution. The Supreme Court president Lady Hale said "the effect on the fundamentals of democracy was extreme."
The Prime Minister responded that he "strongly disagrees" with the ruling but will "respect" it.
So is British democracy at a crossroads? In an extended edition of the Briefing Room, David Aaronovitch asks who is running Britain and is it now time to have a written constitution.
CONTRIBUTORS:
Alison Young, Professor of Public Law, University of Cambridge.
Philip Norton, Professor of Government, and Director of the Centre for Legislative Studies, University of Hull
David Allen Green, contributing editor to the Financial Times and lawyer at Preiskel & Co
Michael Keating, Director of the Centre on Constitutional Change at Edinburgh University and Professor of Politics, at the University of Aberdeen.
Meg Russell, Director of the Constitution Unit at University College London, Senior Fellow at the UK in a Changing Europe
Murray Hunt, Director of the Bingham Centre for the Rule of Law
Producer: Neil Koenig
Editor: Jasper Corbett
Last on
Can history help us make better sense of the political turmoil we are living through?
Broadcast