Main content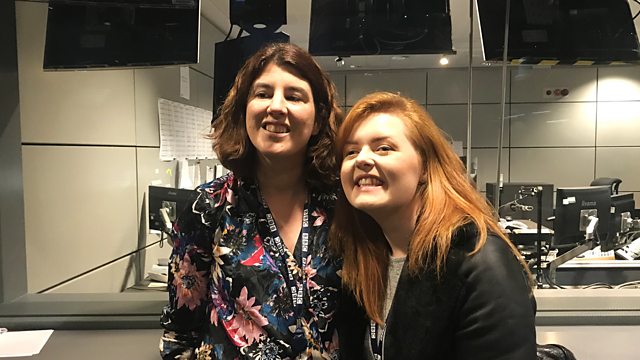 Putting Your Face On
A mini makeup workshop with blind beauty vlogger Lucy Edwards.
Lucy Edwards spent six years perfecting her beauty routine after she lost her sight, and has passed on all she learnt in a book called The Blind Beauty Guide. She gives fellow blind journalist Emma Tracey her best makeup tips.
Presenter: Peter White
Producer: Lee Kumutat
Pictured, from left to right: Emma Tracey and Lucy Edwards standing in the In Touch studio.
Last on
In Touch Transcript: 24-09-19
Downloaded from www.bbc.co.uk/radio4
THE ATTACHED TRANSCRIPT WAS TYPED FROM A RECORDING AND NOT COPIED FROM AN ORIGINAL SCRIPT.  BECAUSE OF THE RISK OF MISHEARING AND THE DIFFICULTY IN SOME CASES OF IDENTIFYING INDIVIDUAL SPEAKERS, THE BBC CANNOT VOUCH FOR ITS COMPLETE ACCURACY.
IN TOUCH – Putting your face on
TX:  24.09.2019  2040-2100
PRESENTER:          PETER WHITE
PRODUCER:            LEE KUMUTAT
White
Good evening.  Just because you can't see yourself in a mirror it doesn't mean you don't care about looking good.  The point was beautifully illustrated a while back by a charming video that went viral and found its way on to the BBC News website – the story of 84-year-old Des learning to do his wife Mona's makeup for her as she'd just lost her sight.
Video
That brush now Rosy, is that the one you'd usually use to do what he's doing?
Yes.
It's rattling anyway, there's something wrong with the handle.
Maybe just a little bit more on either side of the nose, see the way that she's a little bit wetter looking there, that's where the makeup is going to come off.
Oh, I see.
So, that's your setting powder, so that sets the foundation.
Yeah, it's not going to run away on me.
Exactly.  Her eyes are little bit sensitive but…
They're more than sensitive.  I'm going to be very careful of them.  It might take longer but it's…
Well, it's whatever you're comfortable with…
… much nicer, yeah.
…and if you – if you think it looks nice on Mona, use it.
White
Well not all Monas have a Des but they do now have Lucy Edwards – visually impaired vlogger, now author, who's produced the Blind Beauty Guide – a how to book for visually impaired people of any age who want to be able to put on their own makeup with confidence.
Well, so does journalist Emma Tracey.  We brought them together for a lesson.
Edwards
The background to the Blind Beauty Guide was six years of making videos, after my video Blind girl does her own makeup went viral.  And visually impaired people coming to me in workshops saying – how do you do your makeup Lucy, how do you do it?  And I kept giving the same advice, as I did, and I completely don't mind doing that, that's my job but I thought I'd put it into a guide.
White
But I mean how did you do it and who taught you?
Edwards
I have a fully sighted sister, we're completely obsessed with makeup.  I went into her room day after day, night after night doing my own makeup, saying – Alice, does this work?  And she would say yes or no, at the end of the day she's my mirror now, she could be brutal.  I used to go crying sometimes.  Then I thought – I don't want other people to feel like this.
White
Well also with us is Emma Tracey.  So Emma, what's your relationship with makeup?
Tracey
I'm definitely not obsessed with makeup.  What I would like to be is competent at it, to be able to just quickly in the morning do a simple day look and then if I was going out on a rare night out nowadays a bit of a night look, whatever that means.  So, I think I'd love to be competent but I don't feel like I have the time or want to spend a huge amount of time learning and trying and testing.  I think it's brilliant and fantastic that Lucy has done that for me and I'm just going to take advantage of all the hours that she spent trying stuff out, so that I can do it nice and quickly before I leave for work.
White
And I just wondered how much time you actually do take on your makeup at the moment?
Tracey
Me?  I am lucky if I put tinted moisturiser on and maybe a little bit of lip gloss, that's probably the extent of my daytime look, if I'm leaving the house.  If I'm not leaving the house there's no makeup applied.  At night, if I was going on a night out, I would chance a bit of foundation, a bit of blusher and a bit of eyeshadow but like one colour of eyeshadow, the blusher I've had for a few years, the foundation I got last Christmas and I do it all with my fingers.  So, it's very basic.
Edwards
Emma, what I would say is that's a really great start and a lot of visually impaired women do start with using their hands.  I do it indeed, when I want to – when I'm feeling a bit tired, when the mood takes me, I tend to apply maybe my foundation with my hands and then I go in with a beauty blender – which is the first tip.
Tracey
A beauty – what is a beauty blender?
Edwards
A beauty blender is…
Tracey
The only blender I have is one that I make soup with.
Edwards
[Laughter] A beauty blender is something that I really needed when I first went blind because I was doing my foundation all wrong, according to my sister.  So, it's a little sponge that is a tear drop shape and you run it under a cold tap for about two to three minutes, and then you squeeze out the excess, so it is damp but it's not drenched…
Tracey
Okay, I've brought a sponge, as a matter of fact, but I don't use it, I just carry it round in my bag…
Edwards
I've got a sponge as well.
Tracey
Can I show you mine?
Edwards
Yeah, I'll show you mine if you show me yours.
Tracey
Is this a tear drop shape, it looks kind of like a…
Edwards
Oh yeah that's….
Tracey
…it looks a bit rude.
Edwards
That's a beauty blender, I love it, what do you use that for then?
Tracey
Nothing, I carry it round in my bag.
Edwards
[Laughter] I love it though, well basically you need to put that under water, squeeze it out and you'll apply your foundation flawlessly – you dap that on your face.  Do you want me to show you the motion?
Tracey
Which end, which end?
Edwards
Well the bigger end on the big parts of your face and then that goes under your eyes.
Tracey
It's got a kind of angled flat end and then it's got a pointy end like a pencil and the middle bit is a bit like an egg shape, so it's like an egg with one sort of cut out bit at one end and a pointy bit at the other end.  So, apparently the flat bit's for my face, so the pencil bit goes under my eyes.  Now I have liquid foundation, in a tube, right, how do I squirt that on to the sponge or…?
Edwards
So, if you're not confident with applying foundation what I tend to do in my workshops is say, right, get as much as foundation as you want on your hands, as you think that you would like to go on your face, dab it on my forehead, your cheeks, a little bit on your nose, a little bit on your chin, so you're evenly spreading it, just slightly dabbing with your hands.  And then have your wet beauty blender and dab it all over your face.
Tracey
Okay, so just like… I'm just basically flapping the flat end on my cheeks.
Edwards
But I'm probably doing it very hard, so people can hear but…
Tracey
How do I know how much foundation to put on my hands though?
Edwards
So, I would say, average, if you want quite a light coverage – this is just a general rule I go for – one pump on each half of your face.
Tracey
Okay, but mine's a tube, so…
Edwards
Let me have a look.
Tracey
Hang on, let me get it out from underneath the baby wipes.  Oh, here we go.
Edwards
So, what I would so, maybe like, if you have a pea on your plate, maybe two peas then, if you want like a light amount.
Tracey
Two peas of foundation.
Edwards
Yeah, two peas.
Tracey
Cool.
Edwards
That would be lovely.
Tracey
Okay, so I dab it all over my face and then what?
Edwards
I have like quadrants in my head that I go for, so I go left – have I done the left – right, top right, bottom left, bottom right, have I done my nose.  Because sometimes I don't get my nose balls – a lot of the people don't call them nose balls but it's like the inner bit of your nose, those are the bits that…
Tracey
The inner bits of my nose?
Edwards
So, you know the indentation…
White
You mean where it kind of goes in – yes like…
Tracey
Between the chambers?
White
…the dents…
Edwards
Yeah, the dents…
White
… on the side – on the sides of your nose.
Edwards
…before your nostril, on the sides of your nose there.
Tracey
Okay, alright, see Peter knows more about nose balls than I do.
White
Never heard them called nose balls before.
Edwards
I just call them that, I don't know why.
Tracey
And do I put it on my eyelids?
Edwards
What I do there is just the excess bit on the beauty blender I just swipe over.
Tracey
Where do I put the foundation?  So, below my chin, all around that…
Edwards
Yes, and down slightly…
Tracey
…so that I don't get a line.
Edwards
…yeah, down slightly just to the bottom of your neck I would say.
Tracey
And how do I make sure I don't have a line, because everyone is always talking about this line?
Edwards
The beauty blender will not give you a line.
White
Okay, that's sort of foundation.  What next?
Edwards
Well every visually impaired person comes up to me and says – How do I do my eyes?  So, in front of me here, Emma, is a Z Palette and it's got a magnetic bottom on it and you can buy single eyeshadows, which is what I really recommend because look, you can take them out, can you see the magnetic nature of them?
Tracey
Right, okay, this is good.
Edwards
So, you can order them in whatever way you want.
Tracey
This is the answer to a thing I've been wondering about for a very long time because I actually asked someone the colours in my palette and I've forgotten them already.
Edwards
Yeah, exactly.  So, what's really good is you just – I like three because I think the way to good eyeshadow is three colours – one light colour, one medium colour, one dark colour and they're all matt.  If you put a shimmery eyeshadow on and it's like a pinky colour, sometimes my sister said I looked like I'd been punched…
Tracey
Oh gosh, right.
Edwards
And sometimes it's not as easy to blend.
Tracey
And what's the point of eyeshadow anyway?
Edwards
Oh, okay so…
White
That's what I like – a good basic question.
Edwards
I like that, yeah.  For me I love to define my eye with a slightly darker colour because it opens them up and you just feel a lot more awake and when I have eyeshadow on apparently that's what people say I look like.
Tracey
Okay, so they open up my eyes, which is good because my eyes are always closed and blinky all the time, so maybe if I wear eyeshadow, they won't look like that so much?
Edwards
Yeah, also, when I used to have really, really thick lenses when I could see a bit it was nice to have a bit of eyeshadow on.
Tracey
But would – would actually having this eyeshadow combo that opens my eyes up would that not draw more attention to my blindy looking eyes?
Edwards
I like it because I know that I look slightly left or slightly right, but it makes me feel proud of my eyes.
White
Can I ask a naïve question?  I mean it's interesting hearing you talk about this because obviously you are striving for an effect and then you have to rely on someone else to tell you whether you've actually achieved it – is that frustrating?
Edwards
I used to get really frustrated at it actually, Peter, I used to think – oh I can't put anything on without asking my sister, that's so annoying.  But I have set products that I know the formulas of and I have one separate makeup bag that I'm like, right, I can do that on my own, don't need anyone, yah boo sucks to everyone.  But separately, because I'm obsessed with makeup and addicted to it, I have a separate bag and I say to myself – when I next see my sister, Alice, we're going to play with this because it's my hobby as well.  And what I say in my book is – the more you do this and the more you stick to set products that are in your set routine with labelling, you can control everything.
White
So, you have to be rather like kitchens, if you're blind or partially sighted you've got to be pretty well organised.
Edwards
You have to be organised.  I have had so many blind girl meltdowns with my makeup bag sitting in front of me with two concealers in it – and you don't need two concealers – put one in another place, put loads of bump ons on it, tacti mark, elastic bands, different compartments.  You can get these makeup bags that just pull out and there's like four or five compartments – I have those.
Tracey
So, if I was to walk out of here, if I used a good foundation, had some eyeshadow, a bit of lip gloss and then could I maybe like glittery it up at the night-time or something, just as an extra thing because I hear people do like daytime makeup and night-time makeup and I don't know if I've got the time for learning how to do both.  So, what could I do to jazz it up?
Edwards
Oh, you could jazz it up with a bit glitter liner, which is always a go to for me…
Tracey
Liner's scary though.
Edwards
Oh no, because you can get some clear liners with just glitter in them.  It's not scary.  If you pat them on the middle of your eye, all the glitter is concealed into the one clear liner.
Tracey
But isn't the eyeliner for the lines around your eyel…
Edwards
So, you can get two types of liner – there's black – there's black liners and then there's glitter liners and there's all sorts of different things on the market. 
Tracey
Let's go for this eyeshadow then.
Edwards
Okay, let's go for the eyeshadow.
Tracey
Okay, so this is your palette, this here.
Edwards
Lovely, yeah, this is the palette.  So…
Tracey
Okay, and I open it up.
Edwards
Yeah.  So, I go from left to right, my left colour is my lightest, then it goes medium/dark and then dark.  What I would do if you're starting eyeshadow, use your fingers.
Tracey
So, this is the leftist most left?
Edwards
Yeah, dip your finger in there.
Tracey
Flat – my finger flat?
Edwards
Yeah, flat finger.  Rub it slightly, maybe two or three times left and right then press it on your eye, I don't want loads of swiping.
Tracey
On my eyeball…
Edwards
Yeah on your eyeball.
Tracey
Can I – just give me your hand, can I just show you where I'm going to put it?  So, like right on my eyeball on the middle?  Okay.
Edwards
Yeah, there, but not past your crease…
Tracey
In the middle?
Edwards
Shall I show you your crease?
Tracey
Yeah, show me my crease.
Edwards
So, that's your crease, you know the crease of your eye.
Tracey
So, my crease is just before the bone starts?
Edwards
Yeah, just before the bone starts.  So, you want the colour all on…
Tracey
On the squidgy bit?
Edwards
…all on the squidgy bit, yeah.
Tracey
All over it or just in the middle bit?
Edwards
I'd say all over it.
Tracey
All over the squidgy bit.
Edwards
But start at the middle, I'd say and press down.  And I would say you need three or four presses because of this pigment, this eyeshadow.
Tracey
Three or four presses – what does that mean?
Edwards
So, three or four presses once and then I'd dip back into the pan, maybe once or twice and it depends on the pigment of your eyeshadow.
Tracey
So, I've just done my – so that's for each eye right?
Edwards
Yeah, that's for each eye.
Tracey
I'm just doing the right eye now.  I actually am really enjoying this, this is really, really helpful.
Edwards
I think it's therapeutic and it's so tactile, really makes my brain go somewhere else and just feel happy.
Tracey
Yeah, I feel like I'm colouring in or like painting or something.  Okay, I've done my eyes with one colour, do I have to do all three, do we have time for all three?
Edwards
I don't think we have time – do we have?  No.
White
I suspect not.
Edwards
No, but basically what I would tell you to do after this, just a sped-up version, is dip an eyeshadow brush, quite a thin one, into the middle colour and dab all on your crease, like a sort of line.  And leave that and then I'd do the same with the outer V – so your outer V is the outer portion of your eye – so I'd do the crease colour all on that crease…
Tracey
On the bit with the bone?
Edwards
Yeah, and then only half, which this is your outer V…
Tracey
Yeah, so the outer triangle at the outer edge of your eye.
Edwards
Outer triangle of your eye.  I would also say a good skin care routine is just across the board, amazing for everyone and that's what I say in my book as well.  If you don't have a good skin care routine, you're not going to have much luck with putting makeup over bad skin.
Tracey
Lucy, what are, if any, the makeup don'ts for people who are visually impaired – what should we not attempt?
Edwards
Okay.  Makeup don't number one:  Don't use a brush to put on your foundation because you can't see the brush strokes – if you're completely blind like myself and yourself – Emma.  I wouldn't go for really dark lipsticks, to start with, you can definitely build up to them.
Tracey
And don't use your fingers for foundation, definitely use a sponge?
Edwards
You can use your fingers to start with – to dab it on, as I said to you – but use a sponge afterwards because it just is way more even coverage with a bit of water on that sponge.
Tracey
Can you use the same sponge for your foundation as you would for your powder?
Edwards
Yes.  Obviously, you need to make sure to wash in between each day that you do it…
Tracey
Wash the sponge you mean?
Edwards
[Laughter] Because I'm so excited I get so passionate, I'm like blah blah…
Tracey
You really, really are, it's so – it's so lovely and it actually makes me want to do it and it makes me much more sort of willing to try because you're really – you want me to succeed.
Edwards
I really want you to, so badly.  What I was saying about the foundation is you can use a beauty blender for your powder afterwards to set but make sure to dip your sponge into the powder quite strongly…
Tracey
The fat bit?
Edwards
Yeah, the fat bit.  Right underneath your eyes to set your concealer and to set your foundation, dab it as you go and then make sure to wash…
Tracey
The sponge.
Edwards
Yeah, the sponge.  Okay, so mascara…
Tracey
Oh no.
Edwards
Yeah, I know, it's really scary.  If you really have sensitive eyes and you want to start mascara go with a see-through mascara first, that's what I would say because it's very easy to get all over your face.  But make sure, when you first get a new mascara, my first tip is to get a travel size, it's easier to get on your lashes…
Tracey
But what's the point in putting a see-through mascara on if you can't – if it's see through?  Is it invisible mascara?
Edwards
Yeah, it's kind of invisible but also, it's the process of putting it on that I want you to do over and over, it'll take you a month to try and just get that muscle memory.
Tracey
And what about getting them tinted instead, would that be easier?
Edwards
Yes, definitely, a lot of blind girls and blind boys that I know get their eyelashes tinted.  It can be quite sensitive if you do have different eye conditions but it's definitely an option and also eyelash extensions I'd say.
Tracey
And with the mascara I was told to blink on to the brush?
Edwards
You bring the mascara wand to your eye, don't move the mascara wand and blink on to it – that's the best way to do it.
Tracey
Because I'm pretty good at blinking.
Edwards
Yeah, also my top tip with mascara is when you're getting a new one, air it for a few hours and it's probably the opposite to other beauty gurus out there, they say oh a fresh mascara's amazing, but for blind girls and blind boys who are applying mascara it can get all over our face, it smears a lot on the top of your lash, on your fingers, all in your makeup bag – it's a disaster, darling, waiting to happen.
Tracey
So, you take the top off and you leave it standing in something for a bit?
Edwards
Yeah, it just gets a bit more solid and you can feel it going on your lashes a bit easier.
White
And Lucy Edwards Blind Beauty Guide is currently available on Amazon Kindle and it'll also be on Audible in a few weeks' time.
And Lucy's sister dedication to their nightly makeup classes set us thinking about the lengths some people will go to just to demystify a concept, make something for you, come up with ways for us, as visually impaired people, to do things we really want to do.  And remember, for instance, Matthew Shiffrin who told us about a family friend who nurtured his enthusiasm for Lego.
Shiffrin
The friend was Lena Finkles, who was a family friend, and on my 13th birthday she brought me this big cardboard box and this big fat binder and in this big cardboard box there was an 843 Middle Eastern Lego palace.  And in the big fat binder were instructions that she brailled by hand on a braille typewriter which let me know what parts I'd need, where they should be placed and what everything would look like once everything was set and done.
White
Well, can you beat Matthew's example or even get near it?  I remember my dad spending hours giving me the confidence to balance on a two-wheeler bike – I was about four at the time I think – and my producer, Lee Kumutat, you've got an example as well?
Kumutat
My friend, when we were teenagers, she used to read entire Sweet Dreams romance books to me at night till the early hours of the morning, just because my mum wouldn't let me borrow romance books from the braille library.
White
That is truly selfless.
Kumutat
It was.
White
We'd like your experiences of family, friends, maybe a complete stranger, who've gone the extra mile and then some.  You can call our direct line to leave a voice message on 0161 8361338, you can't email intouch@bbc.co.uk or go to our website bbc.co.uk/intouch from where you can also download tonight's extended podcast to hear more makeup tips. 
Thanks Lucy Edwards and Emma Tracey.  From me, Peter White, producer Lee Kumutat and the team, goodbye.
Broadcast