Main content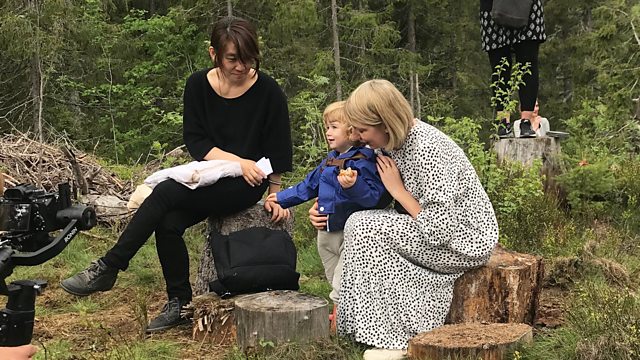 Katie Paterson - The Matter of Time
Scottish artist Katie Paterson's work transmits the wonder of the cosmos, of time and our existence. She takes us with her to Future Library in the spruce forests near Oslo.
Scottish artist Katie Paterson offers us back the universe, with the help of experts in science and technology.
She famously used a nano-chisel to carve grains of sand from the Sahara desert to be infinitesimally smaller. She has worked with astrophysicists to simulate moonlight, and with a perfumer to render the smell of space. She wants to make manifest in objects and experience the wonders of the cosmos, of time and our existence - as reality rather than faith. She lets epic astronomical phenomena percolate into objects and experiences, images and sounds. Just to name a few more - an automated piano playing Beethoven's Moonlight Sonata bounced to the moon and back, a spinning colour wheel depicting the evolution of the universe, and a phone line that relays the sound of a melting glacier.
Future Library is Paterson's most ambitious artwork yet. In 2014, a thousand trees were planted in the forest. They will continue to grow until 2114 when they will be turned into books, each written by a different author and kept in a special safe place by the City of Oslo. This is a life project and a journey she will make every May until she dies.
The first writer was none other than Margaret Atwood. In her Forest Ceremony speech in 2015, she reflected on the mystery of the hundred years, "How strange it is to think of my own voice - silent by then for a long time - suddenly being awakened, after 100 years. What is the first thing that voice will say, as a not-yet-embodied hand draws it out of its container and opens it to the first page?"
In this programme, Paterson takes us to the forest to witness South Korean Han Kang (author of The Vegetarian) hand over her manuscript. In reflecting on the project she said, "In Korea, when a couple gets married, people bless them to live together 'for 100 years'. It sounds like almost an eternity, I cannot survive 100 years from now, of course. No one who I love can survive, either. This relentless fact has made me reflect on the essential part of my life. Why do I write? Who am I talking to, when I write?"
On this journey, we'll hear more from Paterson about her work as an artist, and report on her nationwide project First There is a Mountain, which takes place on beaches around Britain. We also hear about the room at her grandmother's house where, as a child, she'd lock herself in to have visions.
Katie Paterson was born in Glasgow in 1981, studied at Edinburgh College of Art then spent a year living in Iceland before embarking on a master's at the Slade. She returned to Iceland to work as a waitress when the night sky became her obsession. She has pursued projects which engage a variety of scientific specialisms, especially astronomy and astrophysics. She's been an artist-in-residence at University College London and is in regular contact with academic departments, observatories and amateur astronomers around the world.
Produced by Kate Bland and Stella Sabin
A Cast Iron Radio production for BBC Radio 4
Last on
Broadcast