Main content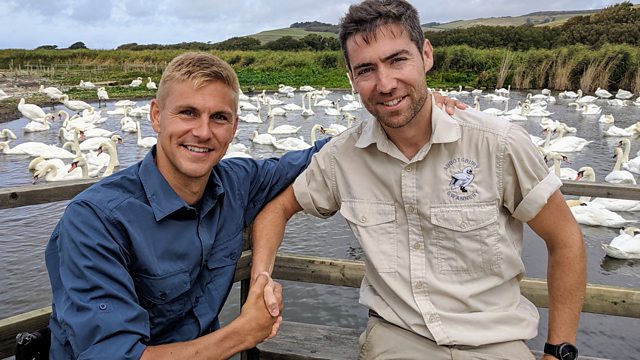 Dorset
Ellie Harrison joins volunteers restoring the Cerne Abbas Giant, and Charlotte Smith investigates the true scale of domestic abuse in the countryside.
This week the team are in Dorset, where Ellie Harrison meets a larger-than-life character. He's 180 feet tall and as well known as he is endowed - the Cerne Abbas Giant. But after nearly a decade of soggy summers and being trodden on, his power is waning. However, next year he has a hot date. It's 100 years since the giant was gifted to the National Trust, and he needs to be smartened up! Ellie joins a group of volunteers to re-chalk the figure and restore it to its former glory.
Ellie also visits a farm where you can harvest your own bouquet. You've heard of pick-your-own fruit - well, this is cut-your-own flowers! Steve Brown visits the only managed flock of mute swans in the world, at Abbotsbury Swannery. It's thought to be the oldest continuous conservation project in the UK, dating back almost 1,000 years. Adam Henson meets the Welsh and Scottish contenders hoping to lift this year's One Man and his Dog trophy, and Charlotte investigates the true scale of domestic abuse in the countryside.
Cerne Abbas Giant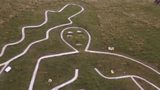 Ellie explores the fertile hills of Dorset – and helps one of the county's most famous residents get ready for a big date… the Cerne Abbas Giant. 
Next year marks the 100th anniversary since the Giant was gifted to the National Trust and he needs some sprucing up with a bit of rechalking!
Ellie also learns more about the mystery and history of the Giant with local historian Mike Clark.
One Man and His Dog: Team Wales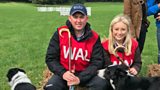 Kevin Evans, brace competitor for Wales, trains and sells sheepdogs for a living and currently has 30 dogs living with him on his farm.   
This year he's competing with a pair of collies who are brothers - Doug and Beck.  Kevin's got a long history with One Man & His Dog having first taken part as a youngster back in 1994 and going onto win the singles title as an adult.  He's also a master at the brace, having won the Welsh national brace title four times.  But it's three years since he last competed – will he still have that winning magic?
His teammate, 16-year-old Erin, is following in her mother's footsteps as she also competed in One Man and His Dog back in the 1990s.  
She'll be competing with Moxy the dog and is definitely one to watch after winning the International Young Handler's Competition in Ireland this year.
Domestic Abuse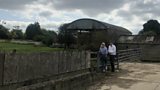 Three years ago, Charlotte first exposed the true scale of domestic abuse in the countryside.
Now, a new report lays bare the continuing reality of abuse in our rural areas and reveals how countryside isolation is being  'weaponised' by abusers. 
Charlotte meets Luke Hart whose father used their rural location to abuse and control his family over a period of 26 years.
And she hears from a charity that has found a new way of helping victims of abuse find the much needed professional support they need - no matter where they live.
Abbotsbury Swannery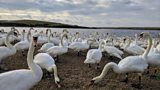 Steve visits one of the UK's oldest conservation projects, Abbotsbury Swannery. 
It's a place that more than 800 mute swans call home and it's the only managed colony of its kind in the world. 
The swannery dates back to the Benedictine monks who set it up in the mid 11th Century.
Steve meets a plucky little cygnet on the mend following major surgery before catching up with the 'Swanherd': a job role as old as the swannery itself.
One Man and His Dog: Team Scotland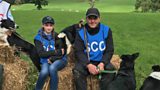 Brace competitor Alistair McKenzie only started trialling in his twenties but his skills have since won many trophies including last year's Scottish National brace title.  
He's a new face to One Man and His Dog but may be getting some tips from his son who took part in the young handlers side of the competition in 2014.  
Alistair will be using dogs Bhuoy and Jess, who are paired up together for the first time this season. 
Meanwhile, representing Scotland in the young handlers round this year is our youngest competitor 13-year-old Tyler.  
She's also fresh to the world of sheepdog trialling, having only taken up the sport a year ago, and will be using one of her dogs, Pat, to compete for the title.
Countryfile Ramble for BBC Children in Need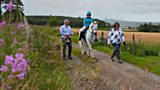 The Countryfile Ramble for BBC Children in Need is only three weeks away!
This year's Ramble weekend is Saturday and Sunday, October 5th-6th.  
One of the inspirational young people joining us to ramble this year is 13-year-old Lucy.  
Lucy lives in rural Aberdeenshire and was born with Spina Bifida and Hydrocephalus.  
The condition means she's paralysed from the waist down but, despite this, Lucy lives a full and active life.  
Children in Need help support Lucy and her family through a support worker from Spina Bifida Hydrocephalus Scotland and weekends away where families in similar situations can get together for support and to socialise.
Flower Farm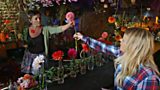 Blackmarsh Farm in north Dorset may look like your typical farm...but all is not as it seems.  
If you look beyond the cowsheds, you'll find something unexpected as Ellie discovers.
She meets the Stickland family and grabs a pair of secateurs to help them harvest their unusual crop before picking up a few helpful tips on flower-arranging.
Credits
| Role | Contributor |
| --- | --- |
| Presenter | Ellie Harrison |
| Presenter | Steve Brown |
| Presenter | Adam Henson |
| Presenter | Charlotte Smith |
| Series Producer | Joanna Brame |
| Executive Producer | Bill Lyons |