Main content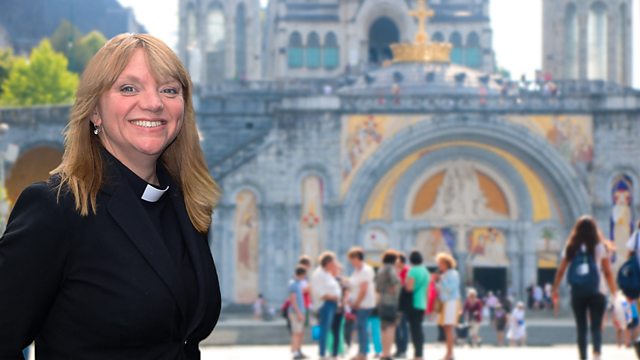 Lourdes
In a special episode, Kate Bottley visits the sacred Christian site of Lourdes in France and meets a British man who believes he was miraculously cured there.
In this special episode, the Reverend Kate Bottley visits the sacred Christian pilgrimage site of Lourdes in south west France, revealing how she first went as a child.
Each year around six million people make a pilgrimage to this small town where many believe miracles can happen. Back in 1858 a young girl saw a vision of the Virgin Mary, Our Lady of the Immaculate Conception, in a grotto on the edge of her village of Lourdes, and ever since many Christians have considered it to be a place of spiritual and physical healing. We hear the remarkable story of one man who believes his terminal illness was cured here over 50 years ago. Around 100 people each year claim to have been cured in Lourdes, and Kate meets Dr Alessandro Franciscis from the International Medical Committee of Lourdes, who assess people's claims to have been miraculously healed. A highlight of the trip for Kate is when she joins a pilgrim from the Leeds diocese and together they bathe in the holy waters.
And music from around the UK, including a stunning performance of Ave Maria from Mary Jess and Joanna Forest.
Music:
Praise To The Holiest In The Height – Our Lady's Church, York
We Cannot Measure How You Heal – Stockbridge Church, Edinburgh
Ave Maria – Mary-Jess and Joanna Forest
I Will Give Thanks – Aberystwyth Arts Centre
Make Me A Channel Of Your Peace – All Saints' Church, Northampton
Christ Be Our Light – St Patrick's Church, Dungannon
Tell Out My Soul – St John The Baptist, Tideswell
Stories
The History of Lourdes The Rev. Kate Bottley meets Father Xavier D'Arodes, Chaplin of the Shrine, to find out about the history of Lourdes and hears how in 1858, a 14-year-old village girl named Bernadette Soubirous saw an apparition of 'Our Lady', the Virgin Mary.  
The Story of Kazik StepanThe Rev. Kate Bottley meets Kazik Stepan, who tells the remarkable story of how, aged 18, he believes he was cured of a terminal illness here in Lourdes.
Miracles In LourdesThe Rev. Kate Bottley meets Dr Alessandro de Franciscis, the head of the International Medical Committee of  Lourdes, to discover how a miracle is confirmed. We also learn about Sister Bernadette, the 70th and latest cure to be confirmed as miraculous and Kazik Stepan explains he is currently waiting to hear if the committee decides if his cure, back in 1965, is unexplainable. 
Bathing in the Lourdes WaterThe Rev. Kate Bottley meets a group of pilgrims from the Leeds Diocese in the UK, to find out why their 570 strong group has come to Lourdes.  Kate accompanies Mary Matthews, one of the Leeds pilgrims, as they bathe in the Lourdes water.
Credits
| Role | Contributor |
| --- | --- |
| Presenter | Kate Bottley |
| Executive Producer | Cat Lewis |
| Executive Producer | Emyr Afan |
| Producer | Charlotte Hindle |
| Series Producer | Matthew Napier |
| Production Company | Avanti Media |