Main content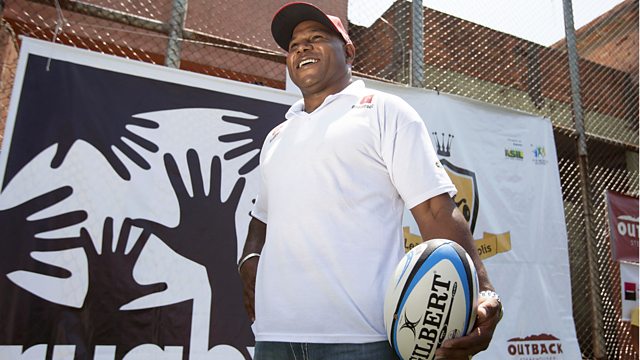 Chester Williams, Sheikh Yusuf Motala, Jan Ruff O'Herne, Ric Ocasek
Matthew Bannister on Islamic scholar Sheikh Yusuf Motala, rugby player Chester Williams, campaigner Jan Ruff O'Herne and rock star Ric Ocasek.
Pictured: Chester Williams
Matthew Bannister on
Sheikh Yusuf Motala who founded the first traditional Islamic seminary in the UK, and trained hundreds of Imams.
Chester Williams, the only black rugby player in the South African team that won the World Cup in 1995.
Jan Ruff O'Herne who was forced to work in a brothel by the Japanese army during the war. She kept her story secret for fifty years, but ended her life campaigning against the use of rape as a weapon of war.
Ric Ocasek, the singer who wrote many hits for the American rock band The Cars, including 'Drive' and 'My Best Friend's Girl'.
Interviewed guest: Innes Bowen
Interviewed guest: Dr Riyaz Timol
Interviewed guest: Carol Ruff
Interviewed guest: Garth Cartwright
Producer: Neil George
Archive clips from: Sunday, Radio 4 15/09/2019; Australian Story: Australian Comfort Woman Jan Ruff O'Herne, ABC 2001; Chester Williams - Champion of a New South Africa, Real Rugby 10/08/2016; Outlook, BBC World Service 14/10/2015; South Africa win the 1995 RWC, World Rugby 04/05/2016; Speedster Williams bags four tries on debut, World Rugby 14/09/2015; Invictus, directed by Clint Eastwood, Warner Bros 2009; Nelson Mandela & Francois Pienaar moment at RWC 1995, World Rugby 24/06/2015; Entertainment Tonight, Syndicated 1985.
Sheikh Yusuf Motala
Born 25 November 1946; died 8 September 2019, aged 72.
Last Word spoke to Innes Bowen, Investigations Editor at BBC Newsnight, and Dr Riyaz Timol, Research Associate in British Muslim Studies at Cardiff University.
Chester Williams
Born 8 August 1970; died 6 September 2019, aged 49.
Jan Ruff O'Herne
Born 18 January 1923; died 19 August 2019, aged 96. 
Last Word spoke to her daughter Carol Ruff.
Ric Ocasek
Born 23 March 1944; died 15 September 2019, aged 75.
Last Word spoke to music journalist Garth Cartwright.