Main content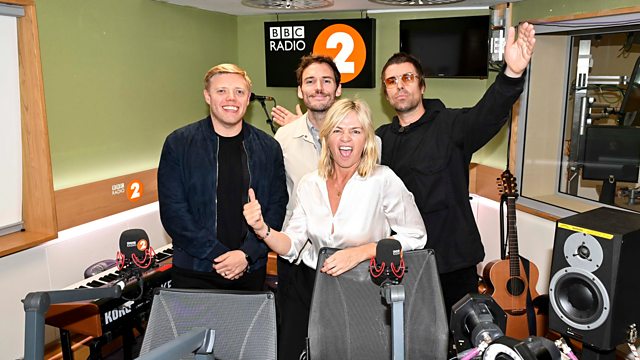 Liam Gallagher, Sam Claflin and Rob Beckett
Rob Beckett and Sam Claflin join a star-studded Friends Round Friday with Zoe Ball. Plus live music in the studio from Liam Gallagher!
Wake up to a star-studded Friends Round Friday with Zoe Ball. Comedian Rob Beckett tells Zoe how he is preparing for his stand-up tour, Wallop. Sam Claflin pops-in to talk Peaky Blinders Season 5 and Oasis frontman Liam Gallagher performs live in the studio on the day his solo album Why Me? Why Not. is released, including a very special duet!
Along with Tina Daheley on news, Jules Lang on travel and Hugh Ferris on sport, Zoe and the team have the best start to your morning. With celeb guests, quizzes, headlines, tunes chosen by listeners and more music than you can shake a glitterball at!
There's also weather with Matt Taylor and a Pause For Thought from Reverend Kate Bottley as Zoe entertains the nation with fun for the family!
Last on
Music Played
Eurythmics

There Must Be An Angel (Playing With My Heart)

The Female Touch 2 (Various Artists).
Global Television.

Simply Red

Thinking Of You

Blue Eyed Soul.
BMG Rights Management (UK).

Michael Bublé

Haven't Met You Yet

Jennifer Lopez

Ain't It Funny

Ian Dury & The Blockheads

Hit Me With Your Rhythm Stick

Fantastic 70's (Various Artists).
Sony Tv/Columbia.

Stevie Wonder

I Wish

Songs In The Key Of Life (Vol.1).
Motown.

KC and the Sunshine Band

That's the Way (I Like It)

Disco Fever (Various Artists).
Global Television.

Kygo

vs

Whitney Houston

Higher Love

(CD Single).
RCA Records.

Judy Clay

&

William Bell

Private Number

Heartbeat: Love Me Tender (Various).
Global Television.

Blondie

Atomic

Atomic: The Very Best Of Blondie.
EMI.

Lizzo

Good As Hell

Coconut Oil.
Nice Life.
5.

Kim Carnes

Bette Davis Eyes

And The Road Goes On Forever Vol 1.
Debutante.

Martha Reeves and the Vandellas

Dancing In The Street

Dancing In The Street (Various Artis.
Universal Music Tv.

Wham!

Wake Me Up Before You Go-Go

Fantastic 80's Disc 1 (Various Artis.
Columbia.

Madonna

Beautiful Stranger

Madonna - Greatest Hits Volume 2.
Maverick.
13.

Gabrielle Aplin

&

JP Cooper

Losing Me

Dear Happy.
Never Fade Records.

Kym Sims

Too Blind To See It

The Divas Of Dance (Various Artists).
Telstar.

The Goo Goo Dolls

Indestructible

Miracle Pill.
Warner Music.

Tavares

Heaven Must Be Missing An Angel

20 Songs Of Love From The 70's (Vario.
MFP.
Pause For Thought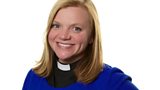 From the Reverend Kate Bottley: 
So you might know that recently I've taken up outdoor swimming. And as well as a whole load of gear (and not really much idea) the other thing I've gained is a community of like minded souls who embrace the cold and love the cake. Through the summer we've welcomed the fair weather fellows but now the temperatures in and out of the water are getting into single figures, it isn't just the mercury that's dropping, the numbers of dippers are too. The general consensus being that it is some sort of insanity to want to swim in cold water. Well, ever the one to take things a bit too far, this weekend me and 500 other people are going for a swim…at sunrise…in the north sea…completely and utterly naked. Yes, that's right, not even the vicar's knickers. 
It's all for a very good cause of course, The North East Skinny Dip raises awareness and funds for mental health charities. The bible has a promise about the rough waves 'When you pass though the waters I am with you and the waters will not overcome you.' All well and good, but as I recall it's walking on water that's the Divine's forte, not swimming in it. So where will God be while I'm braless in the brine? 
Well, for me God is present in my pals, because the truth is that not only would I struggle to keep my head above water without God, I would without doubt drown in the pressures of life without those who I swim beside. The friends who check I'm not about to go under, help me find the peace in a troubled sea, keep me waving not drowning. I just need to remember to ask for help when I need it. Swimming in cold water you get used to people saying 'You must be mad!' but actually it's doing stuff like that helps me not to be. So on Sunday morning I'll grab the hands of the people next to me, strangers and friends and brave the waves together. I'll also be chatting live to Jason Mohammed on Good Morning Sunday, at around 8.20am and you and me both will be thanking the good Lord that when it comes reporting a skinny dip it's radio and not telly.
Broadcast