Main content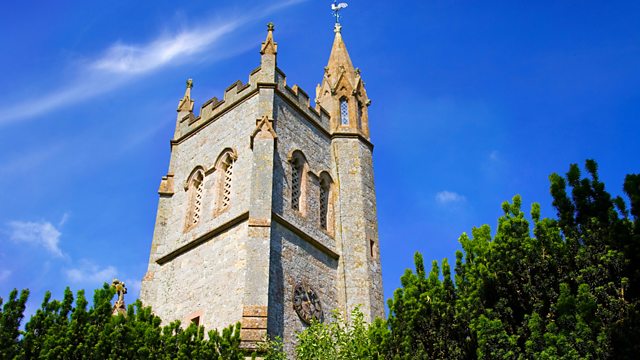 Meeting God in the mess
The Revd Dr Paul Mathole draws contemporary resonances from the story of Jacob, remembered as a cheat and a deceiver, yet progenitor of the people of Israel in the book of Genesis.
From Holy Trinity Platt in South Manchester. Life is as full of ups and downs whether caused by difficult work or family circumstances, sickness, financial difficulty, a run of mishaps, or quite simply our own folly! The Old Testament figure Jacob knew several of these - his name and personal story coalesce around ideas of cheating or deceiving and at times his life certainly seemed a mess - yet God's presence was strangely persistent in his every day experience. Preacher the Revd Dr Paul Mathole draws contemporary resonances from this ancient account of the progenitor of the people of Israel in the book of Genesis. Leader: Sarah Bradley. Music Director: Olly Hamilton. Reading: Genesis 32:22-32. Producer: Philip Billson
Script
Please note:
This script cannot exactly reflect the transmission, as it was prepared before the service was broadcast. It may include editorial notes prepared by the producer, and minor spelling and other errors that were corrected before the radio broadcast.
It may contain gaps to be filled in at the time so that prayers may reflect the needs of the world, and changes may also be made at the last minute for timing reasons, or to reflect current events.
BBC Sunday Worship - Sun 15 Sep 2019
Continuity: BBC Radio 4, time now for Sunday Worship which comes this morning from Holy Trinity Platt Church in Manchester. The service is introduced by the Youth and Children's Minister, Sarah Bradley.
SB: Good morning and a warm welcome to Manchester. This weekend sees the arrival of thousands of students as the new university year begins. And it's not just students... at this time of year, all kinds of people pour into Manchester - many different nationalities, cultures, and with very different experiences of life so far.
Many have their sights set on the city. And as a church here, we're aware that some come with hope, some come with uncertainty. And yet whatever their circumstances, there is the possibility of an encounter with God.
We begin by singing our opening hymn, a song of wonder that we might know our Creator God.
 
Band singers and congregation:
O LORD MY GOD! when I in awesome wonder (How Great Thou Art)
Congregation and all:
Almighty God,
you search us and know us:
may we rely on you in strength
and rest on you in weakness,
now and in all our days;
through Jesus Christ our Lord.
Amen.
Band, singers and congregation:
COME LET US WORSHIP OUR KING (Great Things – Phil Wickham)

SB: Later in the service, Rev Dr Paul Mathole will be teaching us from Genesis chapter 32. It's part of the story of Jacob. Jacob's life has not been straightforward. He's called Jacob the deceiver. He lived up to his name by tricking his brother out of his birthright, and had to flee his home. He spends many years away from his family and his homeland. As we come to our reading this morning, he's finally making his way back. He's returning to see his brother for the first time in 20 years. Before he gets there, he first has an amazing encounter with God.
 
Our first reading is Genesis 32, starting to read at verse 22. It's read by Sike Osinuga.
 
Reader: Sike Osinuga
22 That night Jacob got up and took his two wives, his two female servants and his eleven sons and crossed the ford of the Jabbok. 23 After he had sent them across the stream, he sent over all his possessions. 24 So Jacob was left alone, and a man wrestled with him till daybreak. 25 When the man saw that he could not overpower him, he touched the socket of Jacob's hip so that his hip was wrenched as he wrestled with the man. 26 Then the man said, 'Let me go, for it is daybreak.'
But Jacob replied, 'I will not let you go unless you bless me.'
27 The man asked him, 'What is your name?'
'Jacob,' he answered.
28 Then the man said, 'Your name will no longer be Jacob, but Israel, because you have struggled with God and with humans and have overcome.'
29 Jacob said, 'Please tell me your name.'
But he replied, 'Why do you ask my name?' Then he blessed him there.
30 So Jacob called the place Peniel, saying, 'It is because I saw God face to face, and yet my life was spared.'
31 The sun rose above him as he passed Peniel, and he was limping because of his hip. 32 Therefore to this day the Israelites do not eat the tendon attached to the socket of the hip, because the socket of Jacob's hip was touched near the tendon.

SB: What kind of God is this? A God who won't tell Jacob his name, yet a God who blesses…
We're going to sing a song that reminds us that God's grace and love meets us in his Son, Jesus Christ. 'Here is Love vast as the ocean'.
 
Band, singers and congregation:
HERE IS LOVE (DIM OND IESU)

SB: Our reading from Genesis showed us Jacob's encounter with God. Next he will meet his brother for the first time in 20 years. He's worried about the reception he will get. Parallels have been drawn between this story and the story Jesus told of the lost son, who is also worried about the reception he will get. But he's met by a Father who is full of forgiveness. Our second reading is from the gospel of Luke, chapter 15 and begins at verse 11. It is read by Phoebe, one of our young people at church.
Phoebe Zarour:
11 'There was a man who had two sons. 12 The younger one said to his father, "Father, give me my share of the estate." So he divided his property between them.
13 'Not long after that, the younger son got together all he had, set off for a distant country and there squandered his wealth in wild living.14 After he had spent everything, there was a severe famine in that whole country, and he began to be in need. 15 So he went and hired himself out to a citizen of that country, who sent him to his fields to feed pigs. 16 He longed to fill his stomach with the pods that the pigs were eating, but no one gave him anything.
17 'When he came to his senses, he said, "How many of my father's hired servants have food to spare, and here I am starving to death! 18 I will set out and go back to my father and say to him: Father, I have sinned against heaven and against you. 19 I am no longer worthy to be called your son; make me like one of your hired servants." 20 So he got up and went to his father.
'But while he was still a long way off, his father saw him and was filled with compassion for him; he ran to his son, threw his arms round him and kissed him.

 
SB: Our next song is a gospel classic made famous by Tanya Blount & Lauryn Hill which speaks of the tender compassion of our Father God. The words are by Civilla Martin who travelled with her evangelist husband all over the United States. She penned this poem after visiting a bedridden friend. Although discouraged and sick, her friend remembered Jesus' words in Matthew Chapter 10: "Are not two sparrows sold for a penny? Yet not one of them will fall to the ground outside your Father's care. And even the very hairs of your head are all numbered. So don't be afraid; you are worth more than many sparrows." Today's rendition is by our lead vocalist Katie Ritson, following which our preacher will be the Revd Dr Paul Mathole.
Katie Ritson:
HIS EYE IS ON THE SPARROW (Martin/Gabriel)
PM:
In the great stories we love, the hero [or heroine?] nearly always comes to a moment of perfect crisis. It's the moment when they're brought to their lowest. It's Luke Skywalker who goes to fight Darth Vader, only to learn that Vadar is his Father; it's Elizabeth Bennet confronted by Mr Darcy's declaration of love, refusing him, then to read Darcy's letter revealing the truth about him and her own misunderstanding; it's Pip facing Magwitch to discover that Magwitch is the true benefactor of his life; it's Harry Potter finally discovering the truth about Professor Snape and Harry realising how wrong he was.
Storytellers and filmmakers often talk about something called the Hero's Journey. It's the arc of their story. The hero begins in their ordinary world - the normal circumstances of their life. Then something happens. They are drawn into a new set of circumstances; they cross a threshold into a new world. It's a world that is different, a world of challenges. There they form new relationships; they face tests, they make mistakes and learn and grow.
And it's there they reach that point of crisis. The moment of greatest self-discovery is the moment of greatest difficulty. Where things are messiest, where life is most complex, even unravelling.
The greatest of these stories seep deep into our culture. The hero's journey has a kind of sacred power to speak to us. As though it's wired into our humanity. The Bible's account of Jacob is a near perfect example.
In the dark of night he wrestles with a man who seems more than a man. To understand how difficult this moment is for him, we need to fill in some details. Twenty years earlier, Jacob had left his homeland. He'd fled having deceived his father and taken his brother's rights as the elder son. He'd crossed the threshold into his new world. It brought him all the things we expect for the hero: new relationships and new tests. There he battled with his Uncle Laban, outwitting him and at times being outwitted. But things had got so bad - his uncle so angry - that now he had to leave.
This puts Jacob between a rock and a hard place. He can't go back. He'd just agreed an uneasy truce with his uncle, agreeing not to return. But he can't go forward. Ahead of him lies his brother Esau, whom he wronged all those years ago. Ahead is the long shadow cast by his own past, his own deception and lies. And Esau is coming out to meet him, ominously, with four hundred men.
Jacob knows that he's exposed to a situation that's beyond him. He sends his family and his household away. As all heroes do, he knows he must face this moment alone
And so comes Jacob's moment of crisis. As so often, it involves an apparent enemy but who is more than meets the eye. He faces a mysterious figure. They wrestle. We sense the man is holding back - that beneath the surface he has awesome power. Jacob is injured. But Jacob will not let go. There's a kind of dance. And we glimpse, sense who the man is, from what the man says and what he doesn't say. He won't tell Jacob his name. He needs to leave before daybreak so that Jacob doesn't see him - to look on him would be too dangerous. Jacob has wrestled with God himself.
God meets Jacob in the mess; in the complexity, the struggle of his life. "I will not let go until you bless me," Jacob says. For all his wrestling with others, the real battle of Jacob's soul was with God. For all his desire for what others had, the real hunger of Jacob's heart was for God.
More than that, God works through the mess. "I saw God face to face, and yet my life was spared". The point in the story of Jacob's greatest difficulty is his point of greatest self-discovery. It's a moment of brokenness and blessing; a moment of weakness that becomes strength.
Ultimately in the hero's journey, this moment of crisis prepares them to return. They return humbled - so Jacob leaves now limping because of his injury. But they also return remade. The name Jacob meant 'grasps his heel'. Jacob was always grasping. He is now renamed Israel which means 'struggles with God'. What's fascinating is that God isn't erasing Jacob's past, but he's recasting it in light of God's action in his life
I wonder what are we to take from this?
When Jesus tells the story of the man with two sons in Luke 15, commentators have noted that Jesus seems to draw on parts of Jacob's story. So it's no surprise that the younger son too has his own "hero's journey". He takes his father's money and heads off into his new world of high living. There he forms new relationships, faces new tests. And there he reaches a point of perfect crisis - sitting by a pig trough, destitute and hungry. His moment of greatest difficulty is also his moment of self-discovery. And from there he sets off for home.
When the Father in the story meets the younger son, Jesus says the Father runs out to meet him, throws his arms around his neck and kisses him.
Cambridge scholar Peter Williams points out that Jesus is deliberately echoing the completion of our story. As Jacob makes his way home after this encounter, what happens...? Esau runs out to meet him, throws his arms around his neck and kisses him. Jacob will say it's like seeing the face of God.
God works through the mess of Jacob's life and family, to bring about his purposes for them. Jacob will never be quite the same again.
One of the "privileges" of being in pastoral ministry is being able to see that there are few, if any [[of us who]], [[individuals or families that]] don't have our/their complexities and difficulties, that are unaffected by brokenness, by "mess" of some kind; however well hidden it might be...  There may be times for all of us when we're struggling, feeling almost as if something's been dislocated. Such struggles are part of our fallen world. But God can work through them - to find us, to draw us to be part of his people. When I think about my own life, more often than not that's what God's been doing. If you think about it, that's the Christian story… to the point where God came in Jesus into our messy, broken world. As if to say to us, "Can you see how much I long to see you face to face?"
 
A sense of struggle with God may actually be him seeking intimacy with us… Could you believe that God might want that for you?
 
Father, thank you that you are with us in and through the mess of our lives. Thank you that you choose people like us to be your people. Thank you that, despite the pain and fracture in our lives and relationships that we can still look up and bless your name...
Band, singers and congregation:
BLESSÈD BE YOUR NAME (Matt Redman)
SB: Our prayers today are led by Manny and Jo Oladipo, two members of our congregation...
Prayers
Jo -1 – Heavenly father and living God,
We know that you are the source of all goodness and love.
As we look at your world, we cry out to you for all those effected by disaster and conflict.
For those who have lost or fled their homes, those who are hurting and hungry, those who are mourning the loss of loved ones. We ask that practical needs would be met, that available aid would reach them and that peace would be restored to war-torn areas.
For our Christian brothers and sisters in these places we pray that you would renew their strength daily and keep them trusting in your saving power.
We long for that promised day when you will make all things new. A day when there will be no more death, or mourning or crying or pain. Come Lord Jesus.

Manny - 2 - God of infinite love and mercy,
We lift our nation to you.
There is so much uncertainty
Particularly in our current complicated political situation
We pray that those who are anxious, worried, for themselves, their families and their work would know your comfort.
We thank you that we can trust that despite what we see you are in complete control, that you are a sure and steadfast rock that we can depend on and cling to in times of joy and times of difficulty and confusion
We pray for our leaders and the leaders of the EU that you would grant them wisdom
That they would be able to work towards finding a resolution that enables both to thrive

Jo - 3- Gracious and compassionate Father,
We lift to you those known to us who are struggling at this time with illness in both body and mind.
In line with your will Father, please bring healing to those who are suffering. For the many experiencing difficulties with their mental health. Father we ask that you would give them boldness to seek help when it seems too difficult to talk and when they feel that no one cares for them. We think particularly of those in hospital at the moment and pray for great wisdom and skill for doctors and nurses providing care.

In our local communities, teach us and help us to be those who love deeply those around us who are struggling. Would the knowledge of your great and sacrificial love for us, spur us on to be generous in our how we love one another with our time and our money.

Manny - 4 - God of glory and power. We pray for your church here in Manchester and beyond
Please bless your church that we might be a blessing to those around us
Thank you fore sending Jesus to die for our sin
Please Help us to extend that compassion and love to all those around us 
Help us to share the sacrificial love of Christ
Help us to be a light in a world filled with darkness
Help us to share the hope we have in you in a world where situations often feel hopeless
Help us ultimately we pray to be faithful in living for Christ and according to is word, calling for all to repent that they might find forgiveness and grace in Jesus, and strength to navigate the messiness of this world
We pray this that Jesus might be gloried in our city and in His world
We say the Lord's prayer together
Our Father in heaven,
hallowed be your name,
your kingdom come,
your will be done,
on earth as in heaven.
Give us today our daily bread.
Forgive us our sins,
as we forgive those who sin against us.
Lead us not into temptation
but deliver us from evil,
for the kingdom, the power,
and the glory are yours
now and for ever.
Amen.

 
SB: The Lord bless us and watch over us,
the Lord make his face shine upon us
and be gracious to us,
the Lord look kindly on us and give us peace;
and the blessing of God almighty,
the Father, the Son and the Holy Spirit
be among us and remain with us always
Amen
Band, singers and congregation:
WHEN PEACE, LIKE A RIVER, (When Peace, like a River)