Main content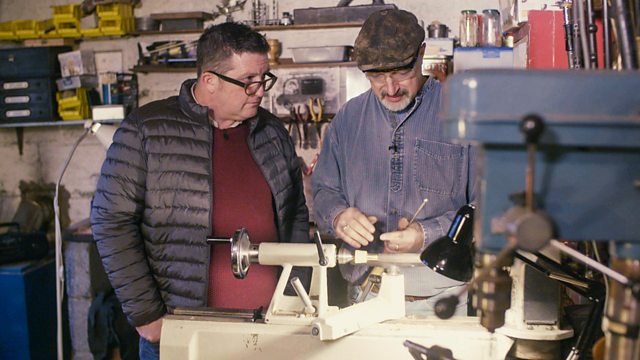 Tonight John gets stuck into tug o'war in Clonmany, learns more about the Irish language in east Belfast, and finds a musical sanctuary from the rain in Glengormley.
In this episode, John travels to Clonmany, which is the only place in the country with a training centre dedicated to tug o'war. He meets with past world champion Danny McGonigle and with the Ward brothers, Jimmy and Conall, who have 20 years' experience in the sport. John has a big challenge to face - he has to compete as part of the team, but not before they put him through his paces. In Belfast city, John returns to his student days at Queen's University. Here he learns about the history of An Cumann Gaelach and meets with current students and historian Gordon McCoy to learn more about the historic link between the Protestant community and the Irish language. Then it's off to Glengormley, where he meets Jaff McCaff, who is passionate about traditional music and especially the uilleann pipes. Jaff is one of the very small number of people still handmaking uilleann pipes.
Sa chlár seo, téann John go Cluain Maine, an t-aon áit amháin sa tír ina bhfuil ionad oiliúna Tarraingt na Téide. Castar air Danny McGonigle, curadh domhanda lá den saol, agus ar na deartháireacha Ward, Jimmy agus Conall, a bhfuil taithí 20 bliain acu sa spórt. Tá dúshlán mór roimh John - caithfidh sé bheith ina bhall den fhoireann, ach beagán traenála a dhéanamh roimh ré! I mBéal Feirste dó, déantar mac léinn athuair do John in Ollscoil na Banríona. Foghlaimíonn sé faoin Chumann Ghaelach agus buaileann sé le mic léinn na linne agus leis an staraí Gordon McCoy, le heolas a chur ar an nasc stairiúil idir an pobal Protastúnach agus an Ghaeilge. Ar shiúl leis ina dhiaidh sin go Gleann Ghormlaithe mar a gcastar air Jaff McCaff a bhfuil a chroí istigh sa cheol thraidisiúnta agus sa phíb uilleann go háirithe. Tá Jaff ar an bheagán daoine a dhéanann píb uilleann de láimh go fóill.