Main content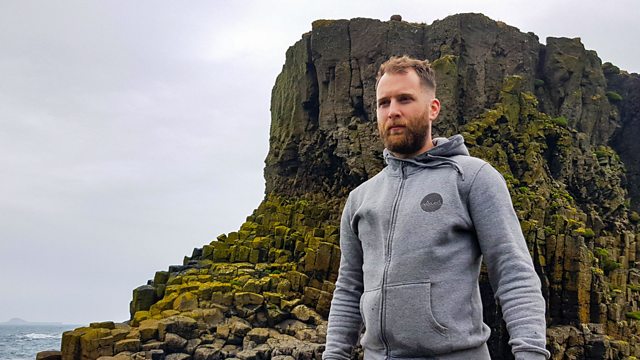 Calum a' feuchainn snàmh chun an Uaimh Bhinn air eilean Stafa. Calum Maclean attempts to swim in to Fingals Cave on the isle of Staffa.
Streath a' leantail Chaluim MhicIlleathain a' snàmh ann an uisgeachan reòite ann an àrainneachd iomallach. Tha Calum airson a h-uile seòrsa snàimh a dhèanamh agus rinn e liosta pearsanta dheth na lochan agus uisgeachan a bu mhiann leis snamh. Tòrr dheth na h-àiteachan 's fheàrr leis, chan eil iad air an sanasachd agus a dh'fheumas oidhirp air leth an ruighinn. Mar a chanas e fhèin, "'S toigh leam a bhith snàmh a-muigh nam aonar, gun duine beò ri fhaicinn". Anns a' phrògram-sa, chur e dùbhlan roimhe fhèin snàmh a-stach dhan Uaimh Bhinn air eilean Stafa. 'S ann air taobh an iar Mhuile a tha eilean Stafa air nach eil duine a' fuireach. Tha e ainmeil airson Uamh a chaidh ainmeachadh air a' ghaisgeach ainmeil à Èirinn, Fionn MacCumhail. Bidh Calum a' snàmh sna h-uisgeachan mun cuairt an eilean a tha a' cur thairis le beathaichean na mara nam measg mucan mara agus leumaidearan.
A series following Calum Maclean as he shares his passion for swimming in remote lochs and rivers! There is nothing that Calum loves better than finding far-flung locations for outdoor swimming and he has made a personal wish-list of places he has always wanted to visit and swim in. Calum has chosen 10 of his favourite places throughout Scotland, most of which are not well known and difficult to access without strenuous endeavours. As he states himself: 'I love to swim outdoors alone with no living person to be seen'. In this episode he attempts to swim to Fingal's Cave on the isle of Staffa. Renowned for its strange echo, it inspired Mendelssohn to compose his Hebrides Overture. Calum swims in the waters around the cave which are challenging but a test he very much enjoys!
In Gaelic with English subtitles
Credits
| Role | Contributor |
| --- | --- |
| Presenter | Calum Maclean |
| Director | Alasdair MacLean |
| Production Manager | Mairi Mackinnon |