Main content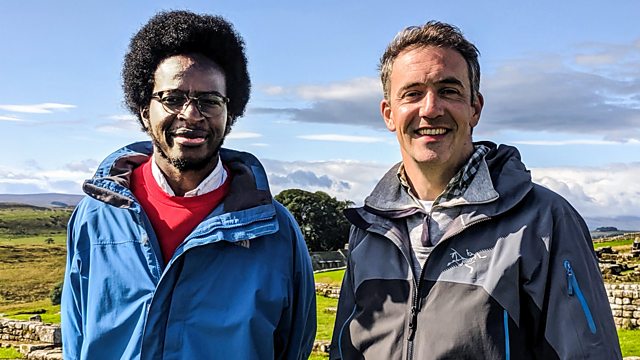 Northumberland
This week the team are in Northumberland. Helen Skelton visits the Blyth Tall Ship scheme, where students from disadvantaged areas are taught traditional boat-building skills.
This week the team are in Northumberland, where Helen Skelton visits the Blyth Tall Ship scheme, where students from disadvantaged areas work with retired engineers and craftsmen to learn traditional boat building and shipwright skills.
Joe Crowley meets a man on a mission - a slightly bonkers mission. Paul Farley is not only an award-winning writer, he's also attempting to map Britain - in poetry. Places of Poetry is a community arts project where members of the public are invited to write poems and 'pin' them on a digital map of the locations that inspired them. The aim is to celebrate the diversity, history and character of the places around us.
Adam meets the next of our contestants hoping to lift the trophy in this year's One Man and His Dog competition, Matt has all the information on how you can take part in this year's Countryfile ramble for BBC Children in Need, and Tom investigates the safety risks posed by the UK's hidden reservoirs.
Tall Ships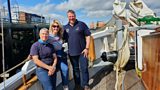 Helen is in Blyth finding out about Northumberland's rich shipbuilding heritage from local charity, Blyth Tall Ship.
She sees how it gives students from disadvantaged areas the chance to work with retired engineers and craftsmen to learn the traditional boat building skills that were once the lifeblood of Blyth.
And she discovers how the Blyth Tall Ship project is part of a wider project to honour William Smith, a local hero, who discovered the Antarctic continent in 1819 on a ship built in Blyth!
Today, a tall ship has been restored and refitted to recreate that original voyage with a crew made up largely of local volunteers - and Helen is invited on board to have a look around...
Reservoir Safety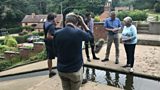 Tom investigates safety concerns over hidden reservoirs across the UK.He discovers that only reservoirs over 25,000m3 have to be safety inspected under current legislation in England, Scotland and Northern Ireland.That means hundreds of smaller raised reservoirs - many of which are used by farmers to supply water for their land - do not have to face mandatory checks.Wales has brought in a new law which means high-risk reservoirs over 10,000m3 are inspected, something Scotland and Northern Ireland intend to bring in.The English government is due to report back on research into smaller raised reservoir safety later in the year.
One Man And His Dog: Team England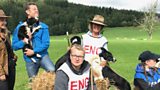 In a couple of weeks' time, Countryfile hosts the ultimate rural showdown: the One Man and His Dog sheepdog trialling championships.  
As the teams prepare, Adam Henson finds out how preparations are going - starting with Team England.
England's senior team member Katy Cropper is marking her return to One Man and His Dog after being the first woman to claim the title back in 1990. This year, like all our adults, she's running the brace where she must control two dogs at the same time.              
Katy's team-mate is 16-year old young handler Robert Harrison.  Robert already has a string of junior trialling titles to his name and sheepdog trialling is in his blood as his dad, Richard, also took part in One Man & His Dog in 2004.  
Robert's going to be using his dog Lad, who used to belong to team-mate Katy's daughter.
Countryfile Ramble for BBC Children in Need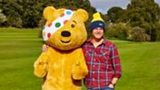 Matt launches the fifth annual Countryfile Ramble for BBC Children in Need - with all the details of how viewers can join this year's presenter-led rambles or put on sponsored rambles of their own.
Matt also catches up with his Ramble partner from last year, 13-year-old Josh, to see what the event meant to him. 
And we meet Cara, who will be joining Anita on one of this year's rambles. 
One Man and His Dog: Team Ireland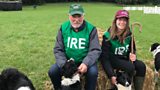 At 69, John McGinn is the most experienced competitor in this year's competition.  
He's won a host of titles including the Irish National and One Man and His Dog, back in 2015.  With dogs Lad and Kate he'll be hoping to repeat that success this year.  
Joining John to complete team Ireland is young handler Tara.  Tara's watched One Man and His Dog on the TV over the years and this is her first chance to compete herself. 
Tara's late father got her into sheepdog trialling and she already has a number of junior trophies to her name.  Now, with Skye by her side, she's ready to try her hand at one of the biggest trialling competitions of all.
Places of Poetry
Joe's at a world heritage site steeped in history – Hadrian's Wall!
He's here to meet Paul Farley, an award-winning writer and one of the founders of The 'Places of Poetry' Project.
The project encourage people to get lyrical and write about the places they call home.
It's using an interactive map for budding poets to upload their work and it's commissioned 12 poets to run workshops to help people find inspiration.
One of those leading the sessions is Kayo Chingoyi - but can he help Joe come up with a poem...
Credits
| Role | Contributor |
| --- | --- |
| Presenter | Helen Skelton |
| Presenter | Joe Crowley |
| Presenter | Matt Baker |
| Presenter | Adam Henson |
| Presenter | Tom Heap |
| Series Producer | Joanna Brame |
| Executive Producer | Bill Lyons |