Main content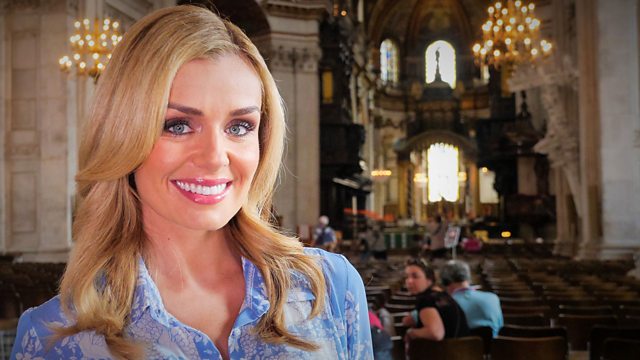 Heavenly Designs
Katherine Jenkins explores 'heavenly designs' 350 years after Christopher Wren started work on St Paul's Cathedral.
Katherine Jenkins explores 'heavenly designs' 350 years after Christopher Wren's began work on his masterpiece, St Paul's Cathedral. She meets Christian architect Niall McLauglin, who specialises in sacred buildings and explains why Wren remains such an inspiration to him. The Dean of St Paul's describes the time the cathedral nearly lost its iconic dome, and jewellery designer Ruth Mary Chipperfield explains how her faith informs her work. Josie d'Arby meets the Christian modern art collective Morphé Arts, which supports young artists embarking upon their careers. And Christian couple the Rev Dr Giles Kendall and his wife Kate show how the faith-inspired design of their zero-carbon vicarage is leading the way in sustainability.
Hymns and songs come from across the UK and include Christ Is Made the Sure Foundation and Cornerstone.
Music:
Angel Voices – Pershore Abbey
Indescribable – Christ Church Downend, Bristol
Great Is Thy Faithfulness – St David's Church, Exeter
My Jesus, My Saviour – Young Choir Of The Year 2019
Take My Life And Let It Be – Kendal Parish Church
Cornerstone – Church of Christ the Cornerstone, Milton Keynes
Christ Is Made The Sure Foundation – Glasgow Cathedral
Stories
St Paul's Cathedral
Katherine is shown the 'heavenly design' of St Paul's Cathedral by architect Niall McLaughlin. 350 years since Sir Christopher Wren was commissioned to design its building, Niall explains to Katherine why he, and the cathedral, inspire so many people.   

Zero Carbon Vicarage
The Rev Dr Giles and Kate Kendall live in a Zero Carbon Vicarage in the Diocese of Worcester. It has been designed and project-led by Christians including Surveyor Mark Wild. They each explain how the features of the house make it completely sustainable, how the building of it was net-carbon-neutral, and why they believe it's important for Christians to be at the forefront of looking after the environment. 

The Dome of St Paul's
The Dean of St Paul's, The Very Rev. Dr David Ison, tells Katherine how in the 1920s the Cathedral was served with a dangerous structures notice which threatened the future of the dome with immediate effect. It was strengthened with pillars, the power of which meant it survived the Blitz during the Second World War.  The Dean also describes how he sees God at work in the stories of grace and mercy amongst those who visit and work at the Cathedral.

Christian Arts Community
Josie d'Arby meets Ally Gordon and other artists from Morphé Arts, a collective of Christians who support one another in artistic endeavours. Each artist and performer explains how having the group has sustained them through challenges, and helped others understand the connection between faith and art. 

Jewellery Designer
Katherine meets Ruth Chipperfield, jewellery designer whose work is inspired by Christian architecture. She makes lace patterns, the designs for which are then made into pieces of jewellery. She tells Katherine how her three-year illness led her to rely on God and how the transformation of lace into jewellery is a metaphor for the transformation of her own Christian life. 
Credits
| Role | Contributor |
| --- | --- |
| Presenter | Katherine Jenkins |
| Presenter | Josie d'Arby |
| Executive Producer | Cat Lewis |
| Executive Producer | Emyr Afan |
| Series Producer | Matthew Napier |
| Producer | Mark Warburton |
| Production Company | Avanti Media |