Main content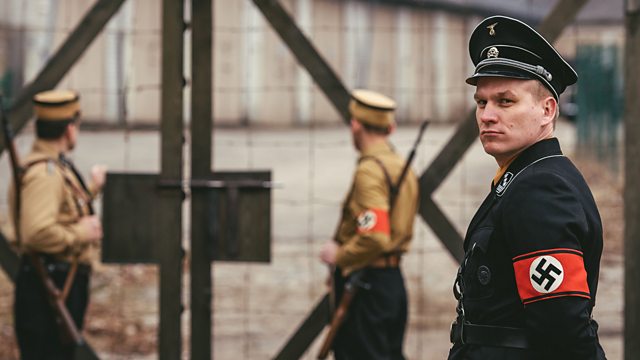 The First Six Months in Power
At the start of 1933, Hitler is the chancellor of Germany but he does not have absolute power. He sets his sights on dismantling the German state.
At the start of 1933, Hitler is the chancellor of Germany but he does not have absolute power - there is still a democratic parliament beneath him, a head of state above him and the rule of law hanging over him. Hitler sets his sights on dismantling the German state.
When Hitler calls a general election to increase Nazi representation in the Reichstag, Hermann Goring sees an opportunity to impress by taking out the left-wing opposition. Goring orders a raid on the Communist Party HQ in the hope of finding evidence of a planned uprising. He doesn't find it, but when a fire breaks out in the Reichstag it is an opportunity to pin the blame on the left. Goring then has the green light to use the stormtroopers to brutally round up communists and social democrats – terror reigns in German streets.
Thousands of arrests have been made but to make them legal, Hitler calls on president von Hindenburg and a decree is passed giving the Nazis emergency powers to ban free speech, the right to protest and to arrest without charge.
When the Reichstag burned the Nazis persuaded the German people and their president that this was the first sign of a left-wing insurrection. The ensuing fear of left-wing violent lawlessness means that Hitler can push through another law that suspends democracy, allowing him to act without the approval of parliament. Soon, the first laws to restrict the freedom of the Jewish population are passed. One Jewish baker is found dead with a swastika carved into his chest.
Goring has eradicated the Nazis' parliamentary opposition. He is rewarded with more power and more prestige. Another Nazi wants this type of power and influence but in early 1933 Henrich Himmler is based in Munich, not Berlin. He is the unassuming, uncharismatic head of an elite force of fanatical Nazis known as the SS. Himmler wants to make the SS the central institution in Germany in charge of political repression. Now that Himmler can arrest perceived Nazi opponents indiscriminately, he needs somewhere to put them.
He gives a press conference regarding the opening of a camp to re-educate political prisoners. It has a capacity of around 5,000. The camp is near the small town of Dachau.
In April 1933 a 39-year-old deputy state prosecutor called Josef Hartinger receives a telephone call. Four detainees have tried to escape from the camp at Dachau, three have been shot dead. Under German law it is Hartinger's job to investigate these unnatural deaths. He visits Dachau and sees the bodies - he realises something is very wrong. The official story just doesn't add up and it is strange that all the dead happen to be Jewish. Hartinger is sure these deaths are murders and that they are not an isolated case. He collates enough evidence to implicate the commandant of Dachau in the murders.
This means going up against Himmler, whose power is growing. Himmler is in the process of bringing every state in Germany under SS control. He does not want the wider world to know that Dachau is a place of savage brutality and murder.
Hartinger's boss will not go against Himmler's authority and shuts his deputy down but Hartinger will not be silenced and files a report. Himmler is worried - the SS does not have the right under German law to kill political opponents. To placate his critics, Himmler fires the commandant and as far as the German public are concerned the concentration camps are benign and humane.
Hartinger's file goes all the way to Berlin and the killings stop at Dachau – it seems like a victory for the law. But Himmler is starting to impress, and he manages to persuade Hitler to block the legal investigations into Dachau. Now Himmler and the SS feel emboldened and the killings continue.
Göring realises he has to take Himmler seriously and that his grip on power could be under threat, but he has his own secret weapon. He has created a surveillance organisation that listens in on anyone that could move against him. To act on the information gathered, Goring creates a new branch of the secret police, known as the Gestapo.
But Himmler wants Goring's secret police – this is after all his territory. Goring will not relinquish control. These rivalries mean nothing to Hitler - books are being burned, Jewish people, gay people, intellectuals, anyone held to have anti-Nazi beliefs are disappearing.
Germany is well on its way to becoming a Nazi dictatorship, but there is a serious obstacle in Hitler's way: the country's elderly president.
Music Played
Timings (where shown) are from the start of the programme in hours and minutes
Credits
| Role | Contributor |
| --- | --- |
| Director | Julian Jones |
| Executive Producer | Julian Jones |
| Executive Producer | David Glover |
| Executive Producer | Cate Hall |
| Series Producer | Kate Quine |
| Line Producer | Darapon Vongsa-Nga |
| Producer | Ella Wright |
| Producer | Catalina Bingham |
| Narrator | Kate Fleetwood |
| Composer | Tom Hodge |
| Production Company | 72 Films |
| Adolf Hitler | Andrius Rozickas |
| Hermann Göring | Mindaugas Capas |
| Ernst Röhm | Ramunas Cicenas |
| Paul Von Hindenburg | Juozas Budraitis |
| Heinrich Himmler | Ruslanas Golubovas |
| Josef Hartinger | Kristupas Kavaliauskas |
Broadcasts