Main content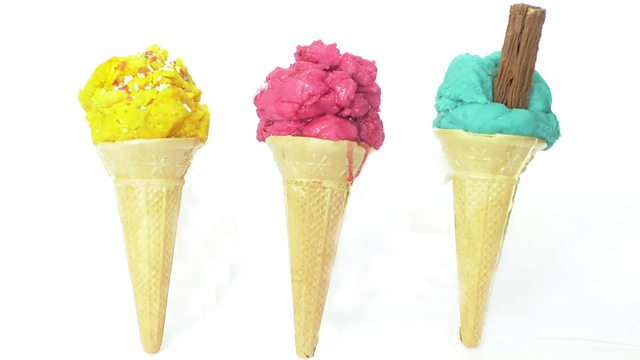 Ice Cream Nation
Who can resist the tinkling of the ice cream van? Come with Yasmin Khan on a journey around great ice creams of the UK as she finds out what our love of ice cream says about us.
We might like the occasional 99 in the rain in the UK, but not for us the piled high gelato cones of Italy, the tubs of sweet American sundaes, nor the eiscafes of Germany and Austria. Right?
Yasmin Khan is on a mission to prove you wrong. In this programme Yasmin (Ice cream fanatic) uncovers the UK's rich but lesser known ice cream culture, taking a trip down memory lane to visit people making ice cream in places where she's lived. She'll hear about our overlooked regional specialities like the 'lemon top' of Redcar near Middlesbrough. And she'll hear how our sweet tooth is driving a new market for high street dessert parlours and struggling dairy farms.
She'll find how our love affair with ice cream all goes back to hundreds of years of immigration, from the Swiss Italians in the 19th century to young entrepreneurs today.
It's not an ice cream renaissance, because our love of ice cream has never disappeared. (And also there is nothing wrong with a 99 in the rain.)
Presented by Yasmin Khan
Produced in Bristol by Clare Salisbury
Last on
Broadcast