Main content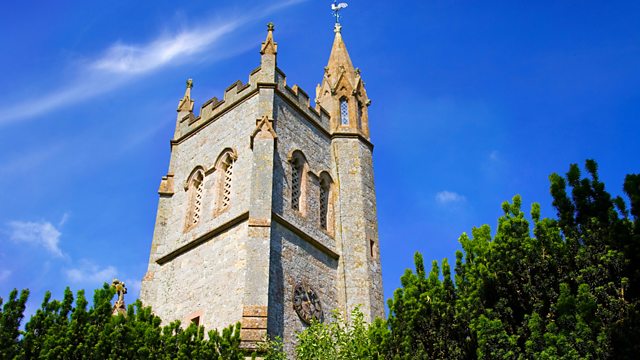 Just as I am
A service celebrating the witness of people with disabilities in churches and worshipping communities.
A service celebrating the witness of people with disabilities in churches and worshipping communities. The service is led by the Rev Zoe Heming, Vicar of St Andrew's, Church Aston near Lichfield. It features members of L'Arche Community, WAVE Church in Muswell Hill, and the St Martin-in-the-Fields Disability Advisory Group. The service includes a reflection recorded a number of years ago for Sunday Worship by Jean Vanier, the founder of L'Arche who died earlier this year. Producer: Andrew Earis
Script
Please note:
This script cannot exactly reflect the transmission, as it was prepared before the service was broadcast. It may include editorial notes prepared by the producer, and minor spelling and other errors that were corrected before the radio broadcast.
It may contain gaps to be filled in at the time so that prayers may reflect the needs of the world, and changes may also be made at the last minute for timing reasons, or to reflect current events.
MUSIC
Come thou fount of every blessing (Nettleton)
Jeff Victor and Rebecca Arons
CD: Amazing Grace – Hymns Collection (Lifescapes)
Rev Zoe Heming
Good morning.  People who live with long-term illness or impairment are often seen as people to pity, as those who receive from others rather than being valued  for who they are and what they bring.  Christians believe we are all made in the image of God, each given different gifts and the ability to reveal more of the divine diversity of the world we are part of.   Like millions of others who have experienced changing or declining health, I struggled when chronic pain meant I couldn't do everything I once I did.  I wondered what use I was to God, to my loved ones or to my community.  Joining other Christian pilgrims with all kinds of lived experience of long-term illness or impairment, I have learned that God is not afraid of our limitations, or our need of one another.  In our worship today we will meet some of those who enjoy and share their gifts, but who are often overlooked  within  church and society. 
The good news is that God has been and is already at work among and with many people with disabilities  who are already fruitfully ministering to His Church - often from the margins.  The Church belongs to Christ and to all his people - and as living Body we need all our members to thrive; we need everyone's gifts in order to be whole.  The more diverse the gifts we share, the more of God we encounter together.   In our worship this morning we welcome again the truth which sets us free:  that we are all fully known, fully loved and gifted to reveal the beauty of our creator.   
MUSIC
O God you search me and you know me (Bernadette Farrell)
Choir directed by Frank Brownstead
CD: Christ be our light – Bernadette Farrell (OCP)
Opening prayer
Loving God, in whom we live and move and have our being, give us grace and courage to worship you today just as we are, with all our gifts and limitations.  Move us beyond the fears and frustrations of our frailty and lead us to know you and love you in new ways as we surrender ourselves to the life-giving movement of your Spirit.   Through the broken and ascended Christ we pray, Amen.
Zoe
Bernice Hardie is one of the founders of WAVE Church which meets each month in North London.
Insert: WAVE Church, Muswell Hill
Zoe
The late Jean Vanier, founder of L'Arche communities for adults with learning disabilities said "We're not called by God to to extraordinary things, but to do ordinary things with extraordinary love". We'll hear more from Jean Vanier, and from one of the L'Arche communities, later in this service.
MUSIC
The Lord is my light (Taize)
St Martin's Voices
BBC recording
Bible reading: 2 Corinthians 4 (read by Donald Eadie)
Zoe
Rev Stewart Tyler is a priest in the Diocese of Lichfield.
Reflection: Rev Stewart Tyler
Five years after retiring I was ordained to serve the Benefice in which I lived. After two and a half years I was suddenly diagnosed with Motor Neurone Disease. This was a great shock as I seemed to be perfectly healthy. I asked God what this was for; not in a punishment sense but rather, what was the purpose? Two and a half years after diagnosis, I am sure of the answer. Motor Neurone Disease creeps slowly up, making muscular movement gradually more difficult. It's hard to constantly reevaluate your physical capabilities. However in my case the intellectual and spiritual parts are unaffected. I have seen my life in chapters - family, education, career, marriage and children. The chapter about a calling to ministry seems now to have been the inevitable result of the earlier ones, and my Motor Neurone chapter just an extension of it. I have been asked many times why I am not bitter and angry. The answer is that I have a real purpose and a new way of acting out my faith. I am now unable to stand or use my hands and feet, I wear a mask at all times to allow me to breathe, I need constant care. Because of this my ministry is different but in no way diminished. It is based on speaking and listening to God, to groups, large and small, and to individuals. So what's different? Well certainly my mobility and my energy but little elsewhere. My physical disabilities are a reality – but it was when I began to sit down to preach that I noted more positive feedback. The message seemed to be that when you are at our level and amongst us we can understand your words more easily. I do feel that the simplicity of my stripped down dress, just an adapted surplice, may help too. As my condition deteriorated and I needed a wheelchair, ramps appeared where none existed, and decisions were taken to use a nave altar. Those decisions have allowed me to continue to preside at the Eucharist, with deacons handling and distributing the elements whilst I administer blessings.
We are all charged by our Lord to use our gifts and talents in His service, and these can come in many guises. I thank God that I have been given the opportunity to use this disability in His name, and pray for all who are being excluded from His service.
God creates, he loves and calls every one of us, just as we are.
MUSIC
O love, that wilt not let me go (Hymn)
Heartcry Worship
CD: HeartCry vol. 2 – How Great is our God
Poem: There is a brokenness - Rashani (read by Fiona MacMillan)
Zoe
Fiona MacMillan chairs the Disability Advisory Group at St Martin-in-the-Fields
Reflection: Fiona MacMillan
It's a painful thing to come back to a community and find you can no longer take part.  It's hard to realise that the people around you can't see the barriers that hold you back, and don't understand your struggles.  Finding yourself on the outside and feeling you don't belong is particularly hard when that community is the church.  Disabled people are often an uncomfortable presence is a society which sees power as strength, yet in a church which professes God's power made perfect in weakness, we are still more likely to be offered healing than opportunities to minister.  
Like many disabled people I've acquired conditions and had to learn to adjust. It's taken me a long time to accept that how I am now is not a broken version of me: it is simply Me.  I have been created just like this - with all my strength and weakness - and that is a gift.   I'm still learning not to apologise for taking up more space with my wheelchair, for moving differently, seeing differently, thinking differently - for being different. 
 A key for me has been finding others who understand, who share something of my experience of disability and exclusion, and working together.  I was lucky that my particular community - St Martin-in-the-Fields - were willing to listen when they didn't understand and to learn alongside and from us.
Over the last 8 years we've done some good things together, using painful experiences to try to make something better.  Within St Martin's the Disability Advisory Group lead this work – identifying issues, suggesting solutions, sharing experience and ideas.  In opening our learning we encourage the wider community to think more deeply -  about strength and weakness, about needs & gifts, about being created to be as we are.
Since 2012 St Martin's has worked with Inclusive Church to hold an annual conference – It's for disabled people, who are the majority of planners, speakers and delegates. We can be isolated by experience or geography:  here we gather to share experience and ideas, to resource each other and the church.   We began by Opening the Roof – by opening our conversation about disability, church and God.  We've explored mental health and places of belonging, and considered vision as sight, insight and hope – led by a blind man.  We've shared experience of living on the edge – of not waiting to be included but responding where we are with what we have.  We've considered whether disabled people have a distinct prophetic ministry to the church, and wondered what it means to be disabled, and what that tells us about God.  If we are made to be just as we are, do our stories tell us something of God's story?  Are we living theology?
At the heart of all our work is a commitment to being just as we are. Because we are all a combination of needs and gifts, and when our needs are met, our gifts can flourish.
all a combination of needs and gifts, and when our needs are met, our gifts can flourish.
MUSIC
Lord, Jesus Christ (Taize)
St Martin's Voices
BBC recording
Zoe
Jean Vanier, world renowned philosopher, theologian and humanitarian, set up the first L'Arche community in 1964, by welcoming two men with learning disabilities into his home in France. Today L'Arche has grown into an international organisation of hundreds of communities in over 35 counties. Here, people with and without learning disabilities create places of welcome, friendship and celebration, sharing in life together. Jean's vision was one of radical welcome, inclusion and joy, of communities where each person is valued and celebrated. We now hear from Hazel and Richard who are part of L'Arche London community.
Insert: Hazel and Richard (L'Arche London community)
MUSIC
Let us build a house where love can well (Marty Haugen)
Marty Haugen
CD: All are welcome (GIA Publications)

Bible reading: John 1 (read by Emily Richardson)
Zoe
We'll now hear words from Jean Vanier, who died earlier this year at the age of 90. This sermon was preached a number of years ago during a visit to one of the L'Arche communities in the UK.
Reflection: Jean Vanier (unscripted)
MUSIC
Just as I am
Wintley Phipps
CD: Just as I am and other favourite hymns of Billy Graham (Asaph)
Zoe
Prayer is a way to come before our God just as we are. Nothing hidden, just us as we are before the God who knows and loves us better even than ourselves.  There are many languages of prayer, some silent, some shared, some lived through our bodies and the secret yearnings of our hearts, some which cannot even be contained in joyful dances, and some which can only be expressed in tears...Each and every one intimately cherished by the God who gives us life and breath.
MUSIC
Take, o take me as I am (John Bell)
Musicians from the Arundel & Brighton Diocesan Pilgrimage
CD: As the deer longs (Herald)
Prayers (written by Ann Memmott, read by Emily Richardson and Rev Stewart Tyler)
Loving God, who made us in the womb, and guides us each day, thank you for the gift of life.  We pray for everyone in our communities, each person bringing their whole selves to you, and to one another.
God of all nations and all people, thank you for the gift of communication.   Through words, spoken and written. Through sign and picture. Through emotion, gesture, expression and movement.  Through rhythm, music and song.  Help us to truly listen, learn and share life with one another.
God of togetherness, thank you for the gift of community, for places we can belong.  Thank you for communities offfering safe harbour and true friendship, each sharing their gifts and personalities, each bringing so much of worth to one another.  Be their hope, as they invite all to live with respect, acceptance and love. 
God of all life,  who leads us on paths that are sometimes hard, sometimes steep, and sometimes scary, give us wisdom to follow you.  Courage to be by your side, knowing that we never face difficulties alone.  Hope, that we can make good choices and good decisions, right for our own lives, our energy and our needs.
God of life everlasting, we pray for those amongst us who are unwell, or in pain, or living in fear and despair.  We pray for those who are nearing the end of life, and for those who wait alongside those whose lives are at an end.  We ask for comfort for those whose loved one has died. You are by our side, now and forever. 
Lord's Prayer
MUSIC
Christ as a light
Northumbria Community
CD: Celtic Daily Prayer from the Northumbria Community (Northumbria Community Trust)
Poem: The Kingdom - R.S. Thomas (read by Donald Eadie)
Blessing (Zoe)
May Christ's holy, healing and enabling Spirit be with you,
and guide you on your way at every change and turn,
and the blessing of God Almighty, Father, Son and Holy Spirit, be with you, those you love, care for and pray for, this day and for evermore.  Amen.
Fiona MacMillan chairs the Disability Advisory Group at St Martin in the Fields and is a trustee of Inclusive Church and leads the conference planning team.
Donald Eadie lives with a serious spinal condition which forced him to retire early as Chairman of the Birmingham District of the Methodist Church.  He is a much-consulted Methodist minister, leading retreats and writing about spirituality.
Ann Memmott is a national speaker on autistic access and on the intersection of autism, disability and LGBTQ lives.
Emily Richardson is a member of Moot, a contemplative community in the City of London, and communications coordinator for All Saints Fulham.