Main content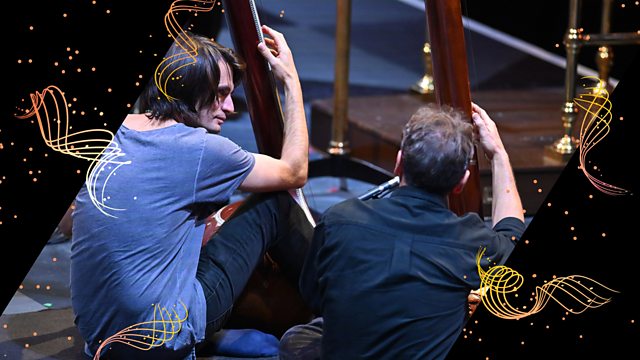 Live BBC Proms. Jonny Greenwood joins the Proms Youth Ensemble, BBC NOW, Hugh Brunt, Daniel Pioro, Katherine Tinker to perform his own works and works by other composers.
Live at BBC Proms: Composer Jonny Greenwood joins Proms Youth Ensemble, BBC NOW, Daniel Pioro, Katherine Tinker and conductor Hugh Brunt to perform works by Greenwood and others.
Live from the Royal Albert Hall, London
Presented by Elizabeth Alker
Biber: Mystery (Rosary) Sonatas No.16 - Passacaglia in G minor
Penderecki: Vivace (Sinfonietta for Strings)
Greenwood: Three Miniatures from Water (No. 3); 88 (No. 1)
Reich: Pulse
Greenwood: Horror vacui
Daniel Pioro (violin)
Katherine Tinker (piano)
Jonny Greenwood (bass guitar/tanpura)
BBC Proms Youth Ensemble
BBC National Orchestra of Wales
Hugh Brunt (conductor)
Jonny Greenwood's talents range from being lead guitarist of Radiohead to writing award-winning film scores. Here he curates a Late Night Prom culminating in the world premiere of his Horror vacui, which explores characteristics of electronically created music and transfers them into the acoustic arena.
The programme includes Biber's almost Bachian Passacaglia for solo violin and Minimalist master Steve Reich's radiantly throbbing Pulse.
Featured in...
Recommended on BBC Sounds

Journey into emotion with PSB, Sheku, Benedetti, Angélique Kidjo, Nina Simone, Greenwood

Exclusive music mixes curated by the BBC's music experts, artists and special guests.