Main content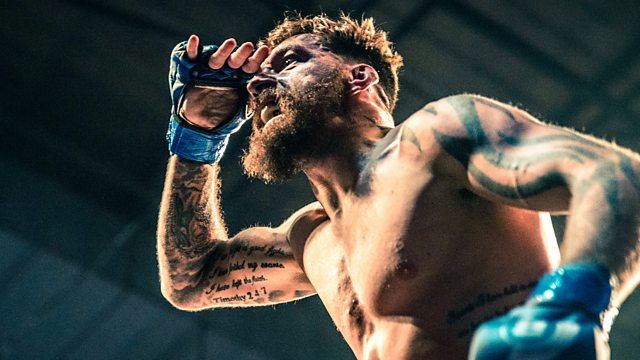 The Bad Guy
Chris 'The Bad Guy' Bungard is one punch from becoming Scotland's next sporting icon. But to do this, Chris must beat a world champion in the toughest fight of his career.
Scotland's toughest man is somebody you have probably never heard of. Chris Bungard, hailing from Holytown, has his eyes set on glory in the world of mixed martial arts. With his debut at the world famous Bellator fighting championship on the horizon, Chris, the warrior known as The Bad Guy, is one good punch away from becoming Scotland's next sporting icon.
However, a huge obstacle lies in his path in the form of Terry 'The Dominator' Brazier, A two-weight world champion, undefeated in five years and on a nine-fight win streak - Chris couldn't ask for a tougher fight, but he wouldn't have it any other way.
As Chris begins his nine-week training programme, the bookmakers, pundits and fans think The Bad Guy doesn't stand a chance against The Dominator. Doubt begins to creep into Chris's thoughts. He needs to manage his emotions carefully or risk blowing the biggest opportunity of his life. No pressure. Then there is the real question everyone wants to ask: why is Chris The Bad Guy? You may think it's down to his tough exterior, his successful professional fighting record, or his persona in the octagon. However, Chris reveals the truth behind the stage nickname and describes a terrible incident that changed his life forever. How have the dangerous roads of his past informed his life, his career and his sporting personality?
This is contrasted with the excruciating regime Chris follows every day. Nine weeks of strenuous sparring, conditioning and dieting aren't enough. To make his weight class, Chris must endure a weight cut, the last great hurdle he must jump before fully transitioning into The Bad Guy. This process involves having only the bare minimum of food and water and suffering through excessive saunas and salt baths. He will lose 12kg in a week. This procedure is incredibly dangerous and not for the faint-hearted, but suffering and sacrifice is just part of the job.
Many interesting characters populate Chris's world. At Scottish Hit Squad Gym, meet Paul 'The Bear Jew' Craig, an ex-teacher who has become a UFC record-holder. The there is the man who saved Chris's life, Brian Gallagher - a short, stocky, balding coach who is the alpha male of Scotland's most decorated martial arts gym. The most important man in Chris's life is his grandfather, or as he affectionately calls him, his papa, John Bungard. The two share an incredible bond and John pushes his grandson on to the best man he can be. His mother knows all too well how wild Chris was as a boy, as he ran riot around the streets of Holytown as a young lad.
Chris returns to parts of Holytown to reflect on his younger self, visiting his childhood flats and his former workplace at the steel factory. This history allowed him to become the tough fighter he is today and lets him dig deep during the toughest moments in the cage.
In his spare time, Chris goes the extra mile to contribute to his local community. He trains the next generation of MMA fighters, providing them with an outlet to make sure they don't repeat the mistakes he once made. He forms a bond with local boy Cian, trying to make sure this young lad doesn't make the mistakes he did. He also visits a fan during a dark time, doing what he can to leave a positive impact on the world around him. There is more to The Bad Guy than his stage name suggests.
As the intensity of the training programme ramps up, Chris must travel to Dublin to train with the continent's elite. Making his traditional pilgrimage to the original gym of UFC legend Conor 'The Notorious' McGregor, Chris trains with the finest coaches Europe has to offer. To gain a tactical advantage, he learns from those who helped Conor reach his two world titles. To be the best, you must spar with the best, and Chris does just that by taking a beating from one of Conor's main training partners. He finishes the week with a heroic dive into the Irish Sea. The Bad Guy is slowly becoming ready for the opportunity of a lifetime.
Chris arrives in Newcastle for his Bellator debut and, with the pressure building, he struggles to make weight. He has one chance here to make a name for himself against one of the division's highly touted prospects. Defeat could mean being consigned to another statistic whereas a win would most certainly be the shock of the night.
The Bad Guy is a character driven exploration into the brutal world of MMA, blending the high-octane violence of a punishing sport with the incredible stories behind the life of a misunderstood sportsman. Approaching a fight of untold magnitude, Chris must deliver if he hopes to achieve his dream.
Clips