Main content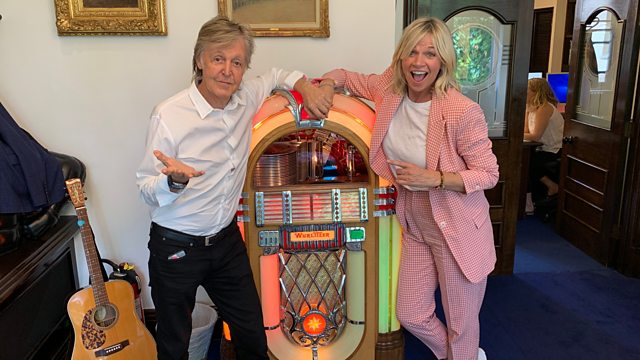 Sir Paul McCartney
Sir Paul McCartney chats to Zoe about penning his first children's book. Plus your chance to visit the Radio 2 Breakfast Show by testing your knowledge in The 5 Star Biz Quiz.
Wake up and embrace the day with Zoe Ball! The Beatles' Sir Paul McCartney chats to Zoe about writing his first children's book Hey Grandude! He talks about what it's like reading to his grandkids, his favourite Beatles cover version, working on a musical version of It's A Wonderful Life and addresses the rumours of playing Glastonbury next year.
Plus another listener tests their showbiz knowledge in The 5 Star Biz Quiz, for the chance to come and watch the Radio 2 Breakfast Show.
Along with Tina Daheley on news, Richie Anderson on travel and Mike Williams on sport, Zoe and the team have the best start to your morning. With celeb guests, quizzes, headlines, tunes chosen by listeners and more music that you can shake a glitterball at!
There's also weather with Matt Taylor, former England Women's footballer Karen Carney previews the start of the Women's Super League, a Pause For Thought from journalist and editor Remona Aly and listeners on the line as Zoe entertains the nation with fun for the family!
Pause For Thought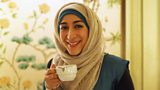 From Remona Aly, Freelance journalist and editor: 
Zoe, hearing on your show how the esteemed Paul McCartney is publishing his first children's book, it's prompted me to step into the back catalogue of my own childhood classics. One of my favourites was called, 'The Great Blueness', in which a wizard paints the whole world which started as grey, into blue, then goes on to paint the Great Yellowness, then the Great Redness, and when all his paint pots get mixed up, the world becomes a canvas of multicolour. 
I loved it when my parents used to read me this story, and now I read it to my nieces, who soak up the ideas, the pictures and the wonder into the sponge of their own imagination, just as I did when I was a little girl. Stories helped me inhabit different worlds, they let my mind take flight on a journey to the beyond. But as I got older, I realised that stories also led me back towards myself. I felt that recognition take root when I reflected on the stories in the Quran. I was in awe of how Moses, or Musa, overcame his fear to stand up to the mighty Pharaoh. I was captivated by the resilience of Mary, or Maryam, in bearing a child entirely on her own. 
Being surrounded by such powerful stories, made me think I could find a story in myself. I know I'm no amazing prophet like Moses, but I have my own Moses moments when I seek to challenge the injustices facing me today. I don't have a miracle child to guard like Mary had, but I do feel the urge to protect what is precious to me, like my faith, my family, and my freedom. 
I reckon we are the storytellers of our own lives: we can write it beautifully, or badly - the choices are down to us. But most of all, I don't want to forget how the potential for greatness is always within grasp. The 8th century born Islamic scholar, Imam Shafi said, "You say that you are just a body, but inside of you is something greater than the Universe." Whether we all live in a yellow submarine or a great blueness, the biggest adventure is on the inside.