Main content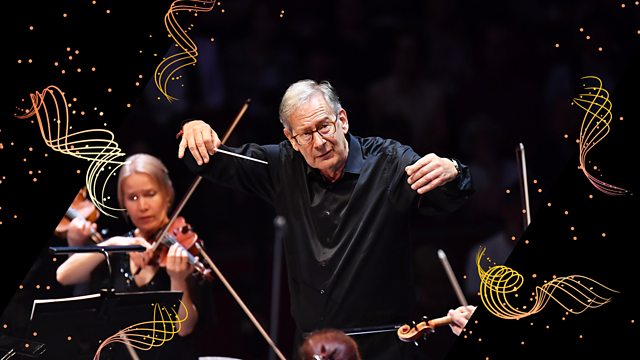 Live at the BBC Proms. John Eliot Gardiner conducts the Orchestre Révolutionnaire et Romantique, the Monteverdi Choir and tenor Michael Spyres in Berlioz's Benvenuto Cellini.
Live at BBC Proms: John Eliot Gardiner conducts the Orchestre Révolutionnaire et Romantique, the Monteverdi Choir and tenor Michael Spyres in Berlioz's Benvenuto Cellini.
Live from the Royal Albert Hall, London.
Presented by Tom Service.
Berlioz: Benvenuto Cellini
Benvenuto Cellini - Michael Spyres
Teresa - Sophia Burgos
Balducci - Maurizio Muraro
Pope Clement VII - Tareq Nazmi
Francesco - Vincent Delhoume
Fieramosca - Lionel Lhote
Ascanio - Adèle Charvet
Bernardino - Ashley Riches
Monteverdi Choir
Orchestre Révolutionnaire et Romantique
Sir John Eliot Gardiner (conductor)
Interval at approx 8.25pm: Andrew McgGegor talks to historian and broadcaster Sarah Lenton and music historian Flora Willson about Berlioz's Benvenuto Cellini.
Sir John Eliot Gardiner brings his five-year series of Berlioz performances to a triumphant close, and this summer's 150th-anniversary celebrations to a spectacular climax, with the composer's rarely performed opera Benvenuto Cellini, based on the life and loves of the Renaissance sculptor – culminating in the forging of a vast masterwork. With its sprawling storytelling and vastly demanding score, this is a piece built for the scope of the Royal Albert Hall. American tenor Michael Spyres sings the title role.
Last on
Music Played
Hector Berlioz

Benvenuto Cellini - Act 1

Choir: Monteverdi Choir. Orchestra: Orchestre Révolutionnaire et Romantique.

Hector Berlioz

Benvenuto Cellini - Act 2

Orchestra: Orchestre Révolutionnaire et Romantique. Conductor: Sir John Eliot Gardiner.

Frédéric Chopin

Mazurka in A minor, Op.59 no.1

Performer: Emanuel Ax.
Synopsis
The action takes place in Rome during the pontificate of Clement VII.
ACT I
Shrove Monday, Balducci's house at nightfall 
Balducci, the papal exchequer, is vexed that the Pope has commissioned a bronze statue of Perseus from the Florentine rogue Benvenuto Cellini instead of Fieramosca. To make matters worse, Balducci's daughter Teresa is entranced with Cellini; her father, however, has chosen Fieramosca to be her husband. Before he leaves to answer a late summons to the Pope's presence, he warns Teresa to be cautious of men's attentions, especially during the present carnival season.
A group of masked revellers, which includes Cellini, pass by Teresa's open window and pay her homage. They shower her with flowers, among which she finds a note from Cellini arranging a rendezvous that evening. Teresa experiences conflicting emotions: duty to her father on the one hand, her love for Cellini on the other. Cellini appears. He has entered the house furtively, followed by his rival Fieramosca, whose presence is unknown to either Cellini or Teresa. At first Teresa is anxious at being discovered with Cellini but he calms her fears and reveals his plan: during the next day's Mardi gras celebrations, while her father is distracted, Teresa will be approached by two penitent friars, one dressed in white (Cellini in disguise), the other in brown (his business manager, Ascanio); they will elope to Florence and marry. Fieramosca hears everything and decides that he will also keep the rendezvous.
Balducci is heard returning. Fieramosca hides in Teresa's bedroom, while Cellini manages to escape. When Balducci discovers Fieramosca in Teresa's bedroom, he is scandalized by his prospective son-in-law's behaviour, and calls on his servants and neighbours to punish him.
Shrove Tuesday, outside the metalworkers' foundry, in the evening
Alone, Cellini broods on the nature of his art and his new-found love for Teresa. With his foremen Francesco and Bernadino, he attempts to lift the spirits of his workers. An innkeeper interrupts them to demand payment for wine. Ascanio arrives with an advance from the papal coffers: there's barely enough to pay the bill. Cellini vows to get his own back on Balducci.
Fieramosca has overheard Cellini's scheme. He tells his accomplice Pompeo about Cellini's intention to abscond with Teresa during the carnival. Pompeo suggests that they, too, should disguise themselves as friars and abduct Teresa themselves. Fieramosca relishes the possibility that he will outwit his rival and defeat him.
In the Piazza Colonna
The square fills with Mardi gras revellers, as a theatrical troupe prepares to entertain the crowd. Balducci and Teresa enter, soon followed by Cellini and Ascanio in their friars' habits, and Fieramosca and Pompeo in theirs. The players perform a pantomime-opera, in which, at Cellini's instigation, Balducci is ridiculed. The latter is furious and halts proceedings. Cellini and Ascanio now act, but Teresa is confused to see not one but two pairs of friars converging on her. A fight breaks out among the 'friars' in which Cellini kills Pompeo. The crowd is horrified by this assault and Cellini is arrested. Just as he is about to be led away, the cannon fires to mark the end of Mardi gras and the beginning of Lent. In the darkness, the revelry grows more frenzied and Cellini makes his escape. While Ascanio leads Teresa to safety, Fieramosca is mistaken for Cellini and arrested.
ACT II
Ash Wednesday, Cellini's studio, in the small hours of the night
Ascanio has brought Teresa to the studio to meet Cellini. As a procession of friars passes in the street, Teresa and Ascanio pray for Cellini's safe return. Suddenly, Cellini appears. He recounts how he escaped and by using his friar's disguise managed to reach his studio. But he is now a wanted man and must flee from Rome with Teresa, leaving the statue of Perseus uncast.
Before they escape, Balducci and Fieramosca discover them. Balducci denounces Cellini and demands that his daughter be returned to him. The arrival of Pope Clement brings their quarrelling to an abrupt end. He has come to find out for himself when his overdue statue will be ready. He listens to Balducci's story of Cellini's abduction of Teresa, but when he discovers that the statue is yet to be cast, his patience runs out: he will command someone else to undertake the casting. Cellini is insulted and threatens to destroy that part of the statue already made. He negotiates a deal with the Pope: a pardon and Teresa's hand in marriage in return for casting the statue. The Pope accepts provided the statue is cast that same day and he will come to the foundry himself to verify it has been done. If not, then Cellini will hang for his crimes.
Cellini's foundry in the Colosseum, the next morning
Ascanio ruefully reflects on the situation in which they find themselves. Cellini is in crisis and unable to work: he expresses a longing for an idealized life. The workers are heard calling on their patron saint to bless their endeavours.
Fieramosca appears. He seeks vengeance for Pompeo's death and challenges his rival to a duel. Teresa, who has given her father the slip, arrives to see Cellini about to go off and fight Fieramosca. An even greater complication threatens to end Cellini's plans: the foundry workers, unpaid and worn out, down tools. Teresa tries to allay their grievances. When Fieramosca reappears, Teresa assumes Cellini must be dead and the men turn on Fieramosca. He is saved by Cellini, who spares his life and forces him to join the workforce, but Fieramosca slips away.
As dawn breaks, the Pope, Balducci and Fieramosca return. Impatient for his statue, the Pope orders the casting to begin. Cellini, however, has run out of metal. Balducci and Fieramosca relish the possibility of Cellini's failure. In this final crisis, Cellini calls on God's help. He orders his men to fetch all the metal they can find – large or small, precious or base – and throw it into the cauldron. A violent explosion is heard from within the foundry. The statue is cast, Cellini pardoned, Teresa's hand won, and all unite in praise of the metalworkers' art.
Broadcast

Featured in...
Journey into emotion with PSB, Sheku, Benedetti, Angélique Kidjo, Nina Simone, Greenwood

We broadcast more live and specially-recorded concerts and opera than any other station.