Main content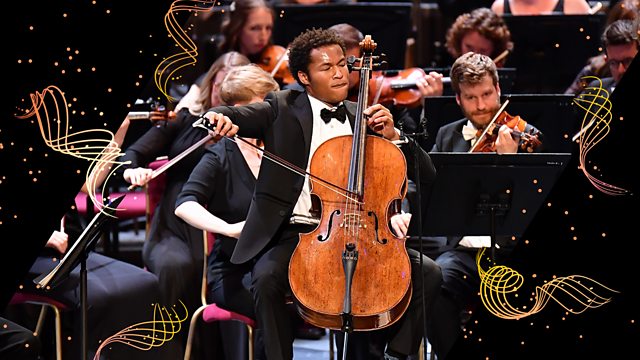 Prom 46 repeat: City of Birmingham Symphony Orchestra
Another chance to hear Prom 46: The CBSO, conducted by Mirga Gražinytė-Tyla, perform music by Weinberg, Howell, Knussen and, with Sheku Kanneh-Mason, Elgar's Cello Concerto.
Afternoon Concert with Kate Molleson,
Another chance to hear the CBSO and Mirga Gražinytė-Tyla perform music by Weinberg, Howell and Knussen, and are joined by cellist Sheku Kanneh-Mason in Elgar's cello concerto.
Presented by Andrew McGregor from the Royal Albert Hall, London
Dorothy Howell:
Lamia
(Henry Wood Novelties: world premiere, 1919)
Elgar:
Cello Concerto in E minor
Encore: Weinberg: prelude from 24 Preludes Op.100 for solo cello
c.2.45pm:
Interval: An exploration of the life and work of Mieczysław Weinberg with musicologist and broadcaster Erik Levi.
c.3.05pm:
Knussen:
The Way to Castle Yonder
Weinberg:
Symphony No. 3
(London premiere)
Sheku Kanneh-Mason, cello
City of Birmingham Symphony Orchestra
Mirga Gražinytė-Tyla, conductor
The CBSO and Music Director Mirga Gražinytė-Tyla celebrate the centenary of Mieczysław Weinberg the man Shostakovich hailed as 'one of the most outstanding composers' of his day – with a rare performance of his Symphony No. 3, a work that combines folk melodies and dances with confessional urgency.
That intensity is shared by Elgar's passionate Cello Concerto, performed here by 2016 BBC Young Musician winner Sheku Kanneh-Mason.
The concert opens with Dorothy Howell's radiant tone-poem Lamia (first performed, like Elgar's concerto, 100 years ago) and also includes The Way to Castle Yonder, a suite from the much-missed Oliver Knussen's opera Higglety Pigglety Pop!