Main content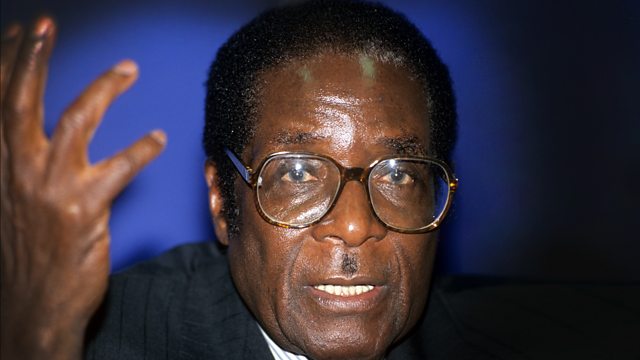 Robert Mugabe, Alla Verber, Ciaran McKeown, Bill Anderson MBE
Matthew Bannister on Zimbabwean president Robert Mugabe, fashion buyer Alla Verber, peace campaigner Ciaran McKeown and Highland sportsman Bill Anderson.
Pictured: Robert Mugabe
Matthew Bannister on
The former President of Zimbabwe Robert Mugabe. He was once hailed as a hero of the liberation struggle but later seen by many as a tyrant.
Alla Verber, the Russian socialite who brought high fashion to the newly wealthy in the post-Soviet society.
Ciaran McKeown, who joined Mairead Corrigan and Betty Williams to found the Peace People of Northern Ireland.
Bill Anderson, described as Scotland's greatest ever Highland Games heavyweight athlete. He held countless records for throwing the hammer and tossing the caber.
Interviewed guest: Stanley Kwenda
Interviewed guest: Viv Groskop
Interviewed guest: Patrick Corrigan
Interviewed guest: Jack Davidson QC
Producer: Neil George
Archive clips from: Today, Radio 4 06/09/2019; Alla Verber: Leading Russia's Fashion Revolution, ABC News 09/04/2010; BBC Sound Archive, 13/08/1976; PM, Radio 4 27/11/1976; The World This Weekend, Radio 4 28/11/1976; The Heavies, BBC 2S 04/01/1982; Scotland on Film: Aberdeen And Grampian, BBC 2S 05/03/2006; Braemar Games Commentary, AP 1970; Interview with Bill Anderson, BBC Sound Archive, 05/09/1963.
Robert Mugabe
Born 21 February 1924; died 6 September 2019, aged 95.  
Last Word spoke to BBC journalist Stanley Kwenda.
Alla Verber
Born 21 May 1958; died 6 August 2019, aged 61.
Last Word spoke to Viv Groskop, former contributing editor at Moscow Vogue.
Ciaran McKeown
Born 19 January 1943; died 1 September 2019, aged 76.
Last Word spoke to his son-in-law Patrick Corrigan, Head of Nations & Regions at Amnesty International UK.
Bill Anderson MBE
Born 6 October 1937; died 12 August 2019, aged 81.
Last Word spoke to his biographer Jack Davidson QC.