Main content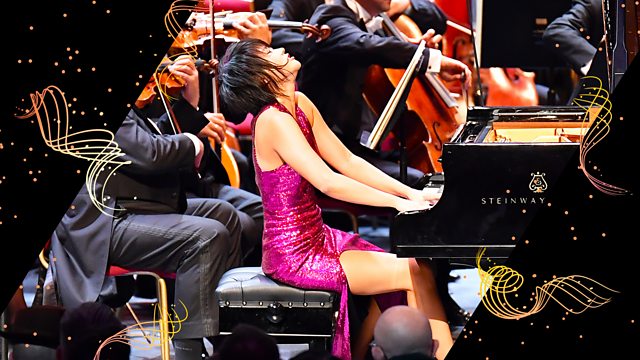 Live at the BBC Proms. The Staatskapelle Dresden, conducted by Myung-Whun Chung, perform Brahms's Symphony No 2 and, with Yuja Wang, Rachmaninov's Piano Concerto No 3.
Live BBC Proms: The Staatskapelle Dresden with Myung-Whun Chung and Yuja Wang in works by Rachmaninov and Brahms.
Live from the Royal Albert Hall, London
Presented by Ian Skelly
Rachmaninov: Piano Concerto No. 3 in D minor
c.8.15pm
Interval Proms Plus: Each year Proms Plus and the Free Thinking programme invite a leading author to talk about their career. Mark Haddon - author of the literary and theatrical super-hit The Curious Incident of the Dog in the Night-Time - discusses the ideas in his latest novel, The Porpoise. The book re-imagines the legend of Pericles, Prince of Tyre, the subject of an epic work by the English poet Gower, and a play by Shakespeare, keeping its central image of a ship at sea, but re-imagining it in a modern age of aviation. He is interviewed by Anne McElvoy. Produced by Fiona McLean. The whole interview will be broadcast as a Free Thinking episode later in September.
c.8.40pm
Brahms: Symphony No. 2 in D major
Yuja Wang (piano)
Staatskapelle Dresden
Myung-Whun Chung (conductor)
Explosively virtuosic and a thrilling live performer, Yuja Wang is the soloist in Rachmaninov's emotionally expansive and technically demanding Third Piano Concerto – one of the most challenging in the repertoire.
She joins conductor Myung-Whun Chung and the Staatskapelle Dresden – the second of this week's visiting European orchestras – for a concert that also includes Brahms's genial Symphony No. 2, whose freshness and spontaneity have drawn comparisons with Beethoven's 'Pastoral' Symphony.
Featured in...
Journey into emotion with PSB, Sheku, Benedetti, Angélique Kidjo, Nina Simone, Greenwood

Exclusive music mixes curated by the BBC's music experts, artists and special guests.