Main content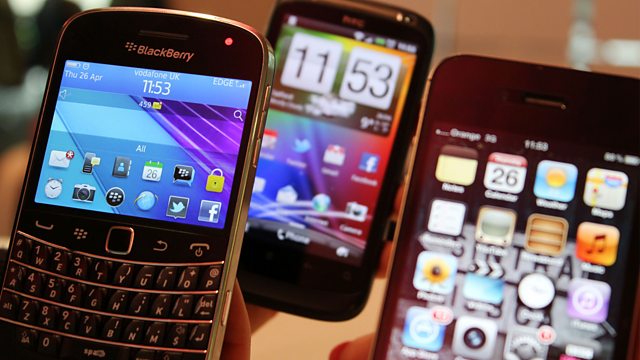 Life through a Screen
Aoife McMahon and William Hope view the world through glass screens and handheld devices. With poems by Leontia Flynn, Kahlil Gibran and Oliver Madox Brown.
It is through computer monitors and handheld devices that so much of existence is experienced today. We view the world through screens, living and loving via smartphones and laptops. Contemporary poets and songwriters have been quick to delight in and reflect upon our age of collapsed distances, global connection and moments of beauty caught and shared via a phone camera. "Your world / is gleaming in my hands" writes Victoria Gatehouse in Phosphorescence.
But the pervasiveness of technology and the increase in "screentime" come at a cost, challenging our notions of time, privacy, intimacy and human contact. As a dialogue by poet Leontia Flynn sets out, Ours is the Age of Interruption, or the Age of Participation, depending on how you see it. And, as Shakespeare's Portia swipes through a list of suitors, or E.M. Forster's Kuno longs for human contact without the aid of "the machine", our contemporary ways of dating and communicating and sharing ourselves appear not so new after all.
Aoife McMahon and William Hope are our readers, viewing the world through glass screens and handheld devices, with music from Mozart, Holst, Richard Hawley and Kate Tempest.
Readings:
Leontia Flynn - Malone Hoard
Clint Smith - FaceTime
Imtiaz Dharker - Flight Radar
William Shakespeare - The Merchant Of Venice
Sherman Alexie - The Facebook Sonnet
John Donne - Elegy V: His Picture
Victoria Gatehouse - Phosphorescence
Andrew Marvell - The Gallery
Leontia Flynn - Poems Conceived As Dialogues Between Two Antagonistic Voices, Third Dialogue
Jill McDonoguh - Twelve-Hour Shifts
Debora Greger - The War After The War, I.
D.H. Lawrence - From A College Window
Amy Lowell - Towns in Colour, I. Red Slippers
Amy Lowell - Towns in Colour, V. An Aquarium
Dannie Abse - X-ray
Charles Eisenstein - The EcoSexual Awakening
E.M. Forster - The Machine Stops
J. Krishnamurti - Freedom From The Known
Produced by Phil Smith
A Reduced Listening Production for BBC Radio 3
Music Played
Timings (where shown) are from the start of the programme in hours and minutes
English translation of Lux æterna

Read by Aoife McMahon and William Hope

Leontia Flynn - Malone Hoard

Read by Aoife McMahon

English translation of Lux æterna

Read by Aoife McMahon and William Hope

Clint Smith - FaceTime

Read by William Hope

Imtiaz Dharker - Flight Radar

Read by Aoife McMahon

William Shakespeare - The Merchant Of Venice

Read by Aoife McMahon & William Hope

Sherman Alexie - The Facebook Sonnet

Read by William Hope

Seneca - On the shortness of life (trans. C.D.N Costa)

Read by Aoife McMahon

John Donne - Elegy V: His Picture

Read by William Hope

Victoria Gatehouse - Phosphorescence

Read by Aoife McMahon

Andrew Marvell - The Gallery

Read by William Hope

Leontia Flynn - Poems Conceived As Dialogues Between Two Antagonistic Voices, Third Dialogue

Read by William Hope

Leontia Flynn - Poems Conceived As Dialogues Between Two Antagonistic Voices, Third Dialogue

Read by Aoife McMahon

Leontia Flynn - Poems Conceived As Dialogues Between Two Antagonistic Voices, Third Dialogue

Read by William Hope

Leontia Flynn - Poems Conceived As Dialogues Between Two Antagonistic Voices, Third Dialogue

Read by Aoife McMahon

Jill McDonoguh - Twelve-Hour Shifts

Read by William Hope

Debora Greger - The War After The War, I.

Read by Aoife McMahon

D.H. Lawrence - From A College Window

Read by William Hope

Amy Lowell - Towns in Colour, I. Red Slippers

Read by Aoife McMahon

Amy Lowell - Towns in Colour, V. An Aquarium

Read by Aoife McMahon

Dannie Abse - X-ray

Read by William Hope

Charles Eisenstein - The EcoSexual Awakening

Read by William Hope

E.M. Forster - The Machine Stops

Read by William Hope

J. Krishnamurti - Freedom From The Known

Read by Aoife McMahon