Main content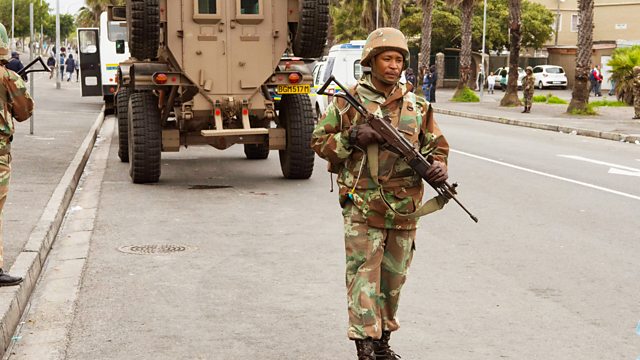 Forlorn, Dilapidated and Dangerous
Gang violence in the townships of Cape Town has become so serious, the army has been deployed. But with violence endemic and its causes complex, what effect will this have?
Gang violence in the townships of Cape Town is now so serious that the South African army has been sent in to try to curb it. But the causes of violence are complex, will the state really be able to stamp its authority? Lindsay Johns reports.
Lizzie Porter finds sunflowers in bloom on the outskirts of Sinjar, the town in northern Iraq, where, five years ago so-called Islamic State kidnapped thousands of Yazidis. But the town itself is still largely empty, the streets deserted, the buildings smashed and most of the original population absent, too scared to return home.
There's a growing number of people from Africa and Asia in Central America, whose hope one day is to make it to the United States. Katy Long dusts down her rusty French to speak to a man from Congo in the middle of a rainstorm in Costa Rica.
While the Taliban talks peace with the US in Qatar, there's scepticism and concern on the streets of Kabul. Secunder Kermani talks to a group of young cricketers near the Ghazi Stadium, the place where the Taliban once carried out public executions.
And, while cricket fans in England had plenty of means at their disposal to watch Ben Stokes' demolition of the Australian bowling attack in last Sunday's Ashes victory, Jonah Fisher, in Kiev, was finding it less easy to follow proceedings. Being a cricket-loving foreign correspondent, he says, hasn't always been easy.
Last on
Broadcast