Main content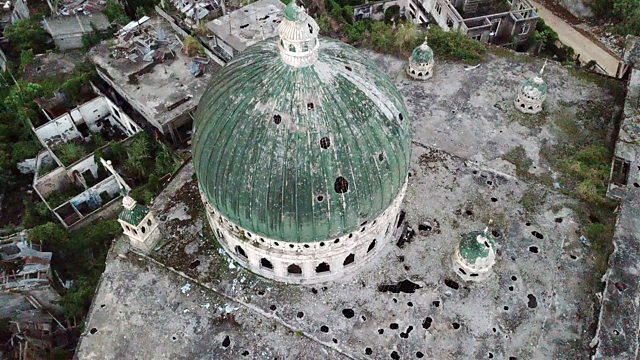 Marawi: the story of the Philippines' Lost City
In 2017, Marawi was besieged by Islamic Sate supporters. Today, it is a city of ghosts.
Marawi in the southern Philippines is a ghost town. In 2017, it was taken under siege for five months by supporters of Islamic State who wanted to establish a caliphate in the predominantly Muslim city. After a fierce and prolonged battle, the Philippine army regained control – but Marawi was left in ruins. Two years on, reconstruction has barely begun and over 100,000 people are yet to return home.
Philippines Correspondent Howard Johnson tells the story of Marawi from the siege to the present day, through the eyes of two of its residents: a Muslim who risked his life to save his community and a Catholic priest who was held hostage by extremists.
Produced by Josephine Casserly.
Image: Grand Mosque pockmarked by bullet holes and artillery fire in the Most Affected Area (MAA) or Ground Zero of the siege of Marawi
Credit: Howard Johnson/BBC
Last on
Broadcasts