Main content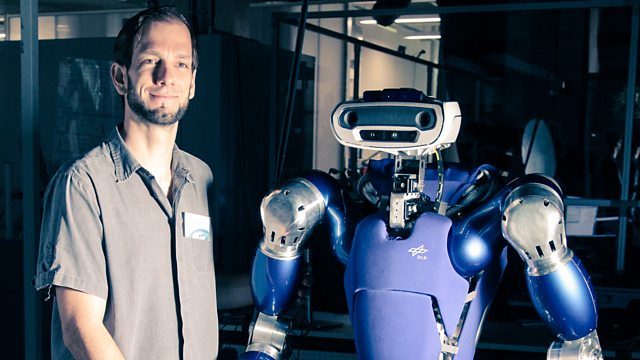 Jim Al-Khalili explores the fascinating story of the robot, from ancient times to the modern day - asking if robots will one day take over the world.
Jim Al-Khalili investigates the fascinating story of the robot, using original documents, reconstructions and sophisticated computer graphics.
It would take Lord Byron's daughter, three brothers in ancient Baghdad and a mission to Mars to give us the technology that could transform the world. In ancient Greece, Homer writes of Hephaestus, god of fire and metalworking, who forges two mechanical handmaidens to help him. The idea of artificial people is born.
Then in 8th-century Baghdad, three brothers make the world's first programmable machine, a self-playing trumpet. But how to build a proper robot? Victorian inventor Charles Babbage checks navigation tables for ships for a living. The tables are riddled with mistakes. He wonders if a machine could do the work mistake-free and designs a mechanical computer.
Then Ada Lovelace, daughter of Lord Byron, realises that the machine could solve nearly any problem and writes the first computer programs. In 1936, postgraduate Alan Turing wonders if, as Lovelace suggested, a machine could compute any calculation. He describes a general-purpose computer. After World War II come the first electronic computers, but they are far from Turing's vision. In a long-lost radio broadcast, Turing imagines a machine perfectly mimicking a human. Who's to say the computer is not having thoughts?
Next, scientist William Walter is convinced the secret to a brain is how it's wired. He creates a robot called a tortoise. We see a replica react to obstacles. It is the beginning of machine autonomy. We now have robots on Mars, but bringing them into our daily lives requires a new revolution. Enter the amazing TORO robot, which can walk, manipulate things and interact with people. Then we meet the remarkable iCub, that learns like a child and can share its expertise with others.
One day robots will be embedded in our lives. But will we ever consider them to have independence or rights - and will they take over the world?
Music Played
Timings (where shown) are from the start of the programme in hours and minutes
00:01

Nigel Stanford

Automatica

00:18

Aeroplane

Superstar
Credits
| Role | Contributor |
| --- | --- |
| Presenter | Jim Al-Khalili |
| Interviewed Guest | Rod Brooks |
| Interviewed Guest | Liang Zhipeng |
| Interviewed Guest | Sydney Padua |
| Interviewed Guest | Chris Burton |
| Interviewed Guest | Danielle George |
| Interviewed Guest | Owen Holland |
| Interviewed Guest | Jennifer Trosper |
| Interviewed Guest | Linus Engelberger |
| Interviewed Guest | Giorgio Matar |
| Interviewed Guest | Jim Meigs |
| Director | Sean Smith |
| Executive Producer | Ben Bowie |
| Executive Producer | Iain Riddick |