Main content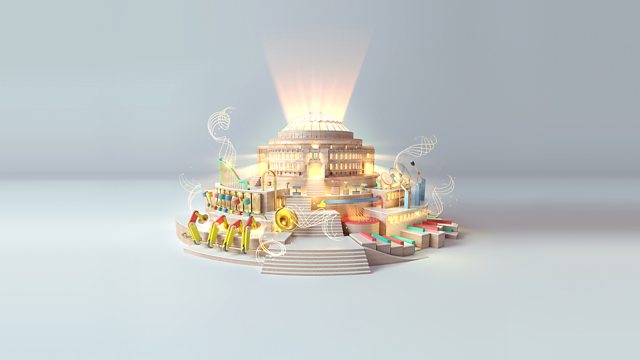 Live at the BBC Proms. Richard Egarr conducts the Scottish Chamber Orchestra and Chorus in Handel's oratorio Jephtha, with tenor Allan Clayton in the title role.
Live at BBC Proms: Richard Egarr conducts the Scottish Chamber Orchestra and Chorus in Handel's oratorio Jephtha, with tenor Allan Clayton in the title role.
Live from the Royal Albert Hall, London
Presented by Martin Handley
George Frideric Handel: Jephtha (Act I)
c. 20:05 Interval Proms Plus
The concept of sacrifice in the Old Testament is discussed by the Reverend Richard Coles and Dr Deborah Rooke hosted by New Generation Thinker John Gallagher. Produced by Torquil MacLeod.
c. 20:25
George Frideric Handel: Jephtha (Acts II & III)
Allan Clayton (Jephtha)
Jeanine De Bique (Iphis)
Hilary Summers (Storgè)
Tim Mead (Hamor)
Cody Quattlebaum (Zebul)
Rowan Pierce (Angel)
Scottish Chamber Orchestra Chorus
Scottish Chamber Orchestra
Richard Egarr (conductor)
Following on from the success of last year's Theodora, the multi-year Proms Handel cycle continues with the composer's last, and perhaps greatest, oratorio – Jephtha.
Period-performance specialist Richard Egarr conducts the Scottish Chamber Orchestra and SCO Chorus in the devastating story of the warrior Jephtha commanded by God to sacrifice his daughter Iphis.
Tenor Allan Clayton is the conflicted Jephtha, with Trinidadian soprano Jeanine De Bique as Iphis.
Synopsis
Act 1
For the past eighteen years the Israelites have lived under the rule of their neighbouring Ammonites and have adopted many of their customs, including worship of their gods. Facing the loss, not only of their country, but also their religious identity, Zebul encourages the Israelites to rebel, nominating his half-brother Jephtha (who is living in exile) to lead them to freedom.  The Israelites promise to stop their sacrifices to the Ammonite gods Moloch and Chemosh, and to worship Jehovah only. Jephtha agrees to lead the Israelites in battle, on condition that should they be victorious, he will be their leader afterwards. His wife Storgé supports him on his brave mission, though she laments his absence. Iphis, the only child of Jephtha and Storgé, is asked by Hamor to marry him, but she tells him to first prove himself worthy by fighting under her father's command. He agrees, and the pair look forward to a blissful future together after the battle.
Alone, Jephtha vows to the Almighty that if the Israelites are victorious, he will sacrifice the first living thing he sees upon his return. Storgé is unaware of her husband's rash vow but she is having ill-fated premonitions about their daughter. She expresses these visions to Iphis, who dismisses them. The Israelites have sent an embassy to the king of the Ammonites offering peace terms, but after this is rejected, Jephtha orders them to prepare for war and they declare their confidence that God will help them.
Act 2
Hamor brings Iphis news that her father has defeated the Ammonites in battle. The Israelites celebrate, and Zebul is delighted that Jephtha has won liberty for his people, though Jephtha insists that the glory belongs to God. Iphis leads a procession of young girls in song and dance to welcome her father's return, but Jephtha is horrified that his daughter is the first living thing he sees on his return. He confides in his wife, brother and Hamor that having made his foolish vow to God, he must now kill his daughter. His wife rejects this horrific prospect and Hamor offers himself to die in his beloved's place. All three beg Jephtha not to carry out the deed but he insists that he is bound by his vow. Iphis returns, having discovered her father's dilemma, and accepts that she must now be killed by him. The Israelites comment on the mysterious nature of God. 
Act 3
Wracked with anguish, Jephtha prepares to take his daughter's life and prays that she may be received into heaven. Iphis is resigned to her fate, but as Jephtha lifts the sacrificial knife, heavenly music is heard and an angel appears, declaring that God does not desire human sacrifice. Iphis must be dedicated to God's service and remain a virgin throughout her life, but she will live.  The gathered priests offer praise to God for this act of mercy. The rest of Jephtha's family enter and Zebul proclaims that Iphis' faith and courage will always be remembered. Storgé is relieved that her daughter will not be put to death and Hamor is also glad Iphis will be safe, though he grieves that she can never be his wife. Iphis hopes he will find another love as she dedicates herself to serve God alone.
Featured in...
Journey into emotion with PSB, Sheku, Benedetti, Angélique Kidjo, Nina Simone, Greenwood