Main content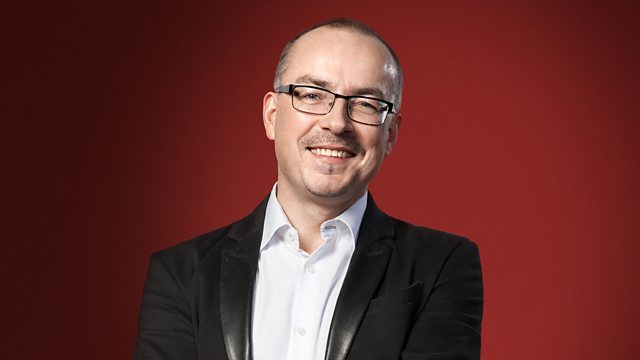 Andrew McGregor and Edward Seckerson
Edward Seckerson chooses five indispensable recordings of Proms composer Sergei Prokofiev and explains why you need to hear them, plus the best in new classical releases.
Andrew McGregor with a selection of the best new classical releases.
9.30
Proms Composer: Sergei Prokofiev
Edward Seckerson chooses five indispensable recordings of Proms Composer Sergei Prokofiev and explains why you need to hear them.
11.20
Proms Recording: To end each edition of Summer Record Review, Andrew introduces the Building a Library recommendation of a major work featured in the Proms.
Beethoven: Symphony No 2 in D major
Saarbrucken Radio Symphony Orchestra
Stanislaw Skrowaczewski (conductor)
Summer Record Review
9.00am

Juan Sebastian Elkano: a circumnavigation of the Earth between 1519 and 1521 including works by Jon Mirande, Darwish Mustapha and Michael Navarrus
Euskal Barrokensemble
Enrike Solinís (conductor)
Alia Vox AV9933 (2 CDs)
https://www.alia-vox.com/en/catalogue/elkano/
Schubert: Music for Violin, Vol. 1
Ariadne Daskalakis (violin)
Paolo Giacometti (fortepiano)
Die Kölner Akademie
Michael Alexander Willens (conductor)
BIS BIS2363 (Hybrid SACD)
https://bis.se/performers/daskalakis-ariadne/schubert-music-for-violin-vol1
Beethoven: Piano Sonatas Nos. 22 & 24, Rachmaninov: Piano Sonata No. 2
Ivo Pogorelich (piano)
Sony 19075956602
9.30am – Proms Composer: Edward Seckerson on Prokofiev
Composer: Sergei Prokofiev
Reviewer: Edward Seckerson
Recommended Recordings:



Piano Concerto No. 3 in C major, Op. 26
Martha Argerich (piano)
Berlin Philharmonic
Claudio Abbado (conductor)
DG 4474382
Symphony No. 3 in C minor, Op. 44
State Academic Symphony Orchestra of Russia (Evgeny Svetlanov)
Vladimir Jurowski
Pentatone PTC5186624 (Hybrid SACD)
Violin Concerto No. 2 In G Minor Op. 63
Maxim Vengerov (violin)
The London Symphony Orchestra
Mstislav Rostropovich (conductor)
Teldec 0630-13150-2
Alexander Nevsky Op.78
Lili Chookasian (contralto)
Westminster Choir
New York Philharmonic Orchestra
Thomas Schippers (conductor)
CBS MPK 45557
Romeo and Juliet, Op.64
London Symphony Orchestra
Andre Previn (conductor)
Warner Classics 9677012 (2 CDs)
10.20am – New Releases
Gounod: St Cecilia Mass & Bizet: Te Deum
Angela Maria Blasi (soprano)
Christian Elsner (tenor)
Dietrich Henschel (baritone)
Münchner Symphoniker
Münchner MotettenChor
Hans Rudolf Zöbeley (conductor)
Hänssler Classic HC19046
https://haensslerprofil.de/shop/unkategorisiert/st-cecilia-mass-tedeum-3/
JS Bach - Sonatas for Viola Da Gamba and Harpsichord (arranged for viola)
Antoine Tamestit (viola)
Masato Suzuki (harpischord)
Harmonia Mundi HMM 902259
http://www.harmoniamundi.com/#!/albums/2526
Bruckner: Symphony No. 9
Pittsburgh Symphony Orchestra
Manfred Honeck (conductor)
Reference Recordings FR 733 (Hybrid SACD)
https://referencerecordings.com/recording/bruckner-symphony-no-9/
Donnacha Dennehy: The Hunger
Iarla Ó Lionárd (vocals)
Katherine Manley (soprano)
Alarm Will Sound
Alan Pierson (conductor)
Nonesuch 075597925135
https://www.nonesuch.com/albums/the-hunger
From Palaces to Pleasure Gardens: Organ music from Georgian London's Pleasure Gardens by composers including Handel, JC Bach, and John Stanley.
Thomas Trotter (1735 Richard Bridge Organ of Christ Church, Spitalfields)
Regent REGCD526
http://www.regent-records.co.uk/product_details_366.htm

11.25am – Proms BAL Recommendation

Beethoven: Symphony No. 2 in D major Op. 36
Reviewer: Rob Cowan in May 2014


Recommended recording:
Saarbrücken Radio Symphony Orchestra
Stanislaw Skrowaczewski (conductor)
Oehms Classics OC 522 (2 CDs)