Main content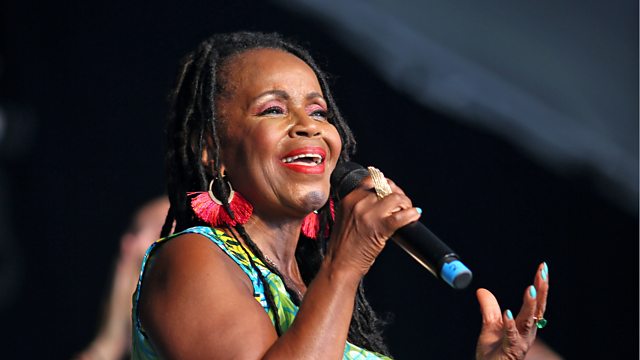 PP Arnold, John Eliot Gardiner
Kate Silverton and Luke Jones meet singer PP Arnold, artist Mackenzie Thorpe, poet Charly Cox and the Reverend Peter Allen. With Inheritance Tracks from John Eliot Gardiner.
Kate Silverton and Luke Jones meet singer P.P. Arnold; artist Mackenzie Thorpe; poet Charly Cox and the Reverend Peter Allen. With Inheritance Tracks from conductor John Eliot Gardiner.
Soul singer P.P. - Pat - Arnold found her voice as a young girl singing gospel songs in church. Her career took off when she joined the Ikettes - backing singers and dancers for the Ike & Tina Turner Revue. When the Revue arrived in London Pat -nicknamed P.P. by photographer Gered Mankowitz -became a fixture on the London music scene, collaborating with everyone from Rod Stewart to the Small Faces. Her new album The New Adventures of P.P. Arnold is out now.
This year Middlesbrough-born Mackenzie Thorpe celebrates 30 years as an artist. He is best known for his 'Square Sheep' series of works and 'Waiting for Me Dad' - a tribute to the men who worked in the industry of the area who crossed the town's transporter bridge to get to work and the families who waited for their return. He was the official artist for the Tour de Yorkshire 2019 and collectors of his work include the actor Tom Hardy, JK Rowling and Her Royal Highness Queen Elizabeth. Mackenzie Thorpe's 30th year exhibition opens at his gallery, Arthaus, in Richmond, North Yorkshire on 14th September and his book, Out of the Shadows, is available now.
Charly Cox is a poet whose writing focuses on destigmatizing mental health and the coming-of-age of a young woman surviving the modern world. In January 2017 she published her first poem on Instagram; since then she's raised money and awareness for charities which tackle mental health issues. Dubbed social media's answer to Carol Ann Duffy, she is an ambassador for MQ Mental Health and was named by ELLE magazine as one of their 20 power players to watch out for in 2018. Her second book, Validate Me, is out in September.
Listener Reverend Peter Allen served as chaplain at Sheffield Wednesday Football Club and chaplain for Sport in the diocese of Sheffield. During this time he opened up brand new chaplaincies in a variety of sports in the region including volleyball, ice hockey and boxing. He talks about his life in the church and how a youthful misdemeanour came back to haunt him.
Conductor John Eliot Gardiner shares his Inheritance Tracks.
Producer: Paula McGinley
Editor: Eleanor Garland
Last on

Broadcast