Main content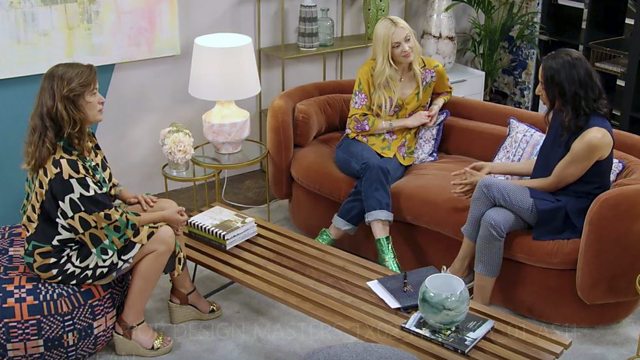 The nine remaining interior designers take part in a commercial design challenge to transform hotel rooms. Presented by Fearne Cotton, with judge Michelle Ogundehin and guest judge Jade Jagger.
After a tough first week transforming show homes, with nine designers left, they return to Michelle's design studio to find out about their next challenge.
Michelle tells them that she is sending them to a hotel in Bournemouth, where they each have a bedroom to design in their own particular signature style. She wants to see their own unique styles coming through and find out who they really are as designers. But there is a twist - this hotel isn't any standard seaside hotel, it is called Hotel Chocolate, and has a strong chocolate theme to delight their guests. Michelle tells the designers they will also have to incorporate a nod to chocolate in their room designs.
Putting the designers into three teams of three, the designers must include their signature style in their bedrooms, but each team must involve a dark, milk or white chocolate theme too. This surprise twist to the task doesn't please everyone, as designs have to be adapted, and teamwork needs to be considered once again.
Arriving in Bournemouth, the designers discover a tired Victorian hotel, which gets referred to as Fawlty Towers. Seeing their bedrooms for the first time, it starts to dawn on them what a mammoth job they have on their hands. Discovering peeling paint and damp walls, the designers realise they have their work cut out to turn their under-par bedrooms into a chic boutique hotel bedrooms in just two days.
Tackling the task in different ways, some of the designers are determined to work for themselves, and show off their outlandish signature styles, while others are keen to keep the chocolate theme high on the agenda and work more closely as a team. As the task gets underway, there is harmony on team dark chocolate as they work as one and pull together a safe scheme. Meanwhile on team milk chocolate, teamwork seems less of a priority as they are determined to go all out to impress on their own signature styles. Bedrooms include a neon pink scheme, a heavily Victorian theme and a bedroom inspired by travels to the Far East, but the team spirit is hard to find with little love lost between them. On team white chocolate, after being in the bottom three in week one one of the designers is determined to show off what she can do, but will her ambitions once again run away with her, and will this effect the performance of the rest of the team?
Helping Michelle this week is guest Judge Jade Jagger. With her international jet-set lifestyle, and design projects both home and abroad, she knows more than most what makes a successful luxury hotel room. By the end of the challenge, Michelle and Jade discover some accomplished designs and some bold colour choices, but not all the designers have impressed, or succeeded in combining the chocolate theme with their signature styles.
Challenge over, the teams return to Michelle's design studio to hear the verdict from Fearne. There is relief and celebrations for one team, but for three designers disappointment, as they have to face Michelle and Jade to defend their design decisions.
Michelle tells another designer that their time has come to an end, leaving eight designers left to fight another day on the next design challenge.
Clips

Credits
| Role | Contributor |
| --- | --- |
| Production Company | Darlow Smithson Productions |
| Executive Producer | Claire Walls |
| Series Producer | Nicky Hammond |
| Executive Producer | Donna Clark |
| Judge | Michelle Ogundehin |
| Presenter | Fearne Cotton |
| Judge | Jade Sheena Jezebel Jagger |