Main content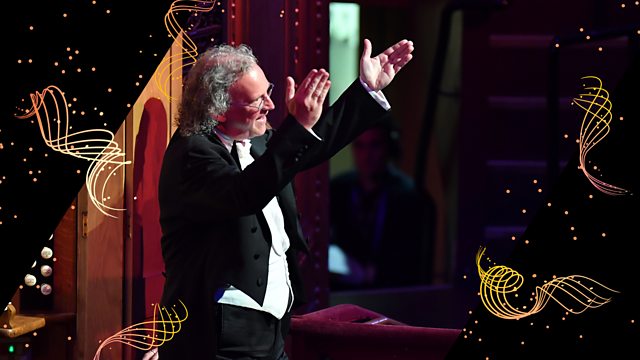 Live at the BBC Proms. The Leipzig Gewandhaus Orchestra Leipzig, Andris Nelsons and Michael Schönheit perform organ music by Bach and Bruckner's Symphony No 8 in C minor.
Live at BBC Proms: the Gewandhaus Orchestra Leipzig with Andris Nelsons and Michael Schönheit in works by JS Bach and Bruckner.
Live from the Royal Albert Hall, London
Presented by Ian Skelly
JS Bach:
Fantasia in G minor, BWV 542
Cantata No. 147 'Herz und Mund und Tat und Leben', BWV 147 – Chorale 'Jesus bleibet meine Freude' (transcr. Schmidt-Mannheim)
Prelude in E flat major, BWV 552
Chorale Prelude 'Wachet auf, ruft uns die Stimme', BWV 645
Fugue in E flat major, BWV 552
c. 8.15pm:
Interval: Proms Plus Talk: Petroc Trelawny talks to Stephen Johnson and Professor Julian Horton about the relationship between music and architecture.
Bruckner: Symphony No 8 in C minor (1890 version, ed. Nowak)
Michael Schönheit (organ)
Gewandhausorchester Leipzig
Andris Nelsons (conductor)
The Leipzig Gewandhaus Orchestra returns to the Proms for the first time under new Music Director Andris Nelsons.
At the heart of their programme is Bruckner's Symphony No. 8 – a work as vast in scope as size, a mighty orchestral monologue whose monumental finale the composer considered 'the most significant movement of my life'.
Before the broad unfolding of Bruckner, Michael Schonheit presents the meticulous detail of Bach in a series of solo organ works including the lovely chorale 'Wachet auf'.
Featured in...
Journey into emotion with PSB, Sheku, Benedetti, Angélique Kidjo, Nina Simone, Greenwood

We broadcast more live and specially-recorded concerts and opera than any other station.