Main content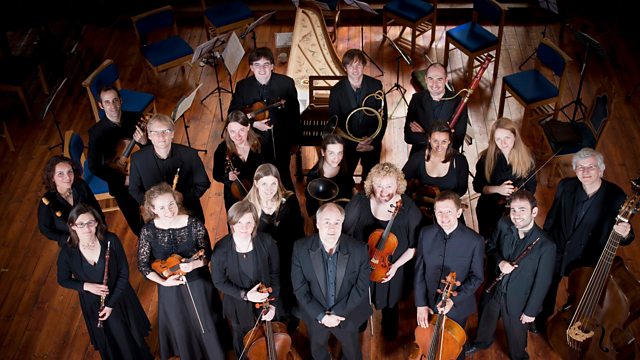 John Butt and the Dunedin Consort
Harpsichords in the spotlight with John Butt, the Dunedin Consort and friends, live from the Queen's Hall in Edinburgh.
Live from the Edinburgh International Festival the Dunedin Consort is joined by music director John Butt on harpsichord for a selection of Bach's iconic work for keyboards. Joining them are three further leading harpsichord players; Richard Egarr, Diego Ares and Thomas Foster for performances of Bach's concertos for three and four harpsichords alongside his lively Brandenburg Concerto No 5 and his Italian Concerto, which forced one critic to admit it 'is to be regarded as a perfect model'. Presented by Kate Molleson.
Bach: Concerto for Three Harpsichords in C major BWV 1064
Bach: Brandenburg Concerto No.5 in D major BWV 1050
11.40
Interval: Soprano Birgit Nilsson, the Vienna Philharmonic and Sir Georg Solti perform highlights from Wagner's Gotterdammerung.
12.00
Bach: Concerto for Three Harpsichords in D minor BWV 1063
Bach: Italian Concerto (arranged for four harpsichords)
Bach: Concerto for Four Harpsichords in A minor BWV 1065
John Butt (harpsichord)
Richard Egarr (harpsichord)
Diego Ares TBC (harpsichord)
Olga Pashchenko (harpsichord)
Dunedin Consort
Kate Molleson (presenter)
Laura Metcalfe (producer)
Featured in...
We broadcast more live and specially-recorded concerts and opera than any other station.