Main content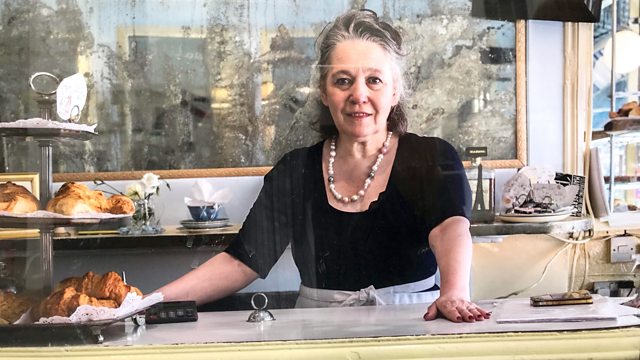 Madame Bertaux
A portrait of the legendary Soho patisserie, Maison Bertaux, and Michele Wade, the woman whose stage it has been for half a century.
Michele Wade is a Soho character - one of a fading milieu. She's worked at Maison Bertaux, the Greek Street patisserie founded in the 1870s by former Communards, since she was 15. There's something of Manet's barmaid at the Folies-Bergère about her. Hanging behind her on the wall, a photograph of a younger Michele, dressed - not so much décolleté as bare-breasted - in a tableau in homage to Delacroix's Liberté Leading the People that was staged outside the shop one Quatorze Juillet. For props, Michele used pastries.
All sorts come to the shop: immigrants in search of work, locals who find it a home from home, tourists captivated by the shop's film-set quality, artists drawn by the exhibition space upstairs and young women, like Becks and Nancy, who work around the corner and have heard stories of the shop's risqué past. There's something teasing, even transgressive, about the way Michele tempts customers with her varieties of shortcrust, filo, flaky, choux and puff.
With the voice of Sandra Jean Pierre
Produced by Hannah Dean and Alan Hall
A Falling Tree production for BBC Radio 3.