Main content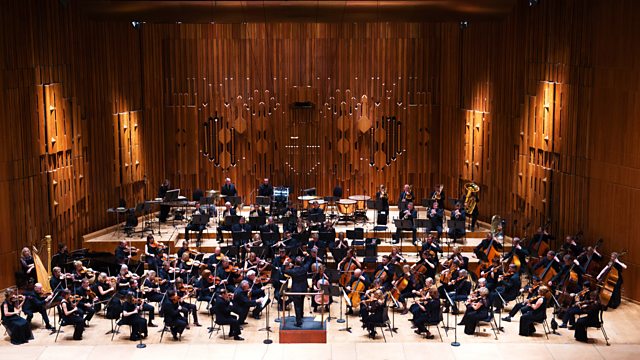 Prom 33 repeat: Mahler, Schubert and Glanert
Another chance to hear Prom 33: the BBC Symphony Orchestra, conducted by Semyon Bychkov, perform Glanert, Schubert and, with soprano Christina Gansch, Mahler's Symphony No 4.
Afternoon Concert with Hannah French
The BBC Symphony Orchestra is conducted by Semyon Bychkov in Detlev Glanert, Schubert, and Mahler's Symphony No.4, with soprano Christina Gansch.
Presented by Petroc Trelawny from the Royal Albert Hall, London
Detlev Glanert: Weites Land ('Musik mit Brahms' for orchestra)
UK premiere
Franz Schubert: Einsamkeit for soprano and orchestra (orch. D. Glanert)
c.2:35pm
INTERVAL - Proms Plus
Before the Mahler symphony which includes a song presenting a child's view of heaven - this discussion hears about children's concepts of innocence and experience New Generation Thinker Emma Butcher and Patrice Lawrence, award winning writer of the young adult novel Orangeboy. Presented by New Generation Thinker Lisa Mullen. Produced by Jacqueline Smith.
c. 3:00pm
Gustav Mahler: Symphony No 4 in G major
Christina Gansch (soprano)
BBC Symphony Orchestra
Semyon Bychkov (conductor)
Semyon Bychkov traces the evolution and genealogy of Austro-German music in a fascinating Prom featuring three works from three different centuries.
Schubert's influence on Mahler is clear from the weary loveliness and fretful anxiety of Einsamkeit ('Loneliness'), heard here in an elegant orchestration by contemporary composer Detlev Glanert.
Mahler's Fourth Symphony, bright with sleigh bells and innocent wonder, glances back to Classical models from the vantage point of fin-de-siècle Vienna, while Glanert takes Brahms's Fourth Symphony into the 21st century in his lyrical Weites Land ('Open Land').
Followed by performances by the Aurora Orchestra of works by winners of the Proms Inspire Competition.