Main content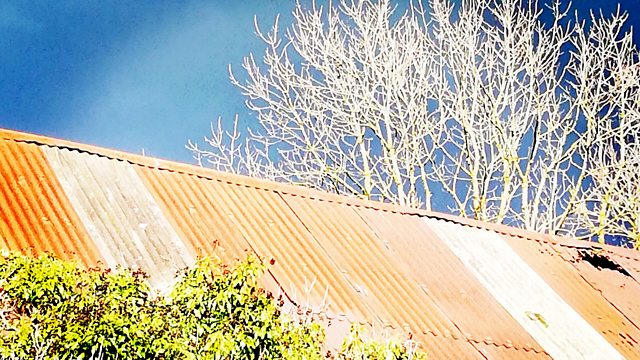 Tin Roof Symphony
From Papua to Accra - the sound of rain on tin roofs unites the world - three hundred years since the invention of this most humble, yet practical shelter from the storm.
For hundreds of years the tin roof has been the building material of choice for those in search of shelter from the storm - from Rio to Sydney.
It can last a hundred years or more, gaining patina and rust in equal proportions, but its main beauty is the sound of rain on a tin roof - what could be cosier than sitting under the shelter of a tin roof, rain bucketing down outside?
Tin, coated in zinc, and shaped into a wriggle, is something we take for granted - cheap, effective and long lasting - their smells and spidery corners are reminiscent of childhood; their protective qualities creating monsoon memories; their practicality and longevity a landmark in Wales.
Found right across the globe - the vernacular architecture of nearly every continent - we cross the globe in search of sounds and stories.
Molly Micklethwait invites us to her shed village in a London back garden, where her husband Rufus revisits his childhood under a giant tin roof in Dorset.
Ghanaian poet Nii Ayikwei Parkes, talks us through the inspiration for his 'Tin Roof' poem - made famous on the London Underground - as the monsoon wind blows rain through his house in Accra.
Sydney, Australia, is where Sherre DeLys seeks out tin in a swiftly gentrifying suburb - where the tin roof has found a renaissance among the most fashionable architects, including Raffaello Rosselli, who won a prize for his stylish corroding 'Tinshed' office block.
Wales is where some of the finest tin sheds can be found in the UK, including, until 2016, the 'Tin Shed Experience' - at one point the secnd most popular tourist attraction in Wales. Seimon Pugh Jones is now in the throes of recreating this attraction in the town of Kidwelly - renamed the "History Shed Experience". He also pulls a chunk of original Anderson Shelter out of the boot of his car to perform a spot of percussion...
The 1980s "Great Little Tin Sheds of Wales" book and touring exhibition, by photographer Dr Pete Davis, was once misunderstood, and even reviled by the tabloids, but today its enduring popularity reveals a deep nostalgia for the restored and dilapidated buildings found in farmyards and fields, undertakers and cafes right across Wales.
From a forest in the Banda Islands to the capital of Old Goa, a panoply of rain-sounds on tin roofs, which have been gathered from across the world by producer Sara Jane Hall, provide interludes of atmosphere, whilst, under a tin roof in a church in Liberia, a preacher fights with the monsoon to give thanks for rain.
Producer: Sara Jane Hall
"Tin Roof" by Nii Ayikwei Parkes
Music from
It's Gonna Rain - Steve Reich
Doubting Thomas - Richard Dawson (Nothing Important LP)
The Necks - Vertigo
Tin Roof Blues - Louis Armstrong
Radio Rewrite II Slow - Steve Reich
With thanks to Sawchestra and Sarah Angliss on theramin
and Sherre DeLys for Sydney recording.
Also Wes Modes on the Shanty Boat, for rain in Tennessee.
Catch him and Betty Goines here https://www.bbc.co.uk/programmes/b09dx2rp
and here https://www.bbc.co.uk/programmes/p05n42q6
Last on