Main content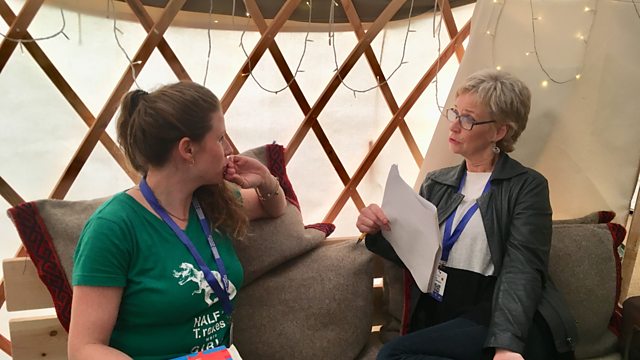 18/08/2019
From the Edinburgh International Book Festival, journalist and activist Caroline Criado Perez, the pressures of performing, and DeRay McKesson from the Black Lives Matter Movement.
In a special interview recorded live in front of an audience at the Edinburgh International Book Festival, journalist and activist Caroline Criado Perez discusses how the gender data gap has affected women in various ways, from the construction of car seatbelts to medical misdiagnoses.
Shetland resident Anne Dobbing tells Sally how her usual hundred-mile round-trip to church from her home on the island of Yell, inspired her to convert an old chicken coop at the bottom of her garden into her own little chapel.
Are the stresses and pressures of performing stand-up just part of the job or a matter of mental health? Comedians Nathan Cassidy and Viv Gee share why there are legitimate reasons for the respite rooms offering taster sessions with psychologists and therapists at this year's Edinburgh Fringe.
An exhibition in Edinburgh explores how the criminally insane were treated in Victorian times. Curator Professor Rab Houston explains who the inmates were, how they were treated and how our attitudes have changed.
Catholic parishioners on the Moidart peninsula on Scotland's west coast were shocked at the recent theft of a bell from one of the area's most important religious sites – St Finan's Isle on Loch Shiel. Reporter Kathleen Carragher joins a group of pilgrims on a boat trip out to the island to discover more about the bell and to join in celebrations of the 250th anniversary of what's known as the Moidart Mission.
DeRay McKesson was compelled to join protests in Ferguson, Missouri, after local resident Michael Brown was fatally shot by the police. Backstage at the Edinburgh International Book Festival, Sally finds out why DeRay gave up his job to join the Black Lives Matter movement and his thoughts on race relations in America.
Last on
Broadcast