Main content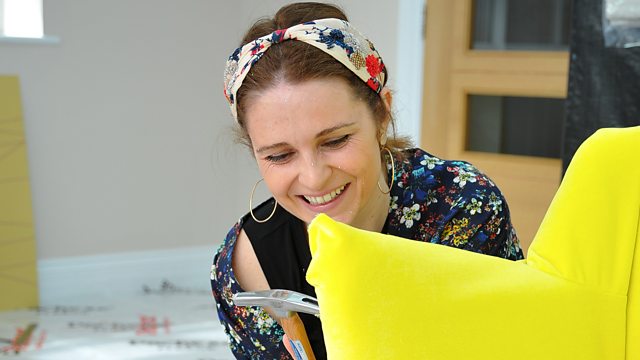 Aspiring interior designers take part in a commercial design challenge to redesign two show homes. Presented by Fearne Cotton, with judges Michelle Ogundehin and Matthew Willamson.
Ten aspiring interior designers on the cusp of turning professional are taking part in the biggest design challenge of their lives. Arriving at a design studio in east London, they nervously meet each other for the first time, before being welcomed by series presenter Fearne Cotton.
Awaiting for them in her design studio is former editor-in-chief of ELLE Decoration magazine, Michelle Ogundehin. Highly regarded in the design industry, Michelle is a tough judge and someone all the designers look up to, and they are keen to impress her with their skills. Competing to win the ultimate prize, a commercial contract to design a bar at one of London's top hotels, this is a life changing opportunity for these ten designers.
Each week, the designers are set a different commercial design challenge by Michelle, who then scrutinizes their designs alongside some big-name industry guest judges. Episode one sees Michelle joined by internationally renowned fashion designer turned interiors specialist Matthew Williamson. Lover of bright colours and bold patterns, Matthew offers his own unique take on what makes great design.
Sometimes working in teams and sometimes as individuals, every week series judge Michelle ultimately decides what makes a winning design, but also passes judgement on the weakest designs. Alongside the guest judge, she eliminates one designer each week, setting back their hopes and dreams of making a name for themselves in the fiercely competitive design world.
For their first big commercial challenge, the designers must redesign two show homes. Working in two teams of five, the designers are each given a different room to design within their show home, but they must work together to deliver a cohesive show home that impresses the judges and is accessible to prospective buyers.
With two days to transform these bland show homes, the designers set off in their teams to Northumberland, location for the first challenge. With lots of contrasting design styles between them, it doesn't take long for the stronger personalities to make themselves and their design styles known. Compromise comes more easily to some than others, as the teams have to try and work together to adjust their designs to suit the cohesive show home brief.
One team is definitely out to impress and put their own stamp on their rooms, with some brave and bright colours on the walls, and some bold and daring design statements. The other team decides to play it safer, but not everyone on that team wants to compromise, and for one designer sticking to their guns looks like a risky move.
With such a short time to turn the show homes around, the designers have a steep learning curve when it comes to teamwork, time management and trying to deliver the perfect designs. Will they learn to compromise so they get the show homes finished on time, and more importantly will their room designs be wow enough to impress the scrutiny of the judges?
Judging the show homes, Michelle and Matthew give an honest and tough critique, as they have to decide which team has answered the brief and delivered a cohesive show home, and which team has gone too far off piste.
Challenge over, the teams return to Michelle's design studio to hear the verdict from Fearne. There is relief and celebrations for one team, but for the losers, three designers have to face the judges and justify their design decisions. With the first elimination taking place, by the end of the episode just nine designers remain to face the next tough design challenge.
Clips

Credits
| Role | Contributor |
| --- | --- |
| Production Company | Darlow Smithson Productions |
| Executive Producer | Claire Walls |
| Series Producer | Nicky Hammond |
| Executive Producer | Donna Clark |
| Judge | Naomi Cleaver |
| Judge | Laurence Llewelyn-Bowen |
| Judge | Michelle Ogundehin |
| Judge | Mary Portas |
| Judge | Sophie Robinson |
| Judge | Matthew Williamson |
| Presenter | Fearne Cotton |