Main content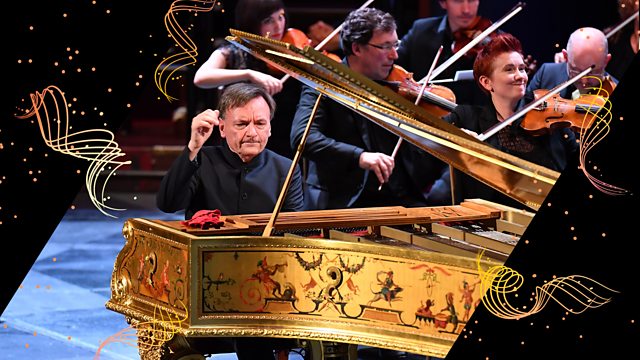 Live BBC Proms. Stephen Hough, the Orchestra of the Age of Enlightenment, conducted by Ádám Fischer, and Alessandro Fisher play music by Sullivan, Mendelssohn and Prince Albert.
Live at BBC Proms: Stephen Hough joins the Orchestra of the Age of Enlightenment, conducted by Ádám Fischer, then accompanies Alessandro Fisher to celebrate Queen Victoria's birth
Live from the Royal Albert Hall, London
Presented by Hannah French
Part 1
Sullivan: Victoria and Merrie England - ballet suite No 1
Mendelssohn: Piano Concerto No 1 in G minor, Op 25
8.15
Interval - Proms Plus
With Queen Victoria's piano centre-stage in tonight's concert, historians Lee Jackson and Kathryn Hughes discuss what kept Her Majesty's subjects amused indoors and outdoors. Lee Jackson is the author of Palaces of Pleasure. Kathryn Hughes has written about George Eliot, Mrs Beeton, and Victorians Undone: Tales of Flesh in the Age of Decorum. Hosted by Rana Mitter. Produced by Fiona McLean.
8.35 Part 2
Prince Albert of Saxe-Coburg and Gotha: Gruss aus der Ferne; Standchen; Gruss an den Bruder; Aus Wilhelm Meister; Lebewohl
Mendelssohn: Symphony No 3 in A minor, Op 56 (Scottish)
Stephen Hough (piano)
Alessandro Fisher (tenor)
Orchestra of the Age of Enlightenment
Ádám Fischer (conductor)
The Proms celebrates the 200th anniversary of Queen Victoria's birth with a glimpse into the monarch's musical life.
The programme features music by her favourite composer, Mendelssohn, including his lively 'Scottish' Symphony and First Piano Concerto, which will be performed by Stephen Hough on Victoria's own piano, loaned by HM The Queen from the Royal Collection.
The concert also includes a suite from Arthur Sullivan's ballet Victoria and Merrie England, composed to celebrate the Queen's Diamond Jubilee, as well as songs by Prince Albert.
Featured in...
Journey into emotion with PSB, Sheku, Benedetti, Angélique Kidjo, Nina Simone, Greenwood

We broadcast more live and specially-recorded concerts and opera than any other station.