Main content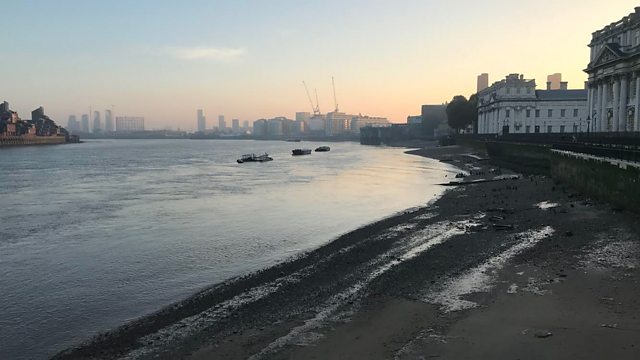 Episode 5
Over the years, author Lara Maiklem has changed her location on the river, gradually moving east. Now she lives not far from the Thames estuary.
Lara Maiklem shares the delights of mudlarking on the foreshore of the River Thames.
Lara has scoured the banks of the Thames for over fifteen years, in pursuit of the objects that the river offers up from its muddy depths - from Neolithic flints to Roman hair pins, medieval buckles to a Tudor shoe, along with Georgian clay pipes, Victorian toys and semi-precious stones. These objects tell her about the people who lived in or visited London and how they ate, drank, dressed, worked and loved.
Moving from the river's tidal origins in the west of the city to the point where it meets the sea in the east, Mudlarking is a search for urban solitude and history on the River Thames, a place Lara describes as the longest archaeological landscape in England. And, as she has discovered, it is often the tiniest objects that tell the most surprising and enthralling stories.
Those inspired by the book to have a go themselves should be aware that anyone wishing to search the tidal Thames foreshore must hold a current foreshore permit from the Port of London Authority.
Written and read by Lara Maiklem
Abridged by Isobel Creed and Jill Waters
Produced by Lizzie Davies
A Waters Company production for BBC Radio 4