Main content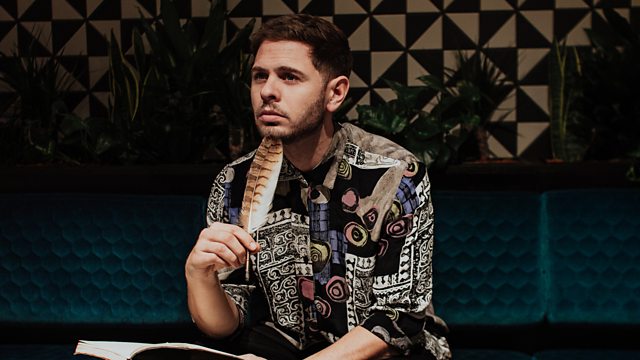 Wisebowm: The Struggle Is Real
Musical comedy set in the competitive world of poetry slamming where one loose iambic pentameter leads to instant elimination. Stars Steve Whiteley, Jen Wakefield, Ricky Grover.
The competitive world of poetry slamming in Edgware, north London, is the setting for this new musical comedy where one wrong iambic pentameter can result in instant elimination.
Created by comedian Steve Whiteley, Wisebowm is the self-confessed genius of the slam poetry world. Still living with his step-mum, Val Bernstein (Joanna Brookes), who owns the local poetry club, Words on the Street, Wisebowm longs to win the monthly cup named after his famous poet father Sid Delicious (Ricky Grover).
Supported by his best friend Dean (also played by Steve) who is more addicted to scratch cards than being helpful, Wisebowm's biggest rival is Katie Storm (Jen Wakefield) who announces gluten had been blocking her creativity but she is now writing freely. Wisebowm is forced to go gluten-free in order to win the competition.
Wisebowm: The Struggle Is Real lifts the lid on a new generation of woke and aware Londoners looking for a new way to fame.
Cast:
Wisebowm / Dean ..... Steve Whiteley
Katie Storm ..... Jen Wakefield
Val Bernstein ..... Joanna Brookes
Sid Delicious ..... Ricky Grover
Paul / Martin ..... Andrew Gentilli
Danielle ..... Olivia Nixon
Random / Pop-up Guy ..... Luke Nixon
Created by Steve Whiteley
Written with Daniel Audritt and Kat Butterfield
Additional material by Dave Tozer and Pete Latham
Music by Steve Whiteley, Steven Hickling, Dave Tozer, Kevan Frost
Director: Alan Nixon
BA: Sarah Tombling
Sound: Alex O'Donovan
Associate Producer: Olivia Nixon
Producer: Luke Nixon
A Snipper Nixon production for BBC Radio 4