Main content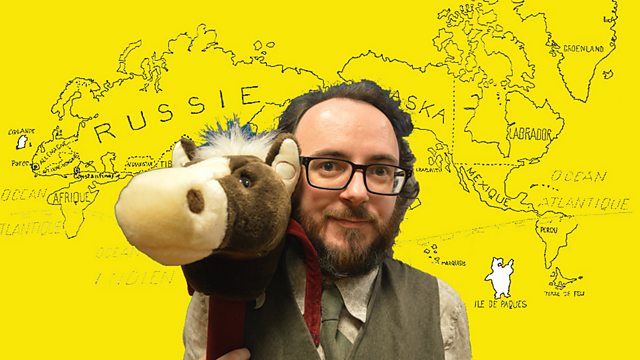 A Surrealist's Map of Ireland
Reggie Chamberlain King charts an improbable path through Ireland to find the true source of surrealism.
The French avant-garde playwright and surrealist Antonin Artaud came to Ireland in 1937 with a wooden staff he believed once belonged to St Patrick. Artaud penned numerous postcards to leading cultural figures back home in Paris - including Andre Breton - as he wandered desolately from Cobh to Galway and on to the remote island of Inishmore. His self-imposed mission: to return St Patrick's staff to its rightful home while locating the original source of the great and ancient tradition of surrealism.
He was eventually deported.
But as writer, actor, composer and all round strange sort, Reggie Chamberlain-King discovers, Artaud was not the first to be drawn to Ireland's distinctive brand of weirdness. On Paul Eluard's celebrated 'Surrealist map of the World' published in 1929, the island features in gargantuan scale, looming over its little Britain brother. Why is Eluard's Ireland so disproportionately large? Why did the country so captivate him and other Surrealist artists?
We join Reggie as he charts an improbable path through an untold, alternative Ireland.
In Belfast, he meets comedian Paul Currie, who says his Dadaesque performances are a natural by-product of a post-conflict society.
In Dublin, Reggie finds Irish language writer, Gabriel Rosenstock, chanting a whale-song inspired sound poem while lamenting the loss of Irish place names.
Acclaimed contemporary composer Jennifer Walsh has created an imaginary archive of Irish Surrealist Music. Walsh shares her theory about the strange brew of paganism, folklore and Christianity which she thinks made Ireland so appealing to the Surrealists.
Basically like Ireland...but weirder.
Written and presented by Reggie Chamberlain-King
Produced by Conor McKay
Sound Design by John Simpson