Main content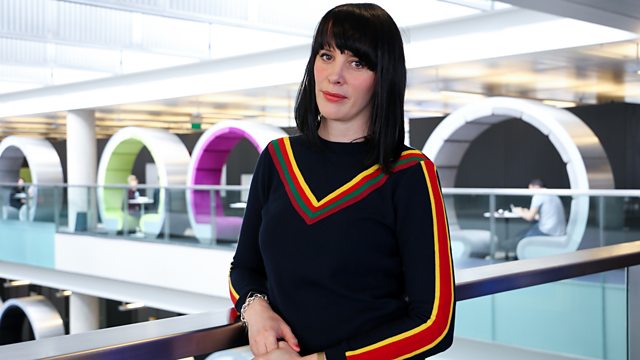 Saturday - Elizabeth Alker
Elizabeth Alker presents Radio 3's classical breakfast show, featuring listener requests.
Email 3breakfast@bbc.co.uk
Last on
Music Played
Nikolai Girshevich Kapustin

Pastoral, Op 40 No 6 (Eight Concert Etudes)

Performer: Marc-André Hamelin.

Gioachino Rossini

William Tell (Overture)

Orchestra: Chamber Orchestra of Europe. Conductor: Claudio Abbado.

Rossini: Overtures: Chamber Orchestra of Europe, Abbado.
Deutsche Grammophon.

Franz Schubert

String Quartet in G major, D 887 (4th mvt)

Ensemble: Takács Quartet.

Schubert: String quartet etc: Takacs Quartet.
Decca.
4.

Lilian Elkington

Out of the Mist

Orchestra: BBC Symphony Orchestra. Conductor: David Lloyd-Jones.

Elgar - The Spirit of England etc..
Dutton Laboratories.
7.

Ludwig van Beethoven

Horn Sonata in F major, Op 17

Performer: David Pyatt. Performer: Martin Jones.

Hubert Parry

I was glad

Choir: The Choir of St George's Chapel, Windsor Castle. Performer: Roger Judd. Conductor: Christopher Robinson.

Georges Bizet

Jeux d'enfants (Le volant)

Performer: John Ogdon. Performer: Brenda Lucas.

Wilhelm Kaiser-Lindemann

Bossa-Nova-Philharmonica

Ensemble: Die 12 Cellisten der Berliner Philharmoniker.

South American Getaway.
Warner Classics.
5.

Johann Sebastian Bach

Keyboard Concerto No 5 in F minor, BWV 1056

Performer: Murray Perahia. Orchestra: Academy of St Martin in the Fields. Conductor: Murray Perahia.

Bach: Keyboard Concertos Nos. 3,5,6,7: Perahia.
Sony Classical.
4.

Richard Strauss

Wiegenlied (Op.46 No.1)

Singer: Lise Davidsen. Orchestra: Philharmonia Orchestra. Conductor: Esa‐Pekka Salonen.

Joseph Haydn

Sonata for Piano in C major, Hob. XVI:46 [original in A-flat] - Presto

Performer: Paul Galbraith.

Haydn: Piano Sonatas, arranged by Gailbraith.
Delos.
3.

Keith Jarrett

Spiral Dance

Performer: Keith Jarrett.

Amy Beach

Piano Quintet in F sharp minor, Op 67 (2nd mvt)

Ensemble: Ambache Chamber Ensemble.

Maurice Ravel

Laideronnette, impératrice des Pagodes (Ma mère l'oye)

Orchestra: Los Angeles Philharmonic. Conductor: Carlo Maria Giulini.

Giulini in America: Los Angeles Philharmonic/Giulini.
Deutsche Grammaphon.
6.

Arthur Sullivan

Pineapple Poll (Reconciliation and Grand Finale)

Music Arranger: Charles Mackerras. Orchestra: Philharmonia Orchestra. Conductor: Charles Mackerras.

Gilbert & Sullivan: Princess Ida etc..
Decca.
17-18.

Arthur Honegger

Souvénir de Chopin

Performer: Jonathan Plowright.

Hommage A Chopin: Jonathan Plowright piano.
Hyperion.
7.
Broadcast