Main content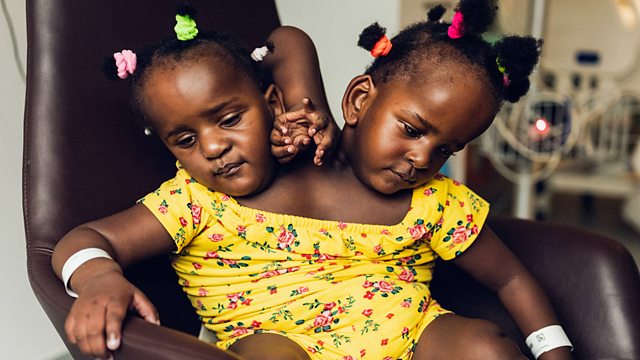 The Conjoined Twins: An Impossible Decision
Ibrahima, the father of conjoined twins Marieme and Ndeye, and Great Ormond Street Hospital face an unimaginable decision - should they go ahead with a challenging operation to separate the twins?
Conjoined twins Marieme and Ndeye from Senegal have defied all expectations by living to two and a half years old. But their future is uncertain and their father Ibrahima now faces an unimaginable decision.
When the sisters were seven months old, Ibrahima brought them to the UK to seek the specialist care of Great Ormond Street Hospital. The hospital is one of the world's leading centres for this incredibly rare condition.
Marieme and Ndeye have separate hearts and lungs, but Marieme's heart is very weak and her life expectancy is poor. If she dies her stronger sister Ndeye will die with her. As their health deteriorates, the hospital and Ibrahima are forced to decide whether a separation should be considered.
Not only is it a technically challenging procedure, but in Marieme and Ndeye's case it brings to the fore some very difficult ethical questions.
An operation to separate Marieme and Ndeye risks both girls' lives, but particularly Marieme's. The medical team feel she is not strong enough to survive surgery.
So, would it be ethical for the team to perform the separation knowing that Marieme wouldn't survive, even if it meant giving her sister a chance of a longer life? And if it would be, but the father disagreed, should the hospital override his wishes?
To help navigate these pressing ethical questions the twins' medical team request the guidance of the Great Ormond Street Clinical Ethics Committee.
One of the first to be set up in the UK, and a world leader, the hospital's Ethics Committee helps teams and families through some of the increasingly complex decisions faced in paediatric medicine. Decisions too difficult for one doctor, one team, or one family to make on their own.
The programme tracks the journey of Ibrahima and the hospital's medical team as they wrestle with what everyone agrees is a seemingly impossible decision.
Clips

Music Played
Timings (where shown) are from the start of the programme in hours and minutes
Credits
| Role | Contributor |
| --- | --- |
| Executive Producer | Peter Dale |
| Director | Anna Ryder |
| Director | Jenny Williams |
Featured in...
A collection of captivating life stories.

A collection of programmes exploring the work of Doctors, Nurses and health professionals.