Main content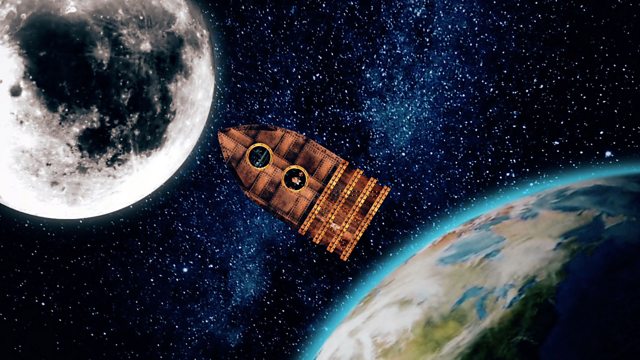 The incredible story of that amazing invention, the rocket. It took a teenage genius, a Chinese monk, a Soviet plot and a butter machine to give us the ability to leave the Earth.
'The rocket has changed us into a species that is no longer confined to Earth.' - Jim Al-Khalili
The rocket will revolutionise our species, expanding our future into space, but its origins are surprisingly old. Jim Al-Khalili explores the story of humanity's greatest adventure and our grandest dreams. He peers inside the minds of the visionaries who made it possible, using new research and their original notebooks and sketches, bringing these stories to life using state of the art experiments, breathtaking drama and CGI.
He discovers how an explosive exorcism in ancient China gave birth to the first rocket and that French author Jules Verne was the first writer to imagine firing a spaceship to the moon (he used a giant cannon). By chance, Verne's From the Earth to the Moon' ended up in the hands of Konstantin Tsiolkovsky, who decided to do the mathematical calculations for firing a ship into space and reasons the only way to get to space is with a 'reaction engine' or rocket.
But to actually create a rocket with the power to break free from Earth's gravity and hurl us towards other worlds will take a leap in technologies for fighting fire, the mechanization of dairy farms and some elaborate Soviet subterfuge.
Today rockets of all types are flying (and some are even landing), but the future holds even more promise with a new kind of rocket, called an ion drive. Running on solar power, ion drives could help us make good on that original dream: to make humans a multi-planetary species.
Music Played
Timings (where shown) are from the start of the programme in hours and minutes
Credits
| Role | Contributor |
| --- | --- |
| Presenter | Jim Al-Khalili |
| Interviewed Guest | Richard Garriott |
| Interviewed Guest | Danielle George |
| Interviewed Guest | Tiera Guinn Fletcher |
| Interviewed Guest | Franklin Chang Díaz |
| Executive Producer | Iain Riddick |
| Executive Producer | Ben Bowie |
| Director | Chris Riley |